6 tips for stunning seascapes
You're standing on a beach watching the waves crash against the shore. Your eyes drift across the sea and sand as your lungs fill with the clean salt air. The rising sun gently warms your skin and illuminates the sky in a rick palette of red, yellow and orange. There's just one thing troubling you. How on earth are you going to fit all that incredible beauty into a single two-dimensional image? I'm glad you asked!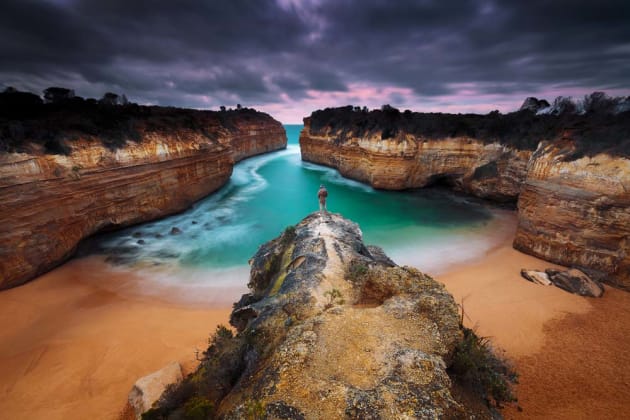 1 SHOOT AT SUNRISE
While sunsets are great, I prefer sunrises – mostly because there are less people around. Set your alarm and get to the beach when it's still dark. It helps to scout the location the day before so you don't waste time fumbling around.
You'll need a torch, a sturdy tripod and ideally a shutter remote. If you don't have a remote, just set a two-second timer for each shot. You'll also be capped at 30-second exposures as holding down the shutter button for minutes at a time isn't fun. Trust me!

You'll be able to get longer exposures without the use of filters to begin with but as the sun rises above the horizon, you'll need an ND filter to slow the shutter speed down and blur the water if that's the effect you'd like. Fifteen seconds or more gives you that smoky-water look, while 3s to 1/4s brings back some detail.

Shooting with an ND filter, first check your shutter speed with no filters. Then double it for every exposure stop the filter is graded. For example, a six-stop ND filter means doubling your shutter speed six times! So a shutter speed of 1s becomes 60s for the same level of exposure.

Use a website like suncalc.org to determine which direction the sun will rise in order to build your composition. If you position the sun so it's partially obscured by a rock or other object, it will give you a nice sunburst at apertures above f/11.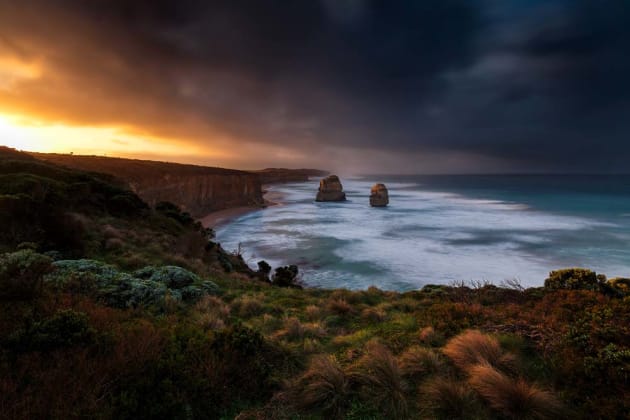 2 SHOOT THE STARS
Try heading out again after sunset to shoot the stars. Seascapes and stars are great companions, with the balance of the composition switching from the foreground, to an expansive sky filled with stars.

If you plan carefully, you should be able to work out when and where the Milky Way will appear in the night sky. There are a few apps around to help you with this. The one I use is Photo Pills.

You're going to need to let in a huge amount of light in order to capture that beautiful night sky. A tripod and a remote/cable shutter are essential and with a wide angle lens you can get away with a shutter speed of up to 30s without too much movement in the stars. Open your aperture as wide as you can – in most cases f/2.8-4 – and set your ISO to 1600-6400.

If you are shooting with a longer focal length, and you don't want any star movement, use a calculation of 500 divided by your focal length to give you your shutter speed. Experiment with a torch to paint details into your foreground. Wave a torch back and forth over the spots you want to illuminate, but be careful not to overdo it as too much light will blow out the foreground and distract from other elements in the image.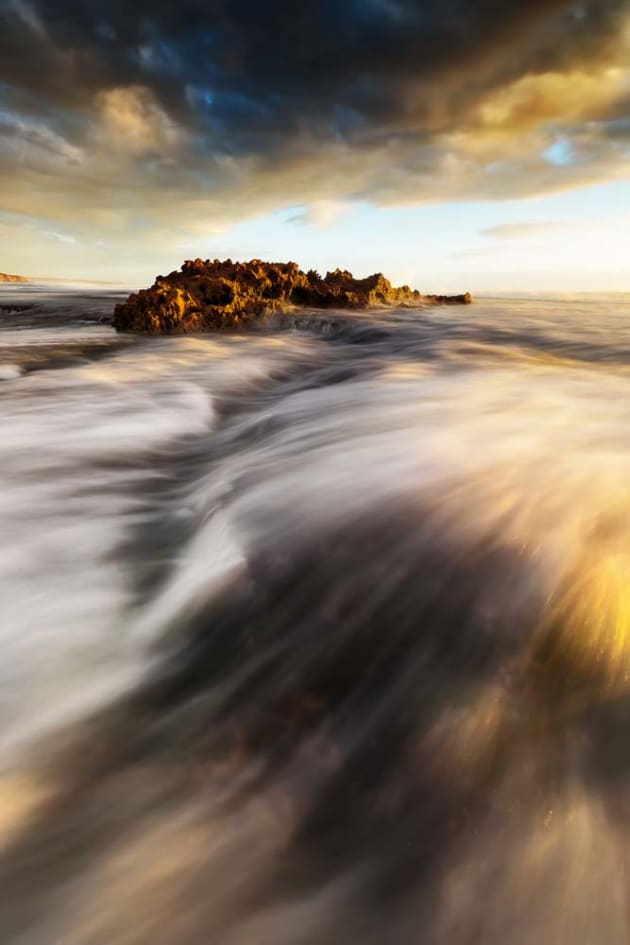 3 GO WITH THE FLOW
Try to find the little channels of water that flow back into the sea after a wave recedes. These can form around reef shelves or rocks on the beach. Time your shot just right by waiting for the water to start moving back. A shutter speed of a second or two should do the trick but it depends on how fast the water is moving. Little rock shelves can act like stretched out mini waterfalls.
Count the seconds between waves and use this as a maximum shutter speed to retain a good amount of detail. If your shutter speed is too long you'll start to get that smoky water haze over the flowing water. If it is too short it won't have a clean silky look to it. If it's just right you should have detailed water flow and rocks as well as smooth flowing water. The patterns in the water are different every time, so take a few shots and find one with a pattern you like.

Don't be afraid to get a little wet as long as it's safe (see 'Stay Safe' on p39). Having the water flow right up to and even past the bottom of the image adds leading lines and movement to your shot. Some interesting rock shapes may require you to walk through shallow water to get access to them. Make sure you rinse off your tripod in fresh water and wipe down your camera with a clean damp cloth after shooting.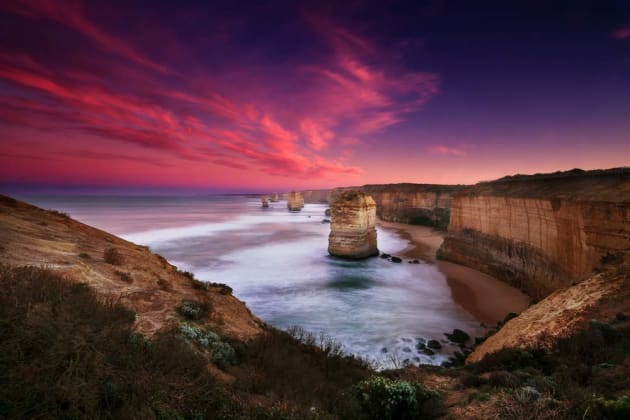 4 CHANGE YOUR PERSPECTIVE
Piers and jetties are perfect for diminishing perspective. They draw the eye directly into the photo and add depth and dimension. The classic shot is to align your camera in the exact centre of the jetty. The higher the camera is, the thinner the jetty will appear and open up the surroundings more. If the structure is old and the wood is heavily textured, try getting closer to widen the leading lines and show off the detail in the wood. This is where a graduated neutral density (ND) filter comes in handy.

Graduated (grad) filters are only half dark with a bit of feathering in-between to get a balanced exposure in one shot. Pier shots with perfectly flat horizons are the best opportunity to use hard grad ND filters. In most cases a two- or three-stop hard grad ND will balance the exposure of the sky with the foreground. If you have objects in your image that project above your horizon line, a soft grad is the better option. Combine this with a 10-stop solid ND filter to blur away any people that are walking around, flatten any water movement, and streak out the clouds for that super smooth long-exposure look.
5 GO LOW
Before you extend your tripod, or lift the camera to your eye, get low to the ground and look for interesting angles and details that will give your foreground some interest. Rocks, shells, sand and little channels of water can all help draw the eye into the image. With the foreground being a lot closer to the camera, you may need to shift your focus closer too. Using Live View on the back of the camera, digitally zoom to check focus across the image.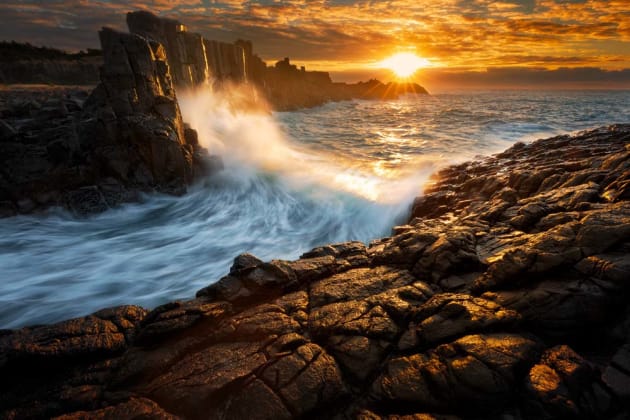 6 SHOOT HIGH
Climbing a sand dune or surrounding hills or mountains can give you a great view of the scene as a whole. A panoramic vista gives the viewer an overall appreciation of the location. Don't immediately go for a panorama photo though. Trying to fit everything into a single shot can detract from a central interest point in the image. Start with what is important and then expand the view from there. If you do go for a panorama, remember that stitched images should have the same settings, including focus, exposure and white balance.

Set your camera to full manual mode then find the correct exposure for the brightest part of the scene. Keep in mind that if you shoot Raw, you'll have more freedom to adjust variables like white balance in post. Start from the left as this is how your images will be ordered on the computer. The more overlap you have between shots the easier it will be for your program to stitch them together. Focal lengths such as 70-300mm can also come in handy here to pick out details or even abstract shapes and lines. ❂
About Kieran
Kieran Stone is a landscape photographer with a passion for exploring the world. He hosts a photography podcast, Project RAWcast, and runs photo workshops. See more of his work at kieranstone.com