ENTRY INFO 2020
ENTRIES CLOSE SUNDAY 8 NOVEMBER 2020
ABOUT PHOTOGRAPHER OF THE YEAR
Now in its eighth year, Photographer of the Year is the largest competition for amateur photographers in the Southern Hemisphere. In 2020 entrants will compete for a prize pool valued at more than $30,000, including nearly $10,000 in cash prizes.
Photographer of the Year is hosted by Australian Photography. Winners and runners up, as well as a selection of the best entries in each category, will be published in a special Photographer of the Year edition of Australian Photography magazine in February 2021.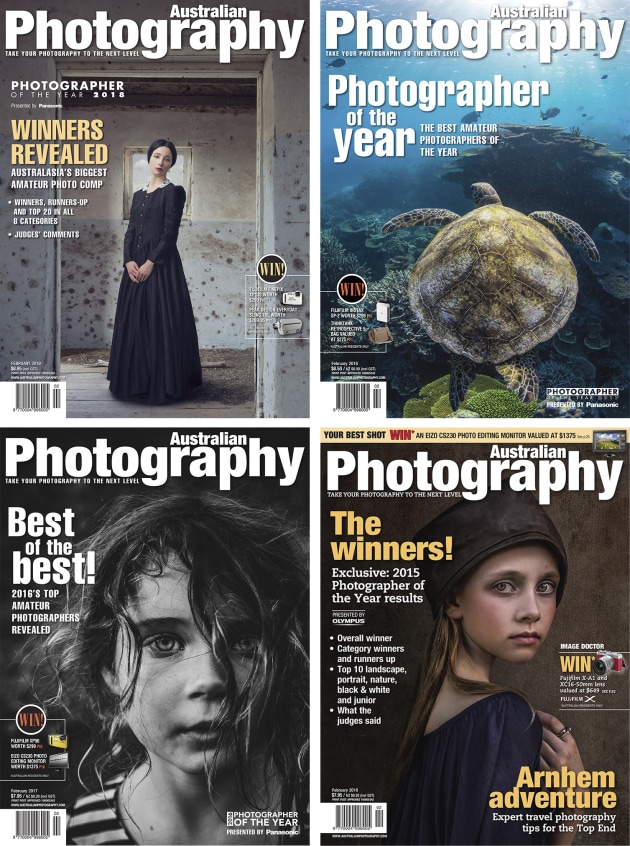 WHO CAN ENTER?
Photographer of the Year is open to amateur photographers who are citizens or residents of Australia or New Zealand. In this competition an amateur photographer is defined as someone who has not earned more than $5,000 from stills photography in any 12-month period in the previous five years, dating from the time of entry. This includes earnings from photo sales, photo education, photography tours, commercial work, and competition prize money. Check the Terms and Conditions for more information.
IMAGE DATE RESTRICTIONS
With Coronavirus making it harder than usual to get out and take photos, we've decided to relax the time restriction on images this year. You can enter images taken from 1 January 2017. All that we ask is that you do not enter any images that have been submitted to Photographer of the Year in previous years.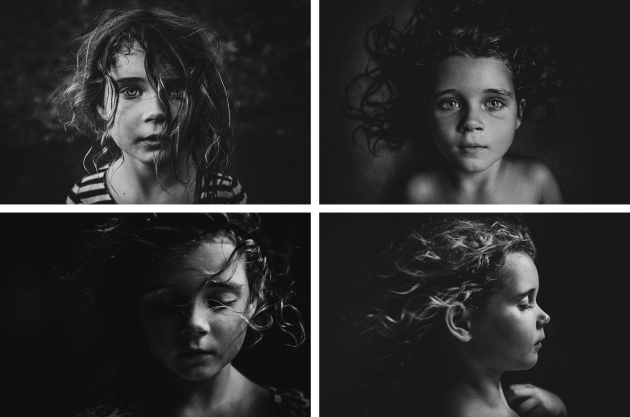 Helen Whittle's winning portfolio in Photographer of the Year 2016 comprised four black and white images of her daughter Minnie. The series won the Overall and Portrait categories.
PORTFOLIO AND SINGLE-IMAGE CATEGORIES
Photographer of the Year has six portfolio categories and three single-image categories.
Portfolio categories
The Landscape, Animal and Nature, Black and White, People, Travel and Mobile categories require you to submit a series of four related images. Judges are looking for four images that work together cohesively as a series. The challenge is to create a portfolio where the four individual images relate to each other on some level, say aesthetically or thematically. You can read more about what makes for a successful portfolio here.
Single-image categories
There are three single-image categories: Photo of the Year, Junior (for entrants aged under 18) and the new Creative category.
THE CATEGORIES
Landscape (portfolio)
We want to see your best images of the natural and built environment.
Animal & Nature (portfolio)
We're looking for creative images of fauna and flora.
People (portfolio)
Posed or candid, one person or more.
Travel (portfolio)
Tell the story of your travels through your images. Think people, places and culture. Images may be taken anywhere in the world, including in Australia and New Zealand.
Black & White (portfolio)
Get creative with mono. Shoot in black and white or convert your colour images to mono in post production. Toned monochromatic images (such as sepia, selenium, etc) are allowed.
Mobile (portfolio)
Your images must have been captured on a mobile device. This includes tablets. Editing can be done on a computer or laptop. 
Photo of the Year (single image)
One image, any subject you like.
Junior (single image)
Just like Photo of the Year but for the next generation of amazing photographers. One image, any subject you like.
Creative (single image)
The only limit is your imagination. There are no restrictions on the use of post-production, though keep in mind that your images must be photographic in origin. Images may be single-capture or composite.


IMAGE PREPARATION
• Images must be in JPEG format
• Images must be at least 2000 pixels on the longest edge.
• Individual images must be no larger than 5MB.
• Please do not include watermarks or other branding on your images.
• Image file names should not include unusual characters, eg ©, @, #, $, &, *, etc. These characters have caused problems with images uploading to the website in the past. If you find that one or more of your images has not uploaded correctly, please email us at contact@australianphotography.com.
IMAGE MANIPULATION
All categories (except Creative)
Images may be processed in post-production to adjust photographic variables such as cropping, noise, sharpness, colour, tone and contrast, including dodging and burning and black-and-white conversions. Lens and perspective corrections and minor cloning to remove distractions are allowed. Images must be single capture, not composites, with the following exceptions: stitched panoramas, focus stacks and HDR images (In these cases multiple images may be captured at the same location and merged to form a single image).
Creative category

There are no restrictions on the use of post-production, though images must be photographic in origin. Images may be single-capture or composite.


JUDGES
Photographer of the Year will be judged by a panel of some of Australia's best photographers. You can meet the first of our 2020 competition judges here.
RECOGNITION
Winners, runners-up, and top-ranked (Top 10, Top 15 or Top 20) portfolios will be recognised in the February 2021 issue of Australian Photography magazine. A parallel announcement will be made at www.australianphotography.com at the end of January 2021.
By 20 February 2021 (or earlier), winners, runners-up, Top 10, Top 20, Highly Commended, and Commended photographers will receive a pdf award (similar to the one pictured right) via e-mail confirming their placing in the competition.
MADE A MISTAKE?
Don't worry, we've got you covered. Whether you upload the wrong image or you submit an entry in the wrong category, drop us an email explaining the problem and we'll fix it for you.
EMAIL US
Email us at contact@australianphotography.com