Winter Light: The photographic book more than 20 years in the making
Tasmanian photographer Grant Dixon's new book, Winter Light, spans more than 20 years of the Apple Isle's winter seasons, and is his ode to the rugged beauty of Tasmania's wild places. AP sat down for a chat with Dixon to get the lowdown on his stunning new project.
2) Can you describe your style and influences?
I consider my photographic style to be naturalistic, even documentary. My images capture a fleeting instant. Anything I do subsequently is merely to try to accurately record that moment as I remember it, being honest to the landscape and the sometimes hard-won moment in time that inspired me to capture it.
In Tasmania, the legacy of Olegas Truchanas and Peter Dombrovskis looms large. Many later Tasmanian wilderness landscape photographers are my generation and I know most of them. Viewing the work of all of these people, and knowing many of their subject places intimately, it is hard not to be influenced in some way, even if unconsciously. At the same time, there is a growing generation of younger photographers interpreting the Tasmanian landscape whose work I look at with ongoing interest. 

Finally, given my photographic trips often constitute adventurous journeys through the mountains, both in Tasmania and overseas, works by the likes of photographer and mountaineer Galen Rowell have also provided inspiration.
2) You're obviously from a long line of Tasmanian landscape photographers. What makes it such a special place to photograph?
It is common to have a special relationship with the place you come from and I was born in Tasmania, it has always been home, and I have been exploring its wild places since a young age.
But beyond this, the subtle and variable nature of the light here (a function of clear air, latitudinal position, and our famously changeable weather, and the atmospheric conditions that all this can generate) has the potential to always present familiar subjects in a different way.

Together with the potential to easily be alone in wild places (especially in winter), photographing the Tasmanian mountains is never boring.
3) How did the book come about? How long has it taken to reach the point where you're now selling copies?
I think any serious photographer occasionally dreams of publishing their work themselves, and there is a tradition of high quality photographic books featuring the Tasmanian wild country.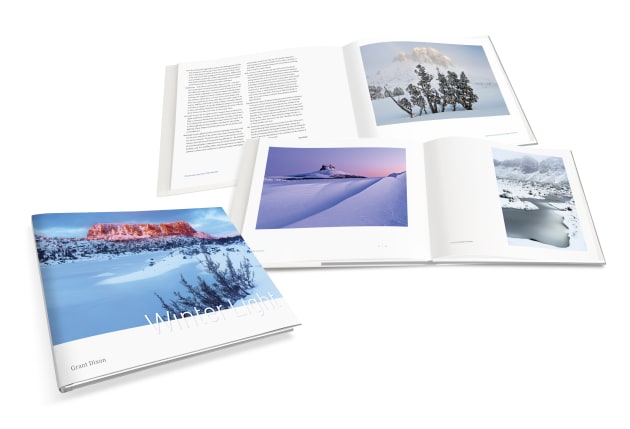 I've been exploring that country for more than 40 years, almost always with my camera, and the desire to produce my own book has evolved slowly over that time, and for me a physical book has more meaning than an online publication.

I have co-published a calendar, Wild Tasmania, with fellow photographer Rob Blakers for twenty years, but a book (this is my first) requires a different level of commitment. Last year I decided it was about time to act on the dream of a book or forget about it.
4) Why did you choose to just focus on Tasmania in winter?
I have been exploring wild and remote areas of our planet, across all seven continents, for more than forty years and am drawn most strongly to cool-climate landscapes.
Tasmania is home and the Tasmanian highlands in winter therefore have a special attraction; in particular, the challenge and solitude that mountain travel brings at that time of year.

Photography is part of that physical and mental journey for me, and self-reliant travel on trips involving overnight wilderness camping is the only way to fully engage with the experience.
Given this passion, the Tasmanian mountains in winter were an obvious subject for me. But it also gives a different perspective to the subject of wild Tasmania than the many photographic books that have come before mine.
5) Tell us about the crowdfunding campaign. Why did you chose this avenue to fund the book?
Soliciting pre-orders for my book while it was being printed was essential to my publication model and, while I had already committed to publishing the book, the crowdfunding site, Chuffed, was a convenient platform for my pre-publication sales campaign.

It offered a ready-made and convenient promotional layout, purchaser database recording and receipting facilities. It has also been used for a couple of previous photographic books by local publishers I know, so there was some useful local advice and assistance available.
6) What can readers expect with the book?
WINTER LIGHT is a quality publication featuring both grand vistas and intimate details of the Tasmanian mountain landscape in winter. Snowy scenes may appear un-Australian to many; they are certainly not part of the Australian landscape stereotype.

My book provides some insight into these ephemeral landscapes. Bob Brown has said, "WINTER LIGHT displays superb photographs of wild and remote Tasmania in its most splendid season".
7) What's your most memorable experience from photographing for Winter Light?
Given the images have mostly been captured over some 25 years (and the earliest dates back almost 40 years), usually while undertaking wilderness camping trips, there have been many memorable (and forgettable) experiences. Overall, my photography has just been a component of journeys through wild mountain country.

These have involved many planned and unplanned mini-adventures involving changing weather, route finding, and travel in steep and rough terrain.
Photographically, the best light for capturing winter images of the Tasmanian mountains is often during a fleeting clearing following a storm. This can require being in-place in anticipation, and the walk-in may hence be in sub-optimal conditions.
8) What gear did you use to capture the images in the book?
My photographic equipment has changed with technology over the last forty years. I used an Olympus OM 35mm system in my early film days (no images from that era are in the book), with a pocketable compact and simple Rollei 35 for particularly adventurous outings requiring the most lightweight gear. From there, Nikon 35mm equipment, and a Mamiya medium format camera at times provided good service over some twenty-five years.

I've used Nikon and then Sony gear since my transition to digital from 2006. The focal lengths of lenses used have ranged from 14mm to 300mm.
9) What do you look for in a landscape?
Strong form and graphic lines are probably a feature of my landscape photography, and snow provides a palette for a wide range of environmental colours, both subtle and bold, reflecting the changeable Tasmanian winter weather.
10) What advice would you have for people keen to undertake a project like this?
A group of supportive friends is particularly helpful, especially anyone who has published a photographic book before.
You'll also need a high level of commitment to the project and a realistic budget, as well as a clear idea of what you want to achieve while nevertheless being prepared to be somewhat flexible when grappling with trying to translate your precious images to the printed page.
11) What is your hope for the book?
Apart from hoping I sell them all, I hope my book will continue to build both an appreciation of the wild Tasmanian landscape but also of its fragility. Conservation battles to protect its inherent wildness, the fundamental aspect that makes it special, continue, involving debates not just about resource extraction but also tourism development.

But there is also real potential for the Tasmanian alpine environment as we now know it, its ecological communities and its ephemeral snow cover, to disappear under the onslaught of human-induced climate change.