Vivid Sydney to expand to never-seen-before rail tunnels
The long-lost platforms below Wynyard railway station are set to open to the public for the first time as part of Sydney's Vivid Festival in May.


Three years in the making and tipped as an 'underground spectacular of what lies beneath', Dark Spectrum will combine a dynamic musical soundtrack with the latest in laser, robotics, lighting and visual technology to transform the train tunnels never previously open to the public into a one-of-a-kind experience.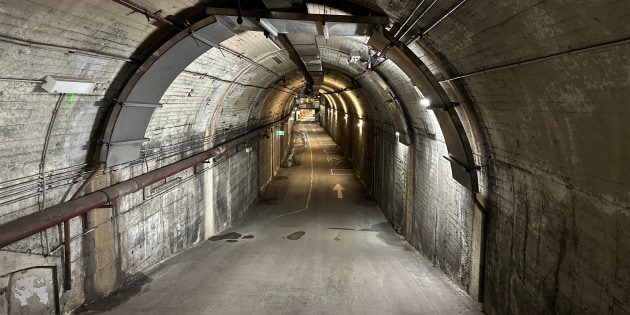 The tunnels run from the eastern side of the Harbour Bridge down to Wynyard, and were part of a planned rail line to Mosman and the northern beaches that was scrapped in 1932. 
Vivid Festival organisers say Dark Spectrum will start with guests entering a secret door near Coles, before completing a 900-metre walk through eight rooms and past secret passageways, before emerging at street level on Cumberland Street in the Rocks, near the Shangri-La Sydney hotel.
Each space in the multi-sensory exhibit represents a different human experience and associated colour. At the same time, trains using the overhead lines will continue to rumble past just beyond the walls, occasionally visible through gaps.
Highlights from Dark Spectrum include 'Constriction', made up of 150 LED "pipes" hung from the roof to form an interactive landscape of animated pixels that can be touched; 'Pressure', a spectacular array of 50 archways covered in lights and mirrors that create the visual illusion of a never-ending tunnel; and 'Interaction', an Avatar-esque environment featuring hundreds of hanging strings of light interspersed with illuminated alien plants that respond to movement.
Richard Neville, Managing Director of Mandylights who created Dark Spectrum, says the exhibition takes the intensity of a music festival and the originality of an art exhibition and packs it all into almost a kilometre of underground tunnels.
"It's a new Australian-made, truly immersive experience that will envelop and overwhelm," he says.
According to event organisers, last year's Vivid event smashed attendance records, with 2.58 million people attending.
Dark Spectrum will premiere at Vivid Sydney on 26 May, running until 16 July. 
Dark Spectrum will be a ticketed experience with entry via Wynyard Park Rooftop between York and Carrington Streets, Sydney. Entry will be timed from 12:00pm to 9.15pm. Ticket prices vary depending on visit date/time; general admission from $35, children from $24, families from $98.
Vivid Sydney runs from Friday 26 May to Saturday 17 June, with the Light Walk hosting the works of 100+ light collaborators and 26 international light artists from 13 countries.