Victorian photographer takes out $50,000 Epson Pano Awards
The winners of the 10th edition of the Epson Pano Awards have been announced, with Victoria-based photographer Mieke Boynton winning the overall award in what is the largest competition for panoramic photography on the planet.
This year the competition received 4913 entries from 1258 photographers in 72 countries, with entrants competing for more than $50,000 in cash and prizes.
Boynton, the first female to win the title, took her winning image 'Dragonfire' in Iceland.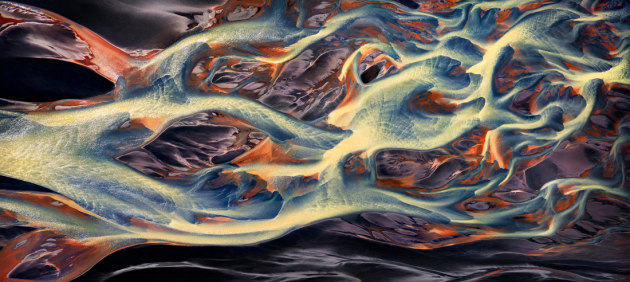 'I travelled to Iceland last year and chartered a Cessna 207 to photograph the spectacular "braided rivers", she writes. "As the mighty glaciers travel down the mountains, they grind up the rock underneath, and as the melted water fans out across the river deltas, these suspended rock particles cause a slight milkiness to the water.
The colours alter according to the presence of different elements and minerals such as sulphur and iron, and the endless variations are absolutely breathtaking. It wasn't until later that I saw the firebreathing dragon in the photo, but now that I've seen it, I can't see anything else! Nature is truly an artist.'
The runner-up in the 2019 Open competition was Abdulla Al-Mushaifri from Qatar, with his image 'National Museum.
The overall winner of the 2019 Amateur competition was Carlos F. Turienzo from Spain, with his image 'Waterfall', captured in Lofoten, Norway.

'Photographed during a beautiful sunset - the [image was the] result of seven vertical stitched images. In my travels I always try to visit less known places like this beautiful waterfall and it really was worthwhile, in fact I went again one night and I managed to capture it with northern lights, but that is another story.'
The runner-up in the 2019 Amateur competition was Daniel Trippolt from Austria, with his image 'Milky Way', captured at the Grossglockner High Alpine Road, Austria.
Closer to home, Melbourne-born photographer Mark Gray (also a judge of the Amateur category) was a runner-up in the Open Landscape/Nature category with his image 'Enchantment'.
The competition also recognised a number of other Australian photographers in the top 50 across all categories, including Tasmania's Paul Hoelen, AP and Capture contributor Mark Brierley, Dylan Toh of Everlook photography, Douglas Porter, Ian English, Rowena English, Sandra Dann, Danny Tan, Timothy Moon, Chandra Bong, Sam Markham, Farhat Memon, Chantasinee La-Ongsri, Ray Jennings, Luke Saddington, Vesna Skorjanec, Graeme Gordon, Mark Duffus, Adam Crews and Tom Putt. 
You can see the full list of winning images and runners up at thepanoawards.com.