This Sydney yacht captain lost his drone overboard for seven hours in salt water, found it and resurrected it
Now here is one of those stories that proves that even if you crash your drone in the sea, there's always a glimmer of hope. All you need is a grappling hook, a bucket and a ridiculous amount of optimism. 
Flying his DJI Mavic from the deck of his 12-metre yacht Banyandah in January, Sydney-based Captain Jack Binder was piloting 'the bird' home when disaster struck.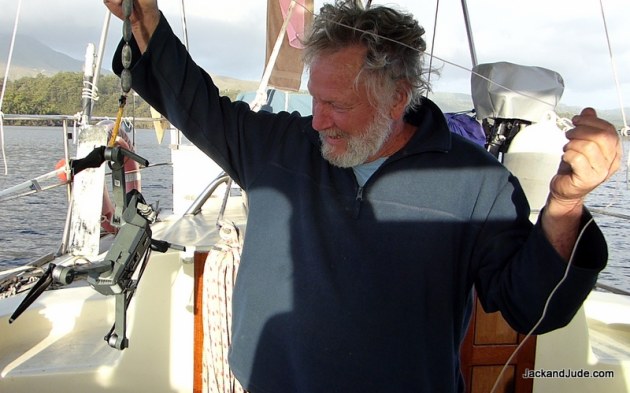 "I had cancelled the return-to-home feature (or so I thought) and began to fly back to the boat when I descended to about seven or eight metres using the controls," he said. 
I then started getting into position to perform a hand catch. While moving across the deck, I heard "landing" from the remote and looked across to see the craft a metre or two above the water. I pushed [the] sticks in panic. But she splashed."
It wasn't quite the Mariana Trench, but Binder's prized flying companion had still taken a dip in seven metres of 'muddy tannin-stained' southern Tasmanian water.
With his $1,500 drone seemingly on the way to Davy Jones' locker, he optimistically decided to throw a grapple hook overboard anyway.
"After dragging the grapple across the Mavic's last known position the whole afternoon, on the last cast when nearing dusk, Zeus smiled upon us and the grapple caught and hauled up a slightly muddy 'bird' dripping saltwater," he said.
One week later in Strahan, it was time to see if the drone could be saved.
"We took a deep breath and fired her up with a new battery; and chuckled with surprise when it came alive in GPS mode. The camera [was] also working, but with a foggy lens."
Remarkably Binder says a quick turn with a jeweller's screwdriver and a clean of the miniature wiring harness was all it took to fix. 
"The camera found a new bill of health and produced sharp images again." 
And now, even after seven hours in saltwater, a rinse in fresh water and a drying session in the hot Tassie sun, the remarkable drone is still flying, succesfully clocking up an impressive 50 flights since its unfortunate dip.
Big thanks to Captain Jack Binder for sharing this story and images with us. You can read more about Jack and his wife Jude's nautical adventures at jackandjude.com