The story behind this iconic Australian bushfire photo
Photojournalist Matthew Abbott has shared the story behind his striking photo of a kangaroo jumping past a burning house, an image that has come to symbolise Australia's bushfire crisis.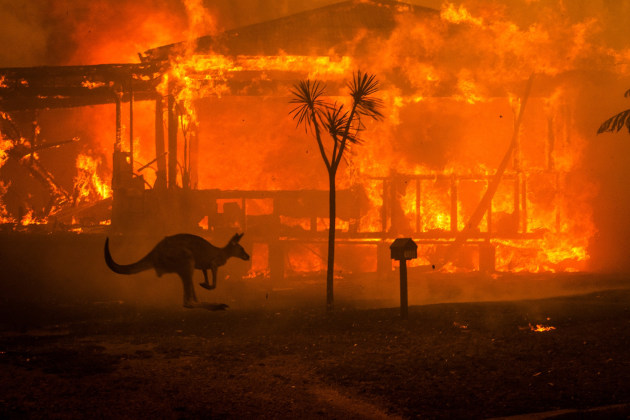 Speaking to Mark Shimabukuro in an interview for the New York Times, Abbott says he was on holiday with his family when he accepted the Times' assignment. At the time, he'd been taking a break from shooting the fires over the past two months. 
"On New Year's Eve, I was near a small town called Lake Conjola on the southeast coast, about three hours south of Sydney." he explains. 
"At about 10 a.m., I saw these smoke plumes. There were a lot of fires around. But the fire that hit Lake Conjola was one of the biggest. So I headed there on the highway. I was just off the highway when it became clear that this fire was barreling through to the coast.
Abbott says the RFS and Police were evacuating the area, and "it was mayhem".
"People were clearly frightened. Some had their possessions with them. I thought, "I've got to get down there." I went down the road and came across an area called Conjola Park. Every house was burning. It was catastrophic. I was just trying to document what I was seeing. 
He decided to visit Lake Conjola, about 3 or 4 kilometers away to see the situation there. Initially it was not as bad as at Conjola Park.
"There was a stretch of about four or five homes. But one home that was in the middle of this main street was engulfed in flames.
I moved some garbage bins that were burning and melting. A neighbor moved some bins, too. At that moment, a little after 1 p.m., a power line to the house that was burning fell and nearly hit him." 
It was then that he saw a group of kangaroos coming up the middle of the road.
"They were obviously running from another fire. And this one kangaroo, for whatever reason, ran right in front of the fire between me and the house. I reacted and raised the camera so I could compose that one image." 
At the time, I remembered thinking to myself, "Yeah got it, good shot," but I never allow myself to get too excited about a photo in the middle of something. I'm always pushing myself and thinking: "What's next, what's next?"
A photojournalist is trying to tell the story with pictures, and you need a series of strong images. You're looking to document everything that's happening. So I kept moving."
Abbott says the other side of the house wasn't burning, and the kangaroo eventually ran to safety.
"It didn't die in the fire you see." he says. 
Abbott says the challenge of shooting bushfires comes from a need to stay calm and rational, while managing the conditions.
"I wear special, full body protective clothing that's fire retardant. I also have a respirator with air filters," he says.
"The worst part? My ears. They get so hot I photograph with my arm up against them when close to the flames. And then you've got the smoke to deal with."
Based in Sydney, Abott is a member of the Oculi collective and a Finalist in Head On and the National Portrait Prize, among other achievements. 
This story has been shared with the permission of the New York Times.