Sydney's Aussie Street photography festival kicks off this weekend
Sydney's AUSSIE STREET festival has announced the shortlist for its $5,000 global street photography competition, along with a jam-packed program of local and international competitions, exhibitions, artist talks and workshops, all launching this weekend in Paddington.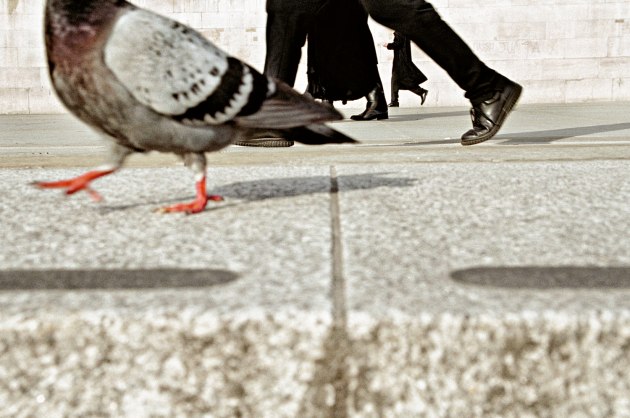 On Friday night the winners of the second annual AUSSIE STREET competition will be announced, with winners chosen across three categories: best international single photo (open to photographs taken anywhere in the world), international street photography series (contest for the best street photography series taken anywhere in the world) and the best single Aussie street photo (image taken in Australia by Australian photographers).
You can see a selection of the finalists in the gallery above.
Finalists and winners will be decided by a world-class judging panel including Matt Stuart, Jesse Marlow, Melissa O'Shaughnessy, Alison Macauley, Graciela Magnoni, Jorge Garcia, Rammy Narula, Meg Hewitt and others.
As well as the competition, there's an exhibition of work by NYCSPC and OBSERVE international collectives, artists' talks and a series of workshops, including a three-day workshop with legendary London-based street photographer Matt Stuart, and a full-day film photography workshop with NYC-SPC founder Jorge Garcia, to round out the festival.
The AUSSIE STREET Festival runs from 19-22 September. You can see the full program of events, including booking the last remaining tickets for workshops, at aussiestreet.com.au.
The AUSSIE STREET finalists
International single image
Alexander Sharr (Russia)
Angkul Sungthong (Thailand)
Aristide Economopoulos (USA)
Babak Kanaani (Iran)
Bojan Nikolic (UK)
Brian T. Scott (USA)
Chris Harrison (UK)
Dan Szpara (Japan)
Dani Oshi (Belgium)
Diego Bazan (USA)
Dillon Mak (Australia)
Jefri ajie Febriansyah (Indonesia)
Kuo-Chiao Lin (Taiwan)
Linda Maclean (Australia)
Marco Criniti (Italy)
Md Enamul Kabir (Bangladesh)
Michele Liberti (Italy)
Olesia Kim (Russia)
Pisut Soontonwun (Thailand)
Ryan Madison (USA)
Sakis Dazanis (Greece)
Shane Taylor (UK)
Sofia Sebastian (USA)
Sonia Goydenko (USA)
Stan De Zoysa (Spain)
Stefano Carotenuto (Italy)
Sven Kräuter (Germany)
Szymon Roziewicz (Poland)
Thanasorn Janekankit (Thailand)
Will Scott (Australia)
International series
Dani Oshi (Belgium)
Ed Peters (USA)
Md Enamul Kabir (Bangladesh)
Olesia Kim (Russia)
Paul Blackmore (Australia)
Sonia Goydenko (USA)
Streetmax 21 (UK )
Aussie image (open to images shot in Australia by Australians/permanent residents)
Adrian Whear
Chris Brown
Christian Clowes
Diego Fedele
Dillon Mak
Ed Sheldon
Geraldine Lefoe
Graeme Heckels
Jim Griffiths
Joseph Mari Domingo
Linda Jerkin
Linda Maclean
Matthew Venables
Mike Keevers
Phil Duval
Robert Valenti
Steven Siewert
Vee Morgana