West Australian landscape specialist Dylan Fox captivates viewers with his stunning images, transporting them to far away places. Marc Gafen uncovers the secrets of his success.

Dylan Fox has always been captivated by the process of taking pictures. After completing a Bachelor of Commerce degree, Fox decided to focus all his time, energy and commitment on his true passion – photography. He worked hard to hone his skills and learn about the business of photography. Both of these steps have proven fundamental in his continuing success. In 2007 Fox first began to focus everything on his photography and made shooting as much as possible and developing both his eye and his portfolio his main priority. "For me, it was a no-brainer," he admits.

Back in 2007, while still at high school, Fox sold his first landscape piece. However, it wasn't until 2011 at the age of 21 that he was comfortable calling himself a bona fide professional photographer. "It was then that I felt my work had reached a professional level," he says.

This love of photography was set during Fox's last year of high school while on a class trip to Rottnest Island, offshore from Perth, and it came through a straightforward assignment from the photography teacher to "capture some landscape pieces".
"After that first sunrise I didn't stop looking for new compositions and it was literally that quick that I fell in love with it. And it has not stopped ever since," Fox recalls. Although it didn't take him very long to establish that photography was the career path he planned to take, he was well aware of the fact that it would not be a simple and straightforward route, and that careful consideration and planning would be required. The decision to enrol at Curtin University and study commerce was all part of this process, and a crucial step in helping to turn the passion for photography into a viable career. Fox admits that his very first sale also helped convince him that he was doing the right thing.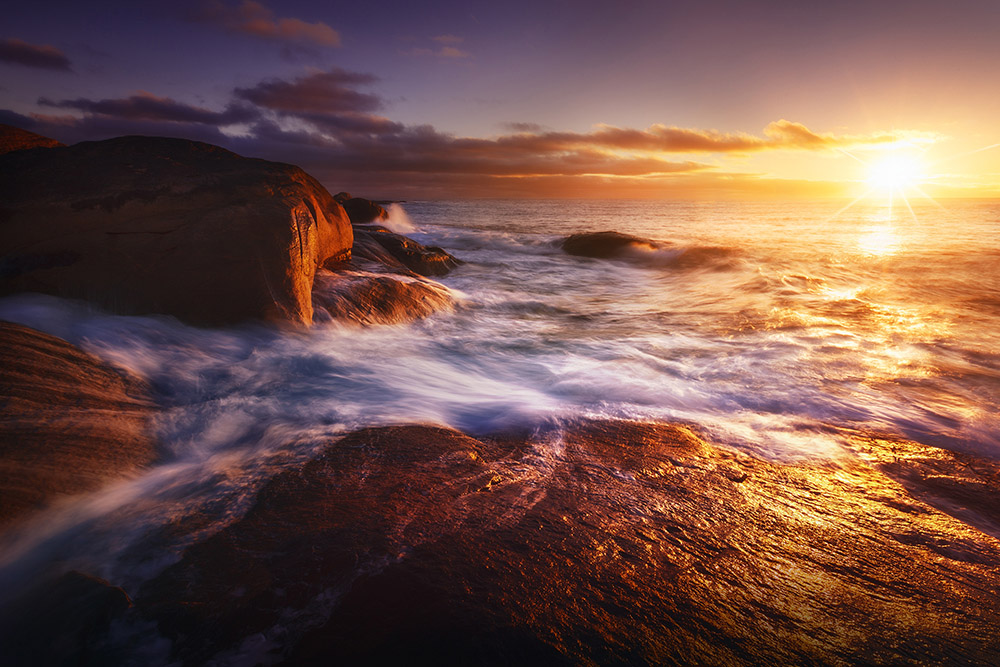 The last warm light of sunset touches the beautiful coastline of Southwest WA. Canon EOS 5D Mk II, 16-35mm lens @ 16mm, 1s @ f/16, ISO 100, tripod.


Developing skills
From a technical perspective Fox learnt the fundamentals of photography at high school – things like composition, lighting and how to operate a camera and get the most out of it. These lessons were very much a preliminary introduction, and although he's had no other formal study, Fox says that it's through experimentation and critically assessing and trying to understand the work of photographers he admires that he's garnered most knowledge.

"Realising what it is I like about their work – and maybe what I don't – then applying those ideas to my work, was one of the most important things I did at the outset," he says.

Also important, according to Fox, is listening to those you admire, and while assessing their work, concentrating on how they use light, colour and contrast. This approach, he feels, can only serve to help further your career and learning, as well as develop your photography.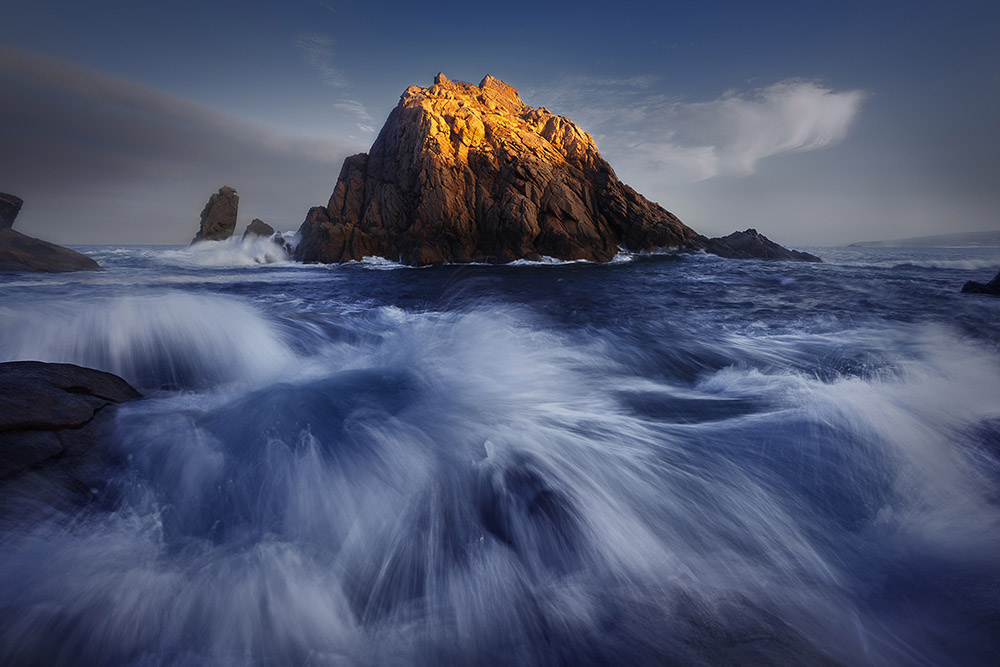 "I wanted to capture a unique image of Sugarloaf Rock and it took few trips to get the right conditions for this shot," says Fox. "Right after I pressed the shutter, I had to lift my tripod into the air and hold onto the rocks to avoid being swept off my feet!" Canon EOS 5D Mk II, 16-35mm lens @ 16mm, 1/4s @ f/16, ISO 50, tripod.


Early influences
A landscape specialist, Fox says that other areas of photography simply never appealed to him as much as nature and capturing spectacular locations untouched by humans. "There is something about beautiful natural scenes which captivates me and really brings me great joy," he says. The decision to focus on landscapes was by no means a conscious one, and Fox believes he was just lucky to find a genre he was so passionate about.

One of Fox's most significant sources of influence and inspiration was Marc Adamus, but he has also turned to the works of Ansel Adams when he's in a "black and white mood". As well as this, some of the first landscape images that Fox saw and studied when he was starting out were by renowned West Australian landscape photographer Christian Fletcher.

"Christian's images were the first landscape photographs I ever saw and seeing familiar locations looking so brilliant fascinated and inspired me," he says.

When he was starting out, Fox contacted Fletcher, and the veteran shooter was only too happy to help guide him and answer any technical questions he had.

His photographic style developed through trial and error, and Fox says that although he will concentrate on using a variety of compositional techniques with his images, there is no specific formula he applies to his workflow. "Sure, certain techniques are used regularly," he says, "but I just sit and think about where I want to take an image and what ways I can do that."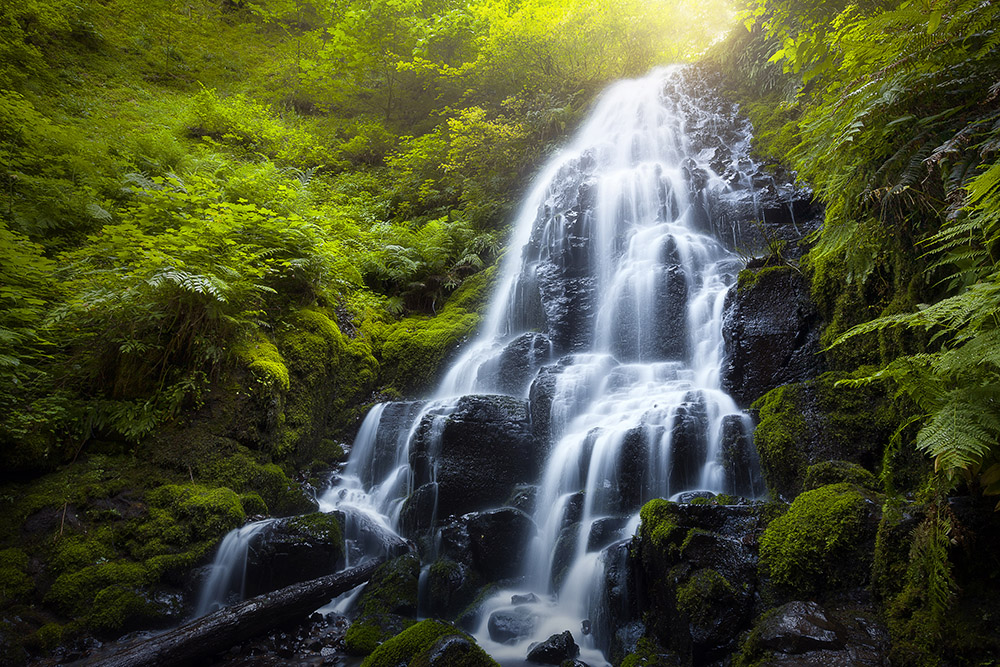 Fox says this waterfall is one of the most beautiful he has seen. "Water bursts out from the lush forest wall and fans out to create this stunning scene," he says. Canon 5D Mk II, 16-35mm lens @ 18mm, 1/15s @ f/8, ISO 50.


Philosophy and approach
When it comes to the images Fox captures, his philosophy is, "less is more". His images tend to rely on traditional photographic elements as their strength, with the importance of a strong foreground, background, use of leading lines and other compositional elements, crucial to the final result. The effective use of colour is something else very apparent in Fox's work.

"I love colour," he says, "and I don't shy away from it. But I also love dramatic light and compositions, relying on elements including crashing waves and wide angles." But ultimately, Fox says he's really just on the lookout for anything that catches his eye.

Recent favourite subjects include the ocean and night photography. The ocean has proven particularly attractive to Fox because working with moving water allows him so much creativity and the ability to explore the myriad ways to capture and represent it. Delving into night photography has also proven to be a rewarding experience, as have the challenges and possibilities from shooting sand dunes.

To date Fox has not placed great emphasis on awards and competitions. "They are far from my number one priority at this stage," he says. "I'm not fazed by them because it's just someone else's opinion. I am more concerned with me being happy with what I am producing." Having said this, Fox admits to entering competitions every so often, but says he doesn't shoot with the intention of capturing an image to appeal to a panel of judges.

The bulk of Fox's work has centred on capturing landscapes in Australia and the United States. And having dual citizenship certainly helps in this regard. Some of his favourite locations, so far, include the Pinnacles in WA, Antelope Canyon in Arizona and the Columbia River Gorge in Oregon. But Fox has cast his eye much further afield, and his wish list of desirable destinations includes New Zealand, Canada and Iceland.

The ultimate aim, with his imagery, is to produce pieces that grab the viewer – images which have the "wow" factor. These should ideally also have elements which reveal themselves further the more the viewer scrutinises and assesses the piece. But Fox is keen to point out that, as far as he's concerned, there are no rules. Great photographs may not follow any rules and it might be a challenge to explain exactly why it is that an image works so well, but that's not the important thing. The aim is to create a powerful piece, able to communicate with and engage the viewer. As well as this, simply producing work that he is proud of is another major motivator for Fox. "I get such a buzz from producing a beautiful photograph. It's like nothing else. At a great location I can barely contain my excitement at times," Fox admits. "Just recently, I was dancing as I ran across a huge rocky coastline to Sara (my partner), after finding a composition to shoot at sunset."

The lightning was quite distant when Fox began shooting at Burns Beach, WA. "I managed to capture this closer strike by chance during a short quarter-second exposure," he says. Canon EOS 5D Mk II, 17-40mm lens @ 17mm, 1/4s @ f/16, ISO 100.


Post production
Fox is not dissimilar to other working professionals in that he sees Photoshop as simply another tool in his arsenal to help produce the best possible result. Fox says using Photoshop to make a landscape as spectacular as possible should not be seen as cheating.

"Post processing allows for further creativity and helps to stamp what you felt or saw on an image," Fox says. "It helps me to create a mood."

The term "Photoshopping" often has a negative connotation, says Fox, even though many of the same processing techniques were used in the darkroom – adjusting exposure, varying contrast, masking and dodging and burning. His view is that photographers should do what it takes to achieve their artistic vision, within reason. "I don't add or eliminate elements, so I'm not adding in dramatic skies shot elsewhere or other aspects."

Something else that Fox is quick to point out is that you simply can't fake good light in Photoshop – that has to be in the original capture.

In the bag
Fox says his gear is straightforward, and he doesn't really need very much at all to capture his stunning images. His kit includes a Canon EOS 5D Mk II, 16-35mm f/2.8 Mk II L-series lens, 24-105mm f/4 L-series lens, Manfrotto tripod, Really Right Stuff L Bracket, Feisol ball head and cable release.

"I really like to keep it simple," he says, "and 90% of the time all I need is a body, a 16-35mm lens, a tripod and a shutter cable."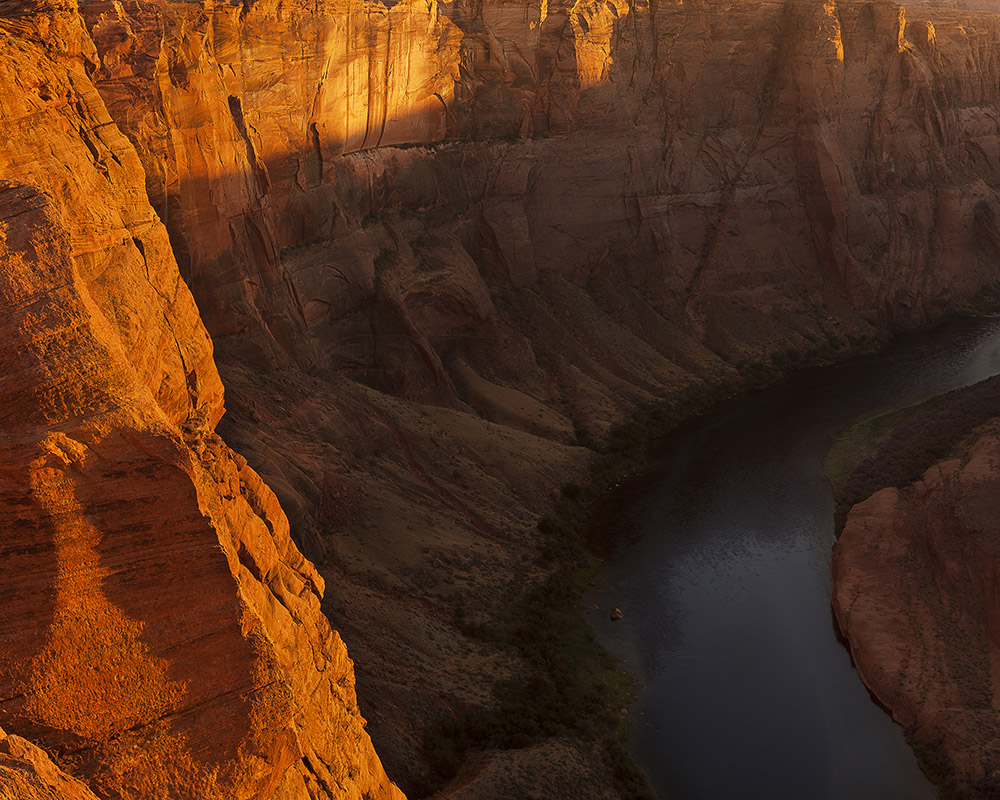 At Horseshoe Bend in Arizona the last rays of sunlight light up the canyon walls while leaving the Colorado River in darkness below. "It's not your standard Horseshoe Bend photo but I love this shot," says Fox. Canon EOS 5D Mk II, 16-35mm lens @ 35mm, 1/13s @ f/11, ISO 50, tripod.


Creative advice
Fox says your first and highest priority should be about having fun. One of the greatest mistakes one can make is to take your photography too seriously.

"If it isn't fun, and you aren't itching to get out and shoot, you are in it for the wrong reasons," he says. "Another common mistake I see beginners making is trying to be too tricky and complicated. I think that trying to capture everything from the location in one shot is a mistake, and typically yields results that are never as powerful."

Another way to grow and develop your skills is to shoot as much as possible. The benefits of constantly practicing, in Fox's view, can never be overstated. Trial and error, always being open to trying new things, and learning from your mistakes are critical elements, so if you are new to the craft don't place unrealistic expectations on yourself, such as expecting every image you shoot will be brilliant.

He also cites the importance of critically assessing the work of other photographers whom you admire as a way to help inspire you and help you further develop your skills.

By the same token, it's also important to examine and consider your own work and be your harshest critic – after all, it's in the name of constant improvement.

"And most importantly," Fox says, "don't be afraid to fail."

So driven is Fox that if he doesn't capture something he's pleased with, he can barely function. "It is all I think about and I can't settle until I capture whatever it is that is in my head!" ❂