Pandemonium exhibition set to show 'distressed' images in Sydney
A new exhibition opening today at Sydney's Sunstudios features more than thirty distressed artworks, including captivating portraits of performers Tim Minchin and Steve Kilbey, misty landscapes, and even an embalmed 1961 XK Falcon.
The unique images in PANDEMONIUM by photographer Toby Burrows were developed during the pandemic, and are, in the artist's own words; 'a violent metamorphosis of the exhibition's first format.'
The images have been distressed and aged by Burrows using a signature, analogue technique. Each image has a sculptural, visceral quality owing to its manipulation.
"As photographers, we have been trained to respect the fragility, integrity, and perfection of the printed photograph," he says.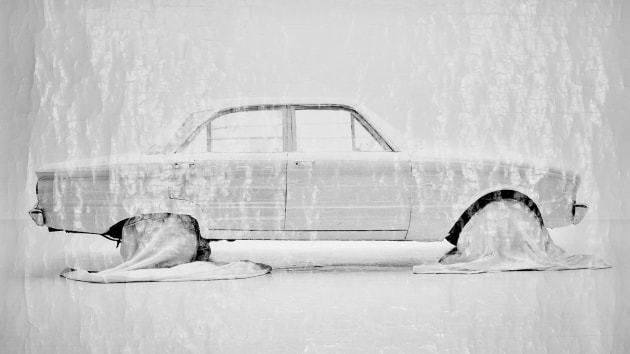 "It was in an act of post-pandemic defiance, that I began to distress and reinterpret my own artworks to give them new meaning."
Portraits include a spectrum of famous faces - from comedian Tim Minchin, singer Steve Kilbey (The Church), scientist Dr Karl, writer Pete Duncan (Rake), and Eileen Kramer, among others.
In addition to the tactile process of manipulating the photographic prints, Burrows says he was also excited and inspired to revisit silk-screen and light projections for the exhibition, which runs until Saturday 27 August. 
"Although the Pandemic created hardship for many, there were positive aspects to a forced reset," he says. "A time with limited resources and access to travel, forced us all to rethink what was expected of us, made us reflect on where we have been and reassess what is important." 
PANDEMONIUM is open at 42 Maddox St, Alexandria NSW 2015, from 7.00am-7.00pm Monday Friday, and 8.00am-4.00pm on Saturdays, with an artist's talk on Saturday the 27th at 1pm. The exhibition is free.