Nikon's new free creators hour programme features talks by Ami Vitale, Brian Skerry, Lynsey Addario and more
As well as making their workshops free throughout April, Nikon has introduced a new initiative called "Creators Hour" that involves a series of live events accessible anywhere in the world.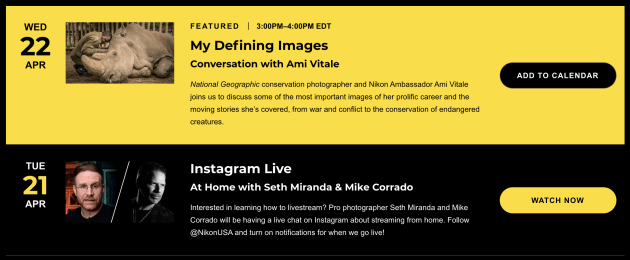 When we're staying home all the time, it can be difficult to get our creativity flowing. In response, Nikon has created a virtual space where creatives and budding photographers can visit to get some inspiration and gain some insight into how professional photographers are staying creative at home.
The online platform features a whole series of live events which can be watched at the same time by anyone in the world.

However, if the event is scheduled to take place at an hour that doesn't fit into your day due to time difference, the videos remain available on the site for you to watch (and rewatch) anytime you please.
The next video event on the agenda is 'My Defining Images' and is a discussion with National Geographic conservation photographer (and Nikon Ambassador) Ami Vitale. The video is set to go live at 3:00-4:00PM EDT, which is 5:00AM EST for us in Australia tomorrow.

The website has a very intuitive function that helps you set a calendar reminder for an upcoming event. The simple click of a button will add it to your computer's calendar, and it will even slot it in at the time-difference adjusted hour.
Other upcoming events are more interactive and framed as 'Creativity Challenges', such as a photo challenge this Thursday 23 April. The third category of online events are Instagram Live events which will take place on the @NikonUSA Instagram profile. You can catch Deane Fitzmaurice and Chris Hershman go live on Instagram this Tuesday 5 May.
Previous events available to watch now include videos featuring the likes of Brian Skerry and Joe McNally, with other pros set to feature in an event including Dave Black, Corey Rich, Lynsey Addario and Joel Sartore. 
The program of online conversations and challenges span a diverse range of areas. So whether you're into wildlife photography or photojournalism, or something else entirely, there is likely an event that will get you inspired at home.  
If you want to keep updated, check out the full program of events here, add your favourites to your calendar, and follow @NikonUSA and #creatorshour on Instagram.