New project shines light on rarely-seen Sydney subculture
A new project by Sydney cinematographer and photographer Kate Cornish has shone a light on one of Australia's most unique subcultures - Dykes on Bikes. 
Created in collaboration with Steph Jowett and Tilly Robba, Dykes On Bikes: An Origin Story offers an insight into the historic group in a documentary-style format, something that hasn't been done since the Dykes On Bikes first rode in the 1988 Sydney Gay and Lesbian Mardi Gras Parade.
The group emerged in response to a spate of gay hate crimes in the 1980s, meeting on weekend evenings to patrol the streets of Sydney and break up attacks in the city.
In the images, group members are pictured in a mix of both studio and outdoor environments. An accompanying video, also captured by Kate, shares the backstory of the project.
"This project is one that myself, Steph and Tilly are very proud," said Kate. "As members of the LGBTQIA+ community, it's important to showcase the group's history outside of its presence within Mardi Gras Parade, and the impact they've had over their 30+ year history."
We sat down for a chat with the Canon Ambassador and proud Dykes on Bikes member to find out more.
Australian Photography: How did the project come about? What made you think it was worth telling?
Kate Cornish: This project came about due to two reasons: Firstly, my collaborators Steph Jowett and Tilly Robba had approached me with the intent of making a film about the Dykes on Bikes, a group that the two of them were always fascinated with.
Secondly, my partner and I have been members of the club for the past three years and have come to know and respect the wonderful people who run the club. I think this story was worth telling simply because it hasn't been told before in this magnitude. As an untold part of Australia's LGBT history, it deserves its moment in the spotlight.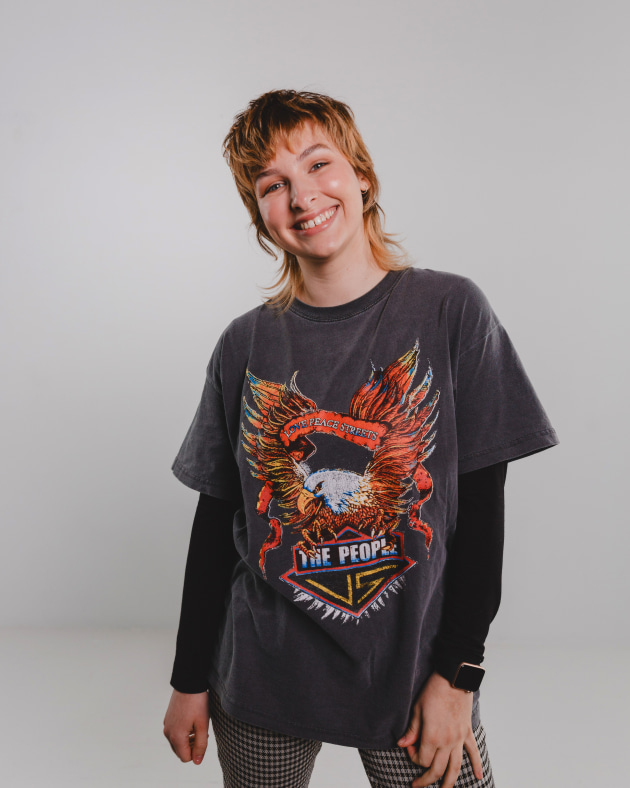 How did you get your subjects on board with the project?
Simply by already knowing them! My partner and I had formed bonds with a few members prior to filming, which definitely helped.
Can you talk us through your studio and lighting setup for the series? Is there a significance to the red background?
The red background is indicative of visual references that Steph and Tilly pulled from vintage magazine spreads from the 70's. A lot of these portraits used canvas backgrounds or something similar, and we wanted to emulate that style.
The lighting setup was relatively simple, just punching an aperture 600D (with a light dome attachment) through a double stop 8' silk as the key light. Then, using a large solid (floppy) as our neg on camera right, and a titan tube as the kicker on camera right behind our subject.
What other gear did you use?
For the portrait photography I used a Canon R5 with the 28-70mm RF lens. For the moving portraits seen in the film I used the C500 MK II with Canon Sumire Primes.
Why was it important to include the environmental shots as well?
I think it was important to showcase these women truly in their element. There's so much talk of the Australian landscape in the film, so we wanted to show that off.
How did you settle on the final images for the series? Which is your favourite image?
We settled on the final images after a lot of hair pulling and sleepless nights! My favourite image is of one of the riders named Cass (yellow motorcycle). There's something about her fierce look to camera that I just love.
What do you hope viewers will take away from the series?
Hopefully a greater empathy and understanding of Australia's queer community and history. Or maybe it will inspire them to buy a motorcycle. Thanks for watching!
Dykes On Bikes: An Origin Story is the second project from the new-look Canon Australia Ambassador programme, following photographer Jarrad Seng's Story of Scars project released late last year. It can be viewed in its entirety online here.