New exhibition showcases underwater 360-degree panos
A new exhibition at Sydney's SEA Museum showcases a decade of underwater panoramas captured with a one-of-a-kind camera. 
Out of Sight, Out of Mind transports visitors into interactive images to explore unique underwater worlds, and experience the diversity of life under the waves.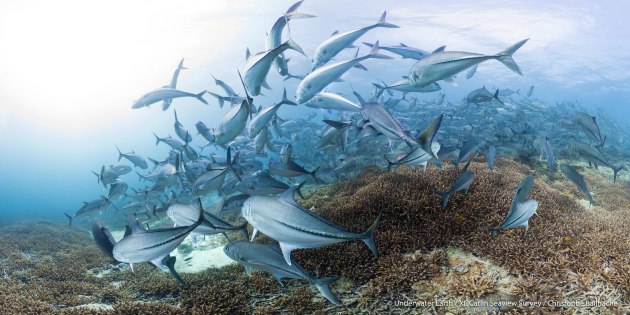 The exhibition is the work of Underwater Earth, an Australian charity that seeks to reveal the ocean to the world using creative storytelling and innovative technology. Underwater Earth pioneered underwater Google Street View in 2011, and the team has since captured over a million panoramic images with their unique proprietary underwater cameras.
The new exhibition primarily showcases the work of the charity's lead underwater photographer and explorer, Christophe Bailhache, with a selection of his unique panoramic images taken during ten years of expeditions.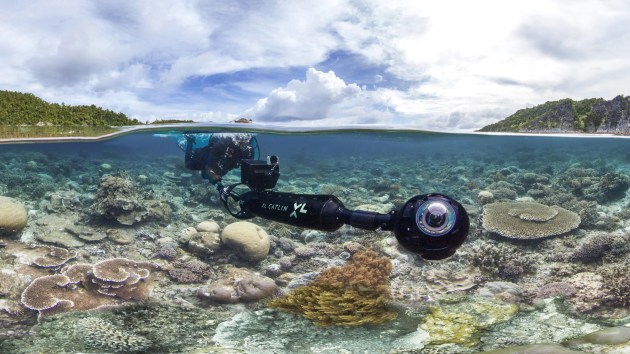 The images in Out of Sight, Out of Mind were captured with a Seaview SVII, one of only two cameras of its kind in existence. Co-invented by Bailhache, the SVII is known as the underwater equivalent of Google's Street View camera. The 65kg 360-degree camera is self-propelling, and has a specially designed underwater housings that holds a set of three Canon 5D's with wide-angle lenses. Each camera is controlled by a tablet sitting within a custom-made underwater housing.
The resulting 360-degree images present a unique view on our underwater world. 
Curator Lorna Parry, co-founder and Managing Director of Underwater Earth, says the immersive exhibition puts the viewer in the centre of underwater scenes. 
"You don't have to be a diver now to see the wonder that lies beneath the surface. We want people to connect emotionally with the underwater world," she says. 
Out of Sight, Out of Mind is timed to coincide with the Volvo Ocean Lovers Festival Blue Solutions Summit. It runs until 29 May 2022. More info: sea.museum/whats-on/exhibitions/out-of-sight-out-of-mind