New exhibition by Trent Parke and Narelle Autio opens in Sydney
The Summation of Force, a new exhibition by photographers Trent Parke and Narelle Autio, has opened in Sydney.
Described by hosting gallery Michael Reid Sydney as 'a staggering work of genius by two of Australia's most important practicing artists,' the exhibition is also described as a profoundly ambitious & complex presentation, aspiring to that German term; Gesamtkunstwerk – the complete art work.
In its totality; it is a 'cosmic' 8-channel immersive video installation about life, and the universe. But mostly it is about cricket.
Trent Parke is one of Australia's most renowned photographers and his long-standing career has received international critical acclaim. In 2007 Parke became the first Australian to be admitted as a member of the legendary Magnum Photo Agency.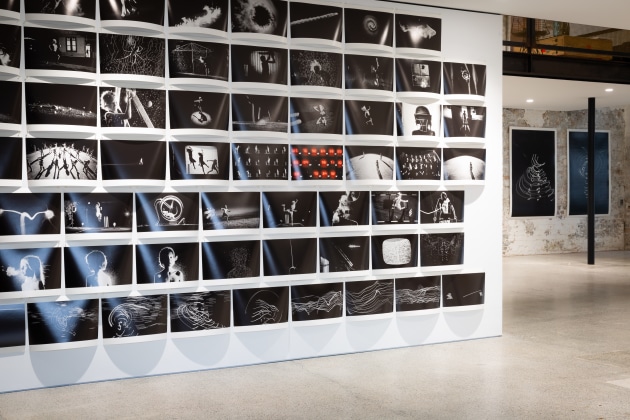 Narelle Autio is multi award winning photographer whose artistic career spans over 30 years. In 2002 she became the first Australian to have won the venerable international Leica Oskar Barnack Award for her series 'The Coastal Dwellers'. Her complex compositions represent a great homage to the beauty of Australian life.
On show at Michael Reid Sydney is a four channel version of the duo's film, accompanied by twelve editioned photographic stills. Also on display is a comprehensive set of 73 pigment prints that map the film in a loose sequential order, in addition to handmade books and a 13 meter canvas cricket pitch map, 'painted' by the artists' sons using paint covered balls while practice bowling. 
The exhibition's timing is deliberate - launching alongside the first Ashes test for the summer. The Ashes – a small Urn containing the figurative remains of English cricket after a home-soil loss to Australia in 1882  – shows cricket's propensity for symbolism, grand narrative and deep obsession, says the gallery. 
"On this last point, both art and sport hold equal claim and it is at this juncture where Park and Autio's work takes root." the gallery says. "Through the removal of colour and context, the artists extrapolate the minutia from cricket, distancing us from our understanding of the sport, instead calling on a subconscious engagement with its elements.
Unpacking symbols, detail, memory and movement understood intimately from a lifelong obsession with the game, the artists then explode these elements into a comprehensive artwork of rare brilliance."

The Summation of Force runs until January 29. You can find out more here.