New Canon AI processor fixes camera 'issues'
Canon has shared information about a new deep learning-powered AI image processing technology that the company says can dramatically improve image quality.
Shared on the Canon Japan blog, Canon says using what it describes as "cutting-edge technology," it has created a new deep-learning image processing technology that aims to achieve 'true-to-life' photography, and focuses on three areas: noise reduction, color interpolation, and aberration diffraction correction (i.e lens blur correction). 
"As AI technology advances and deep learning technology is being applied in a variety of ways, Canon is committed to the inevitability of the principle of photography," the blog says.
Canon already has access to a huge image database that has been accumulated through the development of its cameras and lenses, "covering all imaginable subjects, as well as RAW data with more detailed information such as JPEG," the blog continues. 
The company says the AI processor is capable of delivering excellent results with noise reduction.
"While numerous noise reduction functions have been developed in the past, these often come at the cost of losing details, and in most cases the quality of the image deteriorates," the blog says.
"Canon took full advantage of its strengths of being able to prepare large volumes of image data with little deterioration and difficult-to-process image data, and by performing deep learning, it was able to obtain clear, high-quality images."

The results weren't without challenges however, with Canon describing how it needed to change the structure of the neural network itself, and review the learning process, to correct for "miscorrections".
"As a result, we have established a "Neural network Noise Reduction" function that enables clear, high-quality images to be obtained," the blog says.
"In high-sensitivity photography, it is now possible to amplify light information while simultaneously removing amplified noise and expressing smooth skin texture (skin tone), which was hindered by the occurrence of noise."
Canon says that it has also been able to overcome the fundamental problems of sensor technology and how moire is handled.
"In a digital camera, each pixel in the image sensor is arranged in a regular pattern, so when you shoot stripes or checkered patterns, the regular patterns are superimposed, creating moire patterns that should not exist," the blog says.
"There was a fundamental problem with doing so. In addition, each pixel of the image sensor detects only one of the three primary colors of light, red (R), green (G), and blue (B), and refers to information from surrounding pixels for the remaining two colors. RGB data for one pixel is generated by estimating the color of the pixel (this is called color interpolation processing)."
Because of this, Canon says it was not possible to suppress false colors or color moire, but there were processes that could suppress it at the cost of image degradation, with resolution and colour reproducibility the most affected areas.
However, Canon says its Neural Network Demosiac technology can correct for this.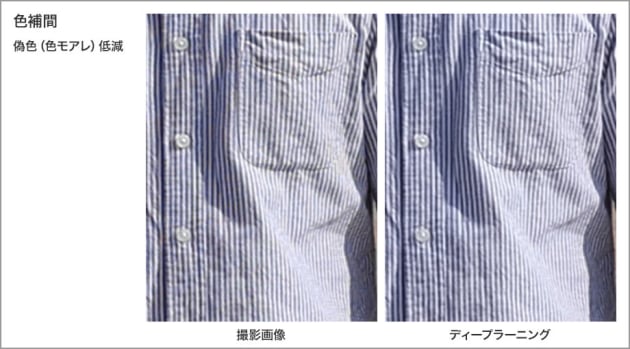 "Erroneous interpolation is suppressed by focusing on subjects that are difficult to guess in color interpolation processing," Canon says.
Finally, the company says its technology can also correct lens aberrations.
Canon says although it is all but impossible in principle to eliminate lens aberrations completely, its Neural network Lens Optimiser is capable of correcting image degradations and can greatly improve the sense of resolution.

"By combining the three areas of image correction realized by deep learning image processing technology, it is possible to perform a higher level of correction than by performing them individually, achieving a significant improvement in image quality such as the depiction of details and the three-dimensional effect of photographs," the blog concludes.
 Whether Canon's technology is intended to be implemented in-camera in the future is not clear, nor is it if it will be made available to consumers in some capacity.
For now, you can read more details about the technology on the Canon Japan blog - you'll just need to use Google Translate to convert it to English.