"Massive decline": Photokina shutters doors indefinitely
After 70 years, photographic trade show Photokina has announced it will be discontinued indefinitely, with the world's largest photo trade fair blaming the shutdown on a "massive decline in markets for imaging products." 

Photokina was first held in Cologne in 1950, and it would go on to become the most significant event in the photo trade calendar - initially as a biannual event in the glory days of booming camera sales up until the early 2000s.

Attended by all the major camera brands for decades, Photokina was often where new products would be unveiled for the first time, and it remained an important networking and business event for the photographic community. 
However, signs of trouble first began to emerge in 2017 when it was announced the fair would become an annual event and diversify beyond cameras.
At this point, it was clear the 'trade show' model was beginning to suffer from changing demographics, as well as 24-hour news cycles and shortening attention spans.  
By 2018, things weren't looking much better, with the 2019 edition canceled to give companies time to "further develop the new concept for photokina." But even that couldn't stop the rot, with many brands announcing they would no longer have a presence at the show by 2020, and many major brands like Sony, Nikon, Canon and Fujifilm also choosing to host their own launch events outside of the trade fair.
In the end, the 2020 cancellation due to COVID-19 was the final straw, with the announcement this week that it would be shuttered indefinitely.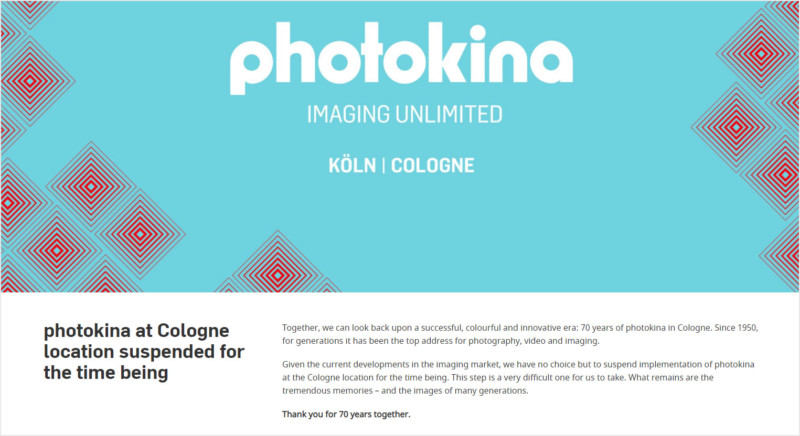 In a press release, Photokina's organisers have laid the blame on declining camera sales.
"In view of the further massive decline in markets for imaging products, Koelnmesse has decided to discontinue organising photokina at its Cologne location for the time being,"
Even before the coronavirus pandemic began, the imaging market was already subject to upheaval, with annual declines in the double digits. The momentum in this direction intensified massively in 2020, most recently reporting a decline in the 50-percent range. 
Gerald Böse, President and CEO of the Koelnmesse center that hosts the show says that changing trends in the industry have also been to blame. 
"Unfortunately, at present the framework conditions in the industry do not provide a viable basis for the leading international trade fair for photography, video and imaging," 
"The trend in this industry, with which we have always had a close and trusting partnership, is very painful for us to witness. But we are facing the situation with a clear, honest decision against continuing this event, a decision to which, unfortunately, we have no alternative."
You can read the full press release on the closure here.