Loud and Luminous festival hits Melbourne
Fifty-six diverse women photographers across Australia aged between 9 to 89 years old will come together to celebrate International Women's Day 2018 at a unique event in Melbourne next week.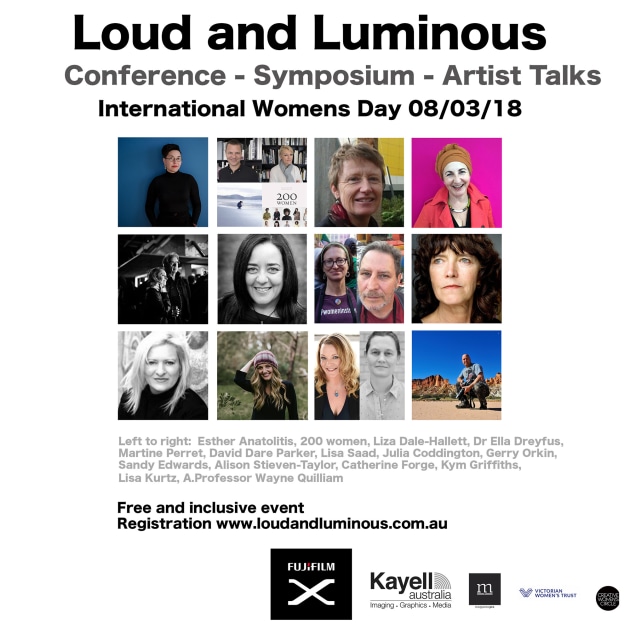 The Loud and Luminous festival involves a print exhibition, multimedia, book, and free and inclusive International Women's Day event to continue the discussion of equality, women and arts. The project encourages women to tell their stories to contribute to our cultural identity while acknowledging the importance of all stories.
In attendance will be 9 year old Emmanuela Phan and 89 year old Ruby Spowart. From the Gold Coast, Ruby is 89 years old and her contribution to Australian photography has been consistent since the early 1980s. She is regarded as a leading light in photography and has won a Don Fraser Fellowship at QUT, the Muswellbrook Photographic Award and McGregor Prize for Photography. Rubys work is held in major regional art collections, the Queensland Art Gallery, and the National Gallery of Australia. 
Speakers incude:
Esther Anatolis, Executive Director - National Asssocation of Visual Artists

 

A.Professor Wayne Quilliam, NAIDOC Artist of the Year, Human Rights/Walkely Award
Gerry Orkin and co-creator Julia Coddington

 

Dr Ella Dreyfuss; Head of Public Programs at National Art School, Sydney Fine Arts and education
David Dare Parker

  

and Martine Perret P
Geoff Blackwell, Ruth Hobday & Kieran Scott; Publishers of "200 WOMEN" book and project, via video.
Lisa Saad; 2016 Australian AIPP Professional Photographer of the Year

 

Lisa Kurtz Representing Verge Art Collective and Kym Griffiths representing Refocus Retreats
Sandy Edwards, Curator and Photographer
Alison Stieven-Taylor journalist and Photographer commentator/researcher.
A full list of photographers in attendance can be found on the Loud and Luminous website, and registration for this free and inclusive event is via the website or via eventbrite.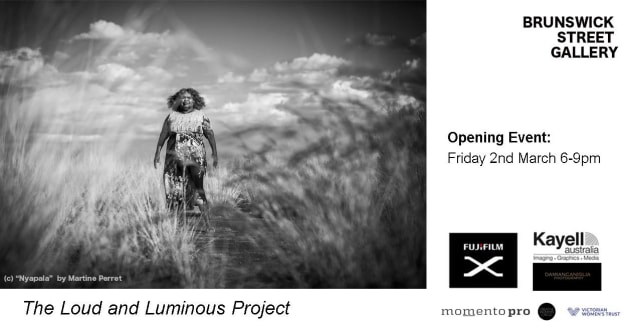 The Loud and Luminous print exhibition will be held at Brunswick Street Gallery, 322 Brunswick St Fitzroy from 28/02 – 13/03/18. Opening night is on March 2nd from 6pm – 9pm. The Loud and Luminous book will also be launched on IWD, and will also be at the Melbourne Art Book Fair.
For more information about Loud and Luminous, check out the Facebook page.