Legendary war photographer Tim Page dies aged 78
Legendary British-Australian war photographer Tim Page, whose iconic images helped define the Vietnam war, has died of liver cancer at his home in NSW. He was 78. 
Born in 1944 in Tunbridge Wells, Kent, Page's photos and larger-than-life personality exemplified the extremes and excesses of war and its counterculture in the 1960s.
In the book Dispatches, author Michael Herr described Page as the most "extravagant" of the "wigged-out crazies running around Vietnam". His personality was part of the inspiration for the character of the journalist played by Dennis Hopper in Apocalypse Now.
Leaving England in 1962, Page made his way overland, driving through Europe, Pakistan, India, Burma, and Thailand, before settling in Laos. He began work as a press photographer in the country, stringing for UPI and AFP, having taught himself photography.
Speaking to New Zealand Geographic in 2018, he said it was his photographs of the attempted coup in Laos that got him his first job with UPI.
"I'd ridden through machine gun fire to get the pictures out," he said. 
"They got world play and I was offered a job on the back of that in Vietnam for 90 bucks a week. I hadn't worked for a month or so and it was perfect timing. It sounds ridiculous now, but then you needed 100 bucks a month to live and that included sex, drugs and rock 'n' roll."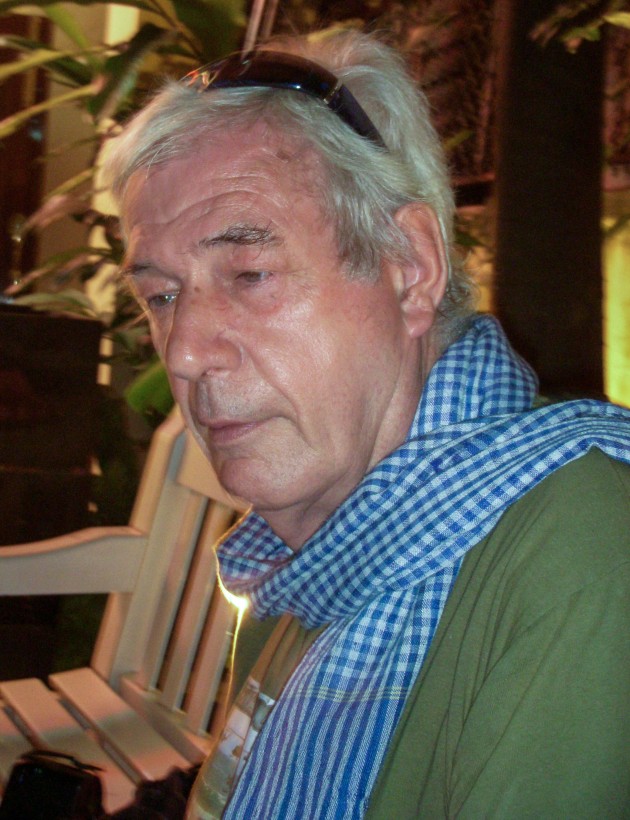 Through the staff position in the Saigon bureau of the news agency, Page worked as a freelance accredited press photographer in Vietnam and Cambodia during the 1960s, where he was able to capture many of his most iconic images.
During this time he developed a reputation as a photographer who would 'go anywhere, fly in anything, snap the shutter under any conditions, and when hit go at it again in bandages," wrote Sanford Wexler in The Vietnam War: An Eyewitness History. This unwavering approach and his raw, intimate images were the result of multiple near death experiences.
Page was injured four times, struck by shrapnel in the legs and stomach in 1965; again receiving shrapnel wounds during Buddhist protests in 1966, and in August 1966 in the South China sea, he was on board the Coast Guard cutter Point Welcome, when it was mistaken for a Viet Cong vessel. U.S. Air Force pilots strafed the ship, leaving Page adrift at sea with serious wounds. 
His most serious injury occurred in 1969. According to Dispatches, Page jumped out of a helicopter to help load wounded soldiers. At the same time, a sergeant stepped on a mine close by, sending a two-inch piece of shrapnel into Page's head. He was pronounced dead at a military hospital, was revived, then died and was revived again. The injury led to a year in the United States undergoing neuro-surgery. 
These near-death experiences helped shape an indifferent attitude to the value of his own life, but he was also the first to admit he was captivated by the excitement and glamour of war.
However in time, he would also become reflective and articulate about the personal cost of conflict. 
"I don't think anybody who goes through anything like war ever comes out intact," he said in an interview with The New York Times in 2010.