Kelly Brown turned her passion for newborns into a thriving photography business. She talks to Marc Gafen about her brilliant career.

Kelly Brown is living proof that having a niche and concentrating all your energy, skill and time in just one specific photographic field is a great step to take in becoming a highly successful and recognised leader in your genre. Her entry in the world of photography isn't dissimilar from a lot of others – a new mum who decided to try her hand at it, and satisfy her creative needs at the same time. But what set her apart was her drive, determination, and, of course, some amazing photographic talents. Based in Brisbane, Brown started her business, Little Pieces Photography, in 2005. It specialises in newborn and baby portraiture.

Today, she's a Master of Photography with the Australian Institute of Professional Photography and WPPI, and has received almost every major accolade available to someone shooting in her field. In 2012, she was named AIPP Australian Creative Photographer of the Year, while in 2013 and 2014 she was AIPP Queensland Professional Photographer of the Year. Last year she was also named as the AIPP Australian Family Photographer of the Year.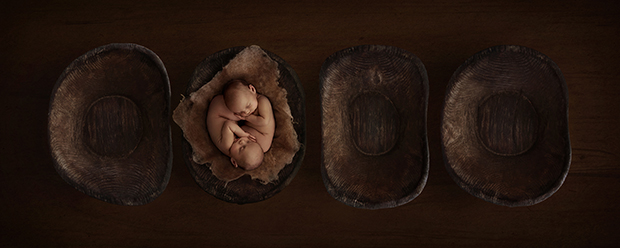 This image represents the hardship this couple faced when planning their family. Canon 5D Mk III, 24-70mm f/2.8 Mk II lens, 30mm, 1/160s @ f/2.8, ISO 1000.

BIRTH OF A CAREER
Before picking up a camera Brown worked as a personal assistant/office manager for a construction company. Following three months maternity leave after her first child, in 2003 she came to the realisation that she simply couldn't go back to work and leave her baby. Her husband supported the decision and suggested that she study photography. Armed with 1920s book on the craft from her grandfather, who was a huge influence, she commenced a six-week introductory course at night. Having picked up a camera just over 10 years ago, and with a professional practice of eight years, there was a very small chance that we might never have heard of Kelly Brown. Like many other photographers, she wasn't immediately connected to her true photographic passion and instead dabbled in a number of different areas. From the outset she photographed flowers to produce her own range of cards, which she sold at market stalls in the Blue Mountains, just outside of Sydney, and to boutique gift stores.

The annual garden festival at the small town of Leura, in the Blue Mountains, provided the ideal opportunity for Brown to get an introduction into photography. Armed with her camera, and with her baby daughter in the pram, she would head out to practice her skills. "Photographing flowers was perfect for learning how to focus, understanding depth-of-field, composition and lighting," she says.

The advice she gleaned from one of the first books on photography she read, by Steve Parish, was signifcant. It advocated focusing on one area or genre of the craft before moving on to the next. After focusing briefly on weddings and portraiture, six years ago Brown made a decision to concentrate solely on photographing newborns. "I had a young family and my husband was working out of town and he was only home every second weekend," Brown recalls. "Making the decision to specialise in newborns meant that I could work during the week while my children were in school, and I had my weekends free." Her love of photographing babies made the decision easy, although she admits that she could never have imagined the decision would have brought her to where she is today.



Taken at a mentoring session in Sydney last year. Canon 5D Mk III, 24-70mm f/2.8 Mk II lens, 70mm, 1/125s @ f/2.8, ISO 500.

SIGNATURE STYLE
With a distinct look and feel, Brown's images are clearly recognisable for their signature style, one which has been copied, appropriated and borrowed by many aspiring photographers. Naturally drawn to neutral, earthy tones and beautiful textures, she says paying attention to absolutely every little detail in an image is crucial. "For me," Brown says, "it has to be organic - pure and simple. I love to capture all the details and make it all about the baby. I use colours, tones and textures which don't distract from the baby, which is always the main focus of the image." Another major goal for her during any session is to make the baby look as peaceful and comfortable as possible. Safely and creatively posing babies, along with the thoughtful selection of props and backgrounds, are also vital ingredients which go into her mix. "Knowing the best way to pose babies is definitely something which I've developed over time," Brown says, "Along with understanding babies and how they move.

I'm still perfecting things with every session, but I think the key is to be patient and never force a baby into any pose just for the sake of a shot."



A proud father holding his son. Canon EOS 5D Mk III, 24-70mm f/2.8 Mk II lens, 50mm, 1/60s @ f/3.5, ISO 800.


HOW DOES SHE DO IT?
Somehow, Brown not only manages a successful and thriving business, she also raises three children. Thankfully, she's not doing it alone. At the end of 2013 her husband decided to join her in the business, after 20 years in the construction industry, so they could run it together. In 2014, besides picking up a number of significant industry accolades, Brown photographed 139 newborn babies, privately mentored 23 photographers, gave 19 newborn posing classes in 12 countries to 193 photographers and was invited to speak at three photography conferences. This year is likely to be just as busy, if not busier. The Baby Summit – three-day conference, on the gold Coast in early August – has been conceived (no pun intended!), by Brown and her husband. It's the first of its kind: an event for photographers who specialise in the maternity, birth, newborn and baby genres, with presenters from all over the world.

Any photographer typically regarded as being "successful" will tell you that the actual photography is just one piece of the puzzle. "In the beginning," Brown says, "I believed it was all about taking amazing photos. Now I know that running a successful photography business is closer to, say, 70% business and only 30% taking photos. Running a business requires one to wear so many different hats." She's not afraid to share her secrets. And as it turns out, it's a simple formula. The key to success is…hard work! "You have to work hard for what you want," Brown says. "Every year, we set goals, make plans and then go about making it happen. We do whatever it takes to achieve them, and I don't allow fear to hold me back."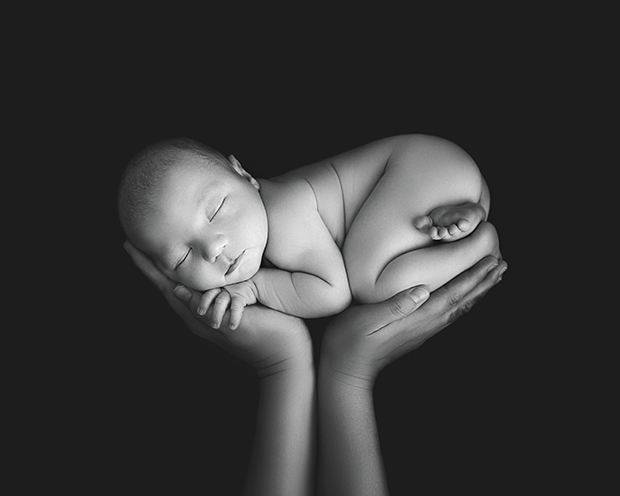 Posed on my posing bag with the Mum sitting on the floor and the baby safely supported. Shot with Canon EOS 5D MK III, 24-70mm f2.8 lens, 55mm, 1/250s @ f2.8, ISO 500.

While Brown is an accomplished and extremely talented photographer, her ongoing success is predicated on the fact that she's also an extremely savvy business person.

Not that she's ever got to be contented with slow seasons, like wedding photographers, or rained-out sessions, like location photographers, but if she did need a backup plan, she has another whole thriving business to fall back on which doesn't depend on her shooting a single frame. Not only has she been invited to speak at events as well as run workshops on posing newborns, in Australia and internationally, Brown also sells Photoshop actions, provides one-on-one mentoring, and does video tutorials, having appeared a number of times on CreativeLive, the popular US online platform.

Kelly Brown has made a name for herself by becoming one of the very best in her chosen field – not just in portraiture, but in newborn photography. And in this day and age, when literally everyone is now a photographer, the decision to focus purely on a narrow field was not only a brilliant creative decision, but also an excellent business one. Complementing her newborn photography is her maternity photography. This makes perfect sense, as by the time she comes to shoot a newborn, she has already gained the trust and established a rapport with the mother. The only question that now remains is, when will she dive into 'birth' photography?



Some of the beautiful expressions seen during a recent session.Canon EOS 5D Mk III, 24-70mm f2.8 lens @ 55mm, 1/800s @ f2.8, ISO 1250.

GETTING INTO NEWBORN PHOTOGRAPHY
The boom in portrait photography over the last few years has been nothing short of incredible, and this has also seen many try their hand at newborn photography. Advice from the experts regarding diving into this niche is to ensure their move is not made too prematurely. From her observations, Brown says many "newbies" seem to have their focus all wrong. "I've noticed a lot of newcomers focusing more on the posing instead of the basics of photography, like lighting, composition, focus and learning about which lens is best for what situation." Something else that many of them fail to realise is that running a photography business isn't just taking pretty pictures. "It's knowing how to manage a business, from keeping track of your finances, marketing, pricing yourself to earn an income and cover your cost of doing business."

Brown is happy to share much of her considerable experience and wisdom with those new to the industry, and specifically to newborn photography. One of the most important pieces of advice she proffers is to never risk the safety of a baby for the sake of getting a shot, and always use a spotter while on a shoot – someone who is tasked with ensuring the baby is safe at all times and not likely to roll off onto the ground. "Practice on a fake baby with different posing techniques," she suggests, "as well as how to wrap it."

When it comes to the technical aspects, Brown stresses the importance of learning to read light – both artificial and natural, and knowing and understanding all the fundamentals of composition, because it's only then that you can start to break the rules.

Still early in what's likely to be a very long and successful career, Brown says that one of the greatest lessons she's learned is that while building your business and learning to master your craft, it's still OK to make mistakes along the way – after all, how else are we supposed to learn and grow? And if you want to become the best photographer you can, Brown's advice is to follow your heart and do what you love. ❂

www.littlepiecesphotography.com.au
www.thebabysummit.com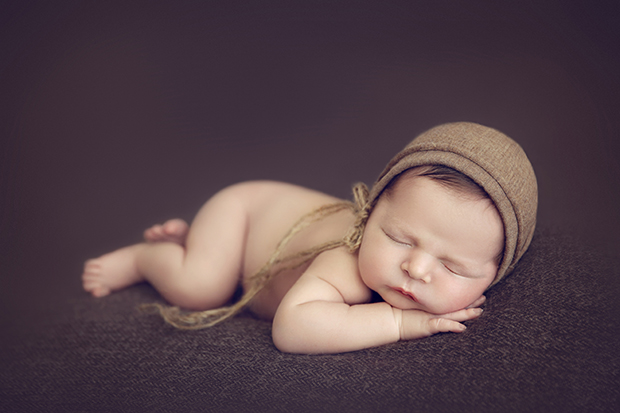 Ten-day-old Lewis. Canon EOS 5D III, 24-70mm f2.8 lens @ 70mm, 1/250s @ f/2.8, ISO 640.