Jesse Marlow documents 'life behind the wheel' for BP's centenary in Australia
While many of Australia's most celebrated photographers have cut their photographic teeth around the coastlines of our barren country, an allure of the interior and dusty roads has been a common theme among the work of such names as Trent Parke, Jon Lewis and more recently, Adam Ferguson.
But much to the surprise of many, no stranger to this phenomenon is Melbourne-based street photographer Jesse Marlow. Perhaps most well know for his personal bodies of work "Wounded" and "Don't Just Tell Them, Show Them", Marlow's reportage falls well into the category of urban street photography.
However, for almost the last two decades, Marlow has focused periodically on the great Australian interior - no doubt a large contributing factor in British Petroleum's choice of Marlow among their array of artists selected to document BP's efforts in Australia to celebrate their centenary on the continent.
Along with artists Charmaine Pwerle, Marc Leib, Nicole Van Dijk and Ricky Gestro, Marlow was commissioned among the six "established and emerging artists from around the country whose inspired artworks will form an exhibition that represents BP's contribution to Australia through the decades," says a press release from the multinational oil and gas company.
Among the work produced in while commissioned by BP, Marlow drew on his experience in the desert and his typical MO as a street photographer to document "life behind the wheel" of a BP truck driver named Terry.
The final product - a triad of photos that cross-section Terry's daily lifestyle - speak to the nomadic and perhaps lonely life of an outback truckie and as Marlow says; were only made possible by an instant bond between himself and Terry.
"I flew into Darwin and met Terry at the fuel depot," recalls Marlow. "We hit the road, headed south and instantly bonded over our shared love of the AFL side, the Carlton Blues. We got on like a house on fire and have kept in touch post the project."
But while the photographer's immediate rapport with his subject most certainly added to the project's feasibility, Marlow also says that it was crucial that he was able to maintain the flexibly and minimalism of the approach he would take to his more day-to-day street photography practice - wielding dual Leicas and a handful of lenses to make the photographs.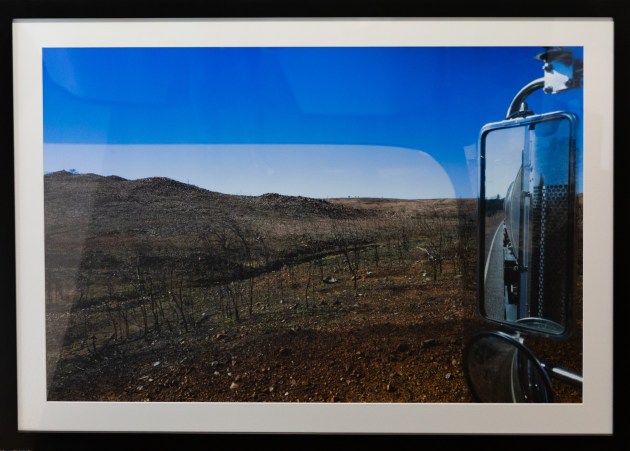 "I prefer things when they aren't too planned so, in a similar vain to my street photography, I kept an open mind to what I may encounter along the road," he says.
"Shooting from a moving truck for three days meant I was restricted to minimal equipment, which is how I usually like to work, so it wasn't that unusual. I shot with two cameras along the highway – the Leica SL with three lenses (16-35mm, 24-90mm and the 90-290mm) as well as my trusty Leica Q2."
After three months of work on the project by the commissioned artists, the completed BP centenary artworks will be displayed at events in Melbourne, Canberra, Sydney and Perth over the coming months - a timeline and brief from BP that as Marlow says, fit both his typical MO of working to produce books and exhibitions but also his practice over the last few decades that has encompassed both personal and commercial work.
"All of my personal projects are shot with the view to being part of a broader series and in turn, either published in book form or exhibited so my working approach with this series didn't differ," Marlow explains.
"As a photographer, I've also always worked commercially alongside my personal practice which has been a mix of documentary and street based projects. So, this BP commission felt like a real culmination of both."
But despite the clear cut brief from BP, Marlow is also quick to add that his time on the road with truck driver Terry challenged his typical mode of photography as well as sparked a new-found desire for the Australian interior - both of which he had been reticent to explore more thoroughly in recent years.
"When I was working on these projects I was in constant amazement at the sheer size of our country and noticed the great lengths in some parts of the Territory between roadhouses," he says.
"The working approach for this project was completely different to my approach on the street where I try to avoid any interaction with my subject matter. I really enjoyed shooting in a more documentary style for this project which I hadn't done as much of late and I'm looking to head back up at some stage and add to the project."