Image of suburban fashionista wins National Photography Portrait Prize People's Choice
Melbourne artist Kristina Kraskov's image of Michelle the 'suburban fashionista' has won the 2021 NPPP People's Choice Award, winning the Melbourne artist $5,000.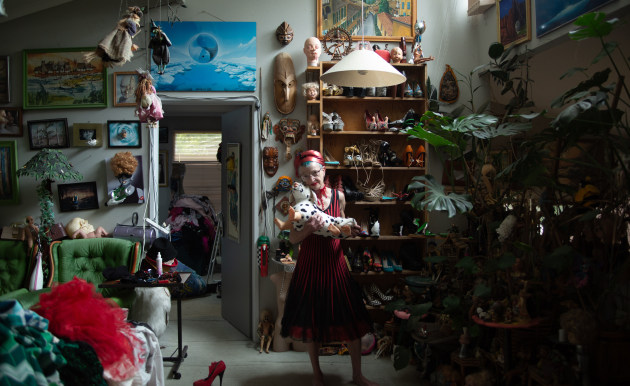 The portrait, I'm just a suburban fashionista, which also took home the 2021 Art Handlers' Award, was taken inside Michelle's colourful and eclectic house, which is filled with artworks, ornaments, trinkets and curiosities. Kraskov, a documentary filmmaker, said the photo reflects her interest in unusual and obscure subjects and stories, which she often finds "in hidden places".
"My portrait of Michelle shows both the reality and wonderment of being an eclectic fashion influencer in her 60s. I'm honoured it has resonated with the Living Memory audience, and I would like to thank my fantastic and endearing subject and now friend, Michelle, and all the people who saw something in my work and voted," she said.
Robert Reason, Museum Director for the David Roche Foundation, said the power of the portrait was in the detail.

"Michelle's house is a kind of museum to her life, and it is easy to assume that every object has a story attached to it. The power of this photograph is in the detail, and the layers that reveal themselves with longer inspection, so I am not surprised so many people responded so positively to it." 
Audiences have until January 16 to view the 2021 edition of the prize, the season being extended through the summer to compensate for COVID-related gallery closures. Named Living Memory to reflect the difficult preceding period of 2019 and 2021 which included widespread bushfires and the global pandemic, the exhibition is larger than usual, with 79 finalists selected for the exhibition as a way of acknowledging the impact the pandemic has had on the creative community.    
Judges Nick Mitzevich (National Gallery of Australia Director), Karen Quinlan AM (NPG Director) and Australian photographer Bill Henson selected Sydney photographer Joel B. Pratley's portrait of farmer David Kalisch in the midst of an unexpected dust storm, as the winner of the $50,000 First Prize, earlier this year.
Sydney-based artist Adrian Thornton was awarded the inaugural NPG Residency for Sun Shower, a black and white portrait capturing water droplets falling on his son in the afternoon light. 
The NPPP is run by the National Portrait Gallery, and offers substantial cash and equipment prizes for professional, amateur and aspiring Australian photographers. 
Entries for the 2022 edition of the National Photography Portrait Prize are now open, and will close in late January. The NPPP 2022 winner will be announced in early July 2022.