How I shot bioluminescence and the Milky Way together on the Great Ocean Road
What do you say about an image that you could never have imagined in a thousand years? It was nothing but luck that led me to discover this scene at the 12 Apostles on Victoria's Great Ocean Road.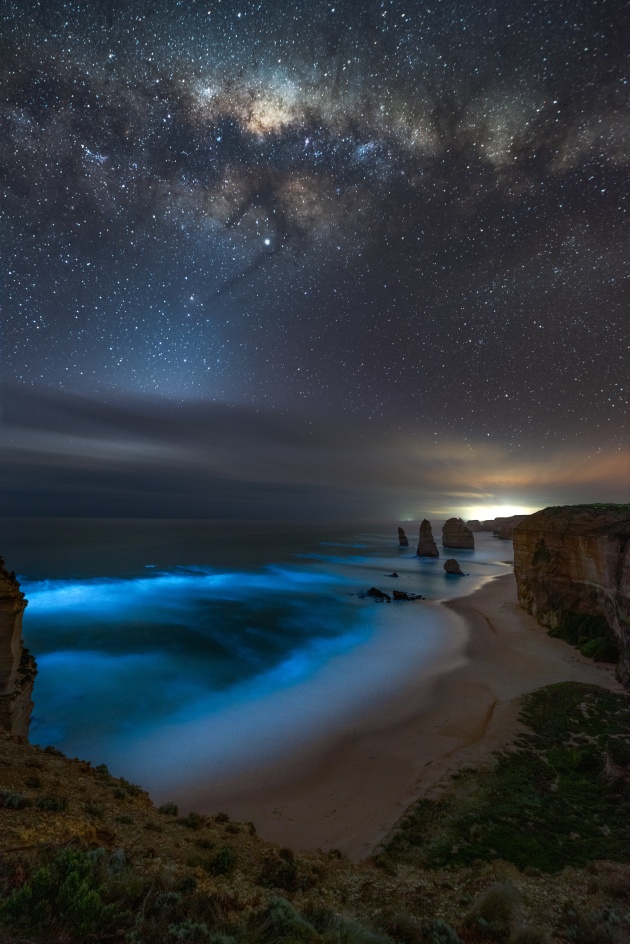 After a failed sunset shoot at an unnamed location on The Great Ocean Road, I could see the sky was clearing up so I decided I might as well head to the 12 Apostles to shoot the Milky Way. 


As I walked down the steps to the viewing platform to set up, I noticed the waves were glowing a strange colour.
I set up my camera for a test shot and lined up my composition. I looked at the back of my camera and realised something wasn't quite right - the water was blue. I then watched as a big set of waves rolled in and then lit up a fluorescent blue colour as they crashed ashore. It was like they were being lit from below the waters surface. I knew right then that this was Bioluminescence. 
The first thing I did was message some photography mates. My friend Josh Beames was the only one that made it out to capture this with me as well. 


I decided to shoot this image the same way I shoot my astro images. It was very dark, so I knew the best way to do it justice would be to shoot two exposures. One for the foreground and one for the sky. 
It wasn't until after I got home and loaded the images onto my computer I released I had not only captured the bioluminescence and the Milky Way, but I also captured the zodiac light - talk about a once in a lifetime shot! A simple blend of the images together in Photoshop, and this is the final result.
I feel so incredibly lucky to have captured this scene. Between Josh and his partner TJ, we were the only three people that witnessed this - what an experience! I hope you enjoy it. 
About the author: Craig Richards is a self-taught landscape photographer from Warrnambool on the Great Ocean Road. You can see more of his work on his Facebook and Instagram.