Amnesty deletes AI images following global backlash
Human rights advocacy group Amnesty International has been criticised after it used images created with artificial intelligence (AI) to depict police brutality in Colombia.
The images, which Amnesty Norway has since deleted, included one of a woman being dragged away by police officers, in a reference to protests that swept across the country in 2021. 
The images were created on the two-year anniversary of the protests in Colombia. A UN report released in 2021 said security forces in Colombia were responsible for committing "serious" human rights violations during the protests.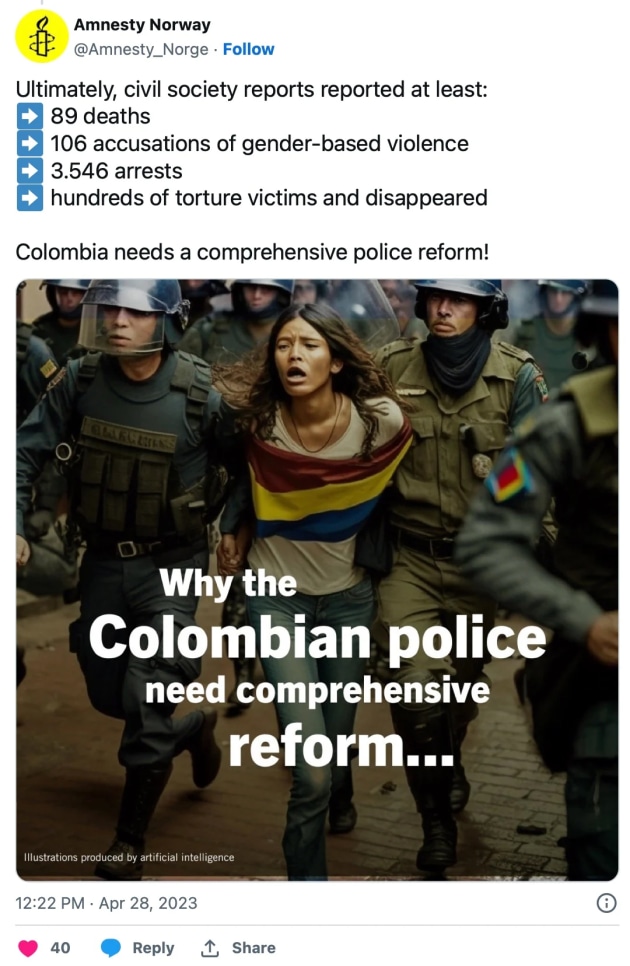 The images had many errors, including warped faces, incorrect police uniforms, and even the wrong arrangement of colours in the Colombian flag.
Initially Amnesty defended the creations, telling Gizmodo that it used the works to protect the identities of people present at the protests.
"Many people who participated in the National Strike covered their faces because they were afraid of being subjected to repression and stigmatisation by state security forces," an Amnesty spokesperson told the tech site.
"Those who did show their faces are still at risk and some are being criminalised by the Colombian authorities."
In a statement to Vice, an Amnesty spokesperson said the intention was for this artworks to serve as a symbolic example of the fear that many victims still feel about publicly denouncing the repression they suffered.
"All of the AI-generated images are clearly marked 'illustrations produced by artificial intelligence.' The organization used this disclaimer precisely to avoid misleading anyone," said the spokesperson.
"The images were also edited in a way so that they are clearly distinguishable from real-life photography, including the use of vivid colours and a more artistic style to honor the victims."
However following criticism, Erika Guevara Rosas, director for Americas at Amnesty, said the organisation had removed the images as they were a 'distraction'.
"We have removed the images from social media posts, as we don't want the criticism for the use of AI-generated images to distract from the core message in support of the victims and their calls for justice in Colombia," he said.
The use of the images is just the latest controversial deployment of AI imagery. Recently, bizarre AI creations showing former US President Donald Trump being arrested went viral, and in April an AI created image controversially won and then was removed from a global photography competition.