A rare print of Dorothea Lange's Migrant Mother is up for auction
A rare print of one of the most iconic photos of the 20th century, Migrant Mother by photographer Dorothea Lange, is to be auctioned.
Despite being widely published, viewed and even available to download as a high res .tif for free, this particular print has special provenance - it was originally part of Dorothea Lange's family collection, and is expected to sell for up to $70,000 USD ($98,000 AUD).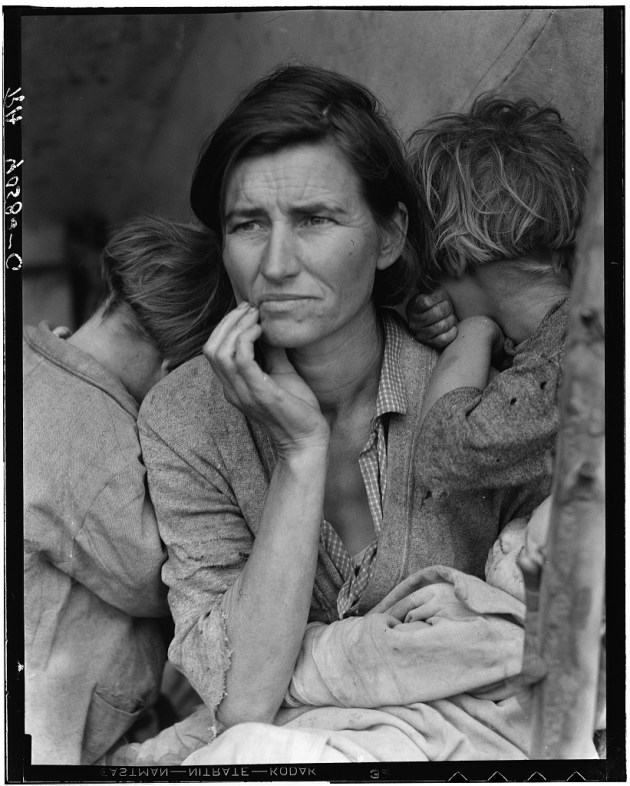 According to auction house Hindman, the print itself is a gelatin silver enlargement printed by either Lange herself or under her supervision in Berkeley, around the 1950s. The print is 48.5 x 37.5 cm. 
Lange took the photo in Nipomo, California in 1936. At the time, the Federal Resettlement Administration (Farm Security Administration) had hired Lange to document rural poverty and the plight of migrant laborers in the west.

The image portrays Florence Owens Thompson with her children. Lange took five images of Thompson, with her assistant later removing her thumb as Lange said she found it distracting. 
Within days, the photo was being published in papers across the country, becoming an instant classic of American photography.
Talking about the photo, Lange said:
"I saw and approached the hungry and desperate mother, as if drawn by a magnet. I do not remember how I explained my presence or my camera to her, but I do remember she asked me no questions.
I made five exposures, working closer and closer from the same direction. I did not ask her name or her history. She told me her age, that she was thirty-two. She and her children had been living on frozen vegetables from the field and wild birds the children caught. The pea crop had frozen; there was no work.
Yet they could not move on, for she had just sold the tires from the car to buy food. There she sat in that lean-to tent with her children huddled around her, and seemed to know that my pictures might help her, and so she helped me. There was a sort of equality about it."
Thompson was finally found in the late 1970s living in a trailer park near Modesto, California, by a local newspaper journalist who persuaded her to give him an interview. When asked about her life, Thompson said "We just existed - we survived, let's put it that way."

You can read more about the history and significance of the shot here. Migrant Mother will be up for an auction at Hindman starting on 12 May, and it has an estimated final price between $50,000 and $70,000 USD.