2019 Australia & New Zealand Photobook Award winners announced
The Australia & New Zealand Photobook Award winners for 2019 have been announced, with top honours going to an academic and students from the University of Technology, Sydney – Cherine Fahd, Matteo Dal Vera, and Michael Weatherill – while Paul Knight, Perimeter Editions and Oliver Hodgkins of Photography Studies College, Melbourne received commendations.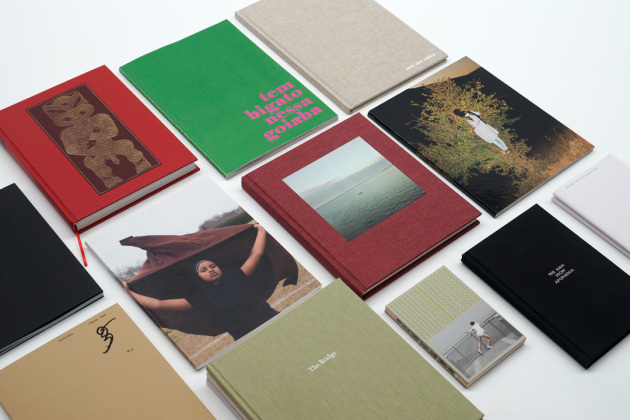 The prizes were announced by Magnum photographer Cristina De Middel.
The Australia & New Zealand Photobook Awards are run by Sydney-based book printing company Momento Pro. Since 2011, the company has awarded $137,000 in prizes to 155 finalists, with the 2019 finalists sharing in a prize pool valued at a total of $10,000.
The big prize for the evening, the Australia & New Zealand Photobook Award 2019, went to Cherine Fahd and publisher M.33 Melbourne for Apókryphos. The book features 24 found photographs of Fahd's grandfather's funeral in 1975, captured by an unknown family friend.
The judges described it as, "a sophisticated book with an exceptional and original structure, clear fruit of a close collaboration with the designer. Through playful deconstruction of compelling visual elements, a complex narrative on grief and mourning arises, making us look beyond the superficial to discover poignancy in the trivialities of everyday life."
The recipients of the 2019 Student prize were Matteo Dal Vera and Michael Weatherill from University of Technology, Sydney, for The Bridge.

The judges described the book set as, "A serious and beautifully executed collaboration from two students who return to one stretch of river over the course of a year. Balanced and deft, tender and powerful, the three volumes drive home the collision between man and nature.
They also demonstrate deep consideration of all facets of photobook making. The Bridge is a forceful and poetic photographic debut."
The judges also commended two books in the Photobook category: Jump Into Bed With Me by Paul Knight and independent art publisher Perimeter Editions; and Tem Bigato Nessa Goiaba, self published by Cecilia Sordi Campos of Melbourne.
The Student Commended prize went to Photography Studies College, Melbourne, graduate, Oliver Hodgkins for The Moat.
The seven other Australia and New Zealand Photobook Award 2019 finalists were:
• Banana Spider Bite by Jordan Madge, published by Bad News Books
• Imaanshaha by Saynab Muse, published by PhotoForum Inc
• Mongrelism by Jono Rotman, Images Vevey (Switzerland) and Here Press (London)
• Rear View Mirror self published by Jonathan May
• Still Looking Good by Alice Connew with Oliver Connew, published by GLORIA Books
• Tabriz to Shiraz by Sarah Pannell, published by Perimeter Editions and Hillvale
• The Man from Apophenia self published by David Symons
Award Coordinator, Libby Jeffery of Momento Pro, confirmed that, "The majority of the 104 entries were self published books, in an edition smaller than 250, in a size that would fit easily into an A4 envelope, and selling at $75 to $100 RRP.
Compared to past years, there were more ISBNs, and more input from editors and designers, suggesting that antipodean photobooks are becoming more sophisticated, easier to find and reaching larger and farther audiences. Our hope is that the awards will expand the profile of the creators and their books, and help further their photographic career."
The inclusion of an international expert on the judging panel of five was a strategic move to expose antipodean photobooks to global critics, and audiences.
This year's international judge Ángel Luis Gonzalez, Director of PhotoIreland, will host the finalist award exhibition at The Library Project, Dublin, with the finalist books also travelling to PHOTO 2020 (Melbourne), Volume Art Book Fair (Sydney), and six other regional venues beforehand.

As a partner of the inaugural PHOTO 2020 International Festival of Photography, Momento Pro will be hosting the first retrospective exhibition of all 17 winning books, alongside the 2019 finalists and the 17 Award Editions books created with prize credit.
Other Momento Pro activities on the photobook weekend from 2 to 3 May include Photobook Reviews for 10 participants; and interviews with photographers Raphaela Rosella, Anna Maria D'Addario and Cherine Fahd.
For more information or to browse and buy the award books, visit anzphotobookaward.com.