Testing out the ASUS ProArt PA32UCX-PK monitor
I've been using an external colour calibrated monitor for editing my work at home for many years. My MacBook Pro is the workhorse that travels with me and also functions as my home computer, but it doesn't make any sense to rely on its 15-inch uncalibrated screen for photographic editing work.
Instead, a dedicated image-editing monitor is the way to go. As well as displaying colour accurately, it also gives me plenty of extra screen "real estate" for enlarging image files while post processing and for running multiple programs, while switching between tasks as part of the daily grind of home-based computer work. 
Enter ASUS
With all this in mind it's been a delight to work on images I shot recently from a road trip to beautiful Tasmania with the ASUS ProArt PA32UCX-PK. The monitor features a 32-inch 4K (3840 x 2160) panel with a wide colour gamut covering 100% of the sRGB and 99.5% of the Adobe RGB spectrum.
Out of the box, the physical set up was straightforward and the small footprint base and sturdy pivot arm allow for easy and flexible positioning on a standard desk space despite the large screen size.
I've never worked with a screen with such a wide viewing angle and I'll admit it takes a bit of getting used to – you may find it requires an adjustment in mouse pointer sensitivity and speed to cover the distance quickly across that many pixels.
But those larger pixel dimensions do make editing photos a pleasure when zoomed in at 100% in Lightroom on a single image, and especially so when looking critically at similar images side by side in "Compare View".
Rich colours
Of course, the number of display pixels is only a part of the photo editing story. I want those rich colours I captured on the east coast of Tasmania to reproduce faithfully for any use I choose – online and in print.
Out of the box, the monitor is factory pre-calibrated to the sRGB colour space, which is perfect for online image use. However, with printing in mind I like to make an advanced calibration set to my own colour, contrast and brightness specifications.

So I need to know that the colours I'm working with on the editing display are as accurate as possible and are within a colour range and contrast that suits my final image output. For that to happen I need to profile the display to my requirements.
This is easily done using the ASUS ProArt calibration software that I downloaded together with my Display Pro calibration sensor. I can then save this setting into one of two user modes which are linked to a monitor hotkey. The hotkey makes it easy to switch between "print display mode" using my custom settings, and "internet display mode" (by linking the factory preset to the second user mode).
Better yet, the colour profiles are saved at a hardware level so the settings travel with the monitor, which eliminates the need for recalibration. However, I do recommend recalibrating periodically to ensure editing consistency over time. 
Connectivity choices
The Thunderbolt 3 connection with my MacBook Pro means I can be confident I'm getting the best responsiveness possible from the display and because the connection delivers power to my computer, I am able to free up one of my MacBook Pro USB-C ports for another peripheral use if needed.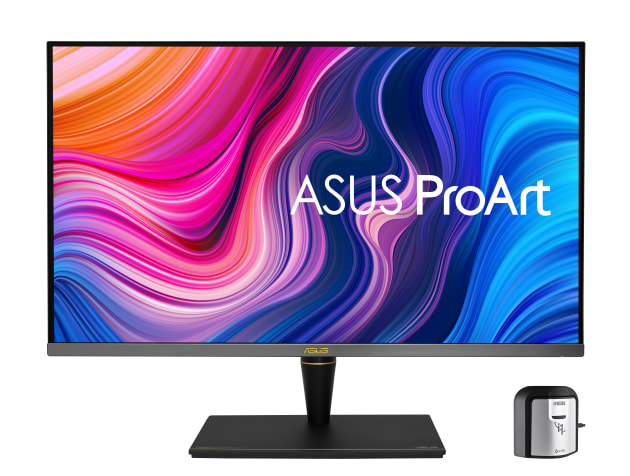 Overall, the ASUS ProArt PA32UCX-PK hits all the right notes for my photographic editing needs, including editing these colourful images from Tasmania. An accurate, customisable and reproducible colour workspace is the foundation for producing great looking images, and a device that can do this easily deserves a place on every photographer's desk.
You can find out more about the ASUS ProArt PA32UCX-PK right here. ❂