Tested: Fujifilm X-E4
Japanese company Fujifilm has a track record of delivering excellent cameras that focus on usability and image quality while still being compact, and in many ways the X-E4 is the perfect distillation of this thinking – it's the smallest X-mount camera on the market, but makes few sacrifices in regard to performance to deliver one of the more well-rounded photography experiences you can find today.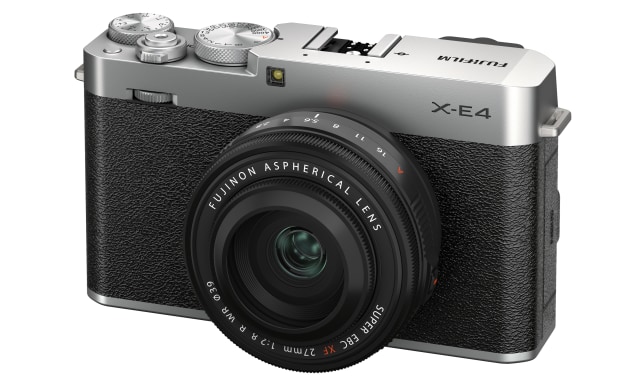 Inside, The X-E4 features the same 26-Megapixel X-Trans CMOS 4 sensor as that in the flagship X-T4, with fast 0.02 second autofocusing along with Fujifilm's superior colour science found in all its professional X-Series cameras. And, like its predecessor 2017's X-E3, the new model continues with a rangefinder style design which looks very sleek.
The body
The first thing I noticed when picking up the X-E4 was just how compact and lightweight it is. It's actually slightly smaller than the X-E3 (although a tad heavier), and is reminiscent of the Fujifilm X100F, although it is a bit smaller than that too and doesn't have a defined grip like that camera does.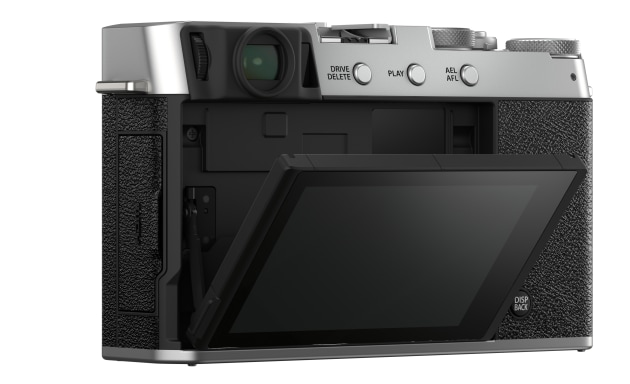 This lack of a grip could be a problem for some users – at times I struggled to keep a firm hold of the body when shooting with larger lenses like the Fujifilm XF 56mm f/1.2, so it's something you might want to consider if you have large hands.
However, despite the lack of a grip, the faux leatherette looks great, and the magnesium-alloy top plate has lovely lines. On the rear, the 180-degree tilting 3" LCD screen is a real joy and sits flush against the camera body. As you would expect, all the dials have the right amount of resistance and can be easily accessed without much muscle memory.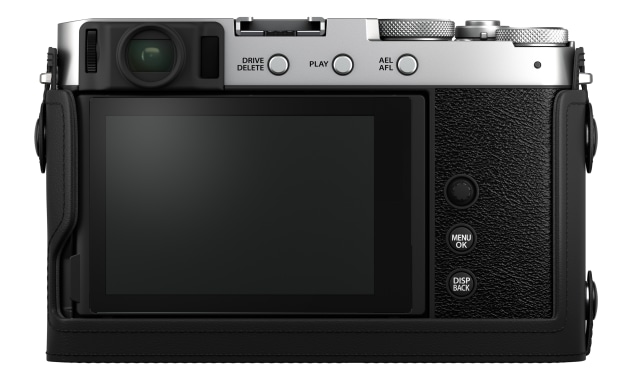 Compared to its predecessor, Fujifilm has removed the 'M-C-S' (Manual, Continuous and Single) focus mode control which was found on the front of both the X-E2 and X-E3. It's a curious decision as this took up relatively little real estate and the camera already suffers from a lack of customisable buttons if you did wish to re-allocate it.

The rear dial has also been scrapped, and the result is a much more minimalist body than its predecessors. The decision to do this is a bit of a double-edged sword – the X-E4 looks great, but also now has real limits to how customisable it can be made.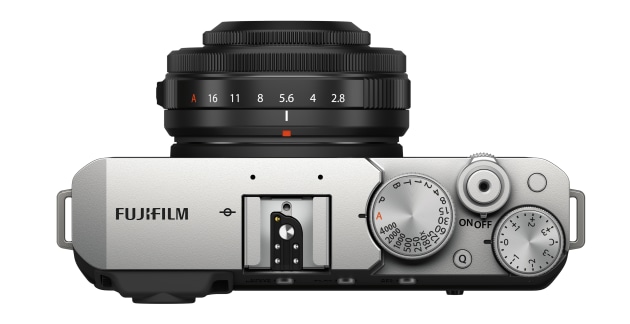 Finally, it's worth mentioning that unlike the X100V, there's no weather sealing on the X-E4.  This may not matter to some, however for me, it's nice having a camera you can rely on in harsh environments, and especially so when it's a 'go everywhere' sort of pocketable camera like the X-E4.
Autofocus
Just like the Fujifilm X-T4, the X-E4 boasts excellent autofocus performance and includes the usual focus modes you would expect.

Switching to AF-C mode allows users to track their subjects by positioning the AF square over their subject which is initiated by half-pressing the shutter and/or the 'AFL' button on the rear panel where the right thumb rests naturally.
Like all new Fujifilm cameras there's also face and eye detection that can be switched on separately when using any of the AF modes.

Personally, it works well, although I don't think it's quite as refined as on Sony and Canon's latest mirrorless cameras. However, the single point in AF-C is very accurate and was my preferred way to lock focus in most shooting scenarios I encountered.
In terms of burst shooting, the X-E4 isn't as powerful as the higher-end models. It can handle up to 8fps with the mechanical shutter, whereas the X-T4 maxes out at 15fps.

Switching to the electronic shutter is where the X-E4 matches its siblings - offering a pretty impressive blackout free shooting at 20fps in full-res and 30fps in low-res 1.25px crop mode, but at these frame rates the buffer can become an issue.
I'd love to see a faster card slot than UHS-I, which is probably a contributing factor to the buffer filling relatively quickly.  However, the likely use case for a camera like this is most likely not fast-moving subjects, and in most cases it's more than capable.
Image quality
Don't be fooled by its small size - the X-E4 packs a punch and doesn't disappoint when it comes to image quality.
You can expect the same image quality from the X-E4 that you'll find in its siblings the X-S10 and X-T4, and the 26MP APS-C sensor gives excellent dynamic range when shooting raw, allowing sufficient processing latitude for recovering details in post before introducing unwanted artefacts.
The X-E4 has the full array of Fujifilm film simulation offerings too, including the latest Eterna Bleach Bypass simulation. There is a whopping 18 different film simulations now, but like always, shooting raw overrides any colour profile settings, so for some users these presets will be a nice to have rather than something they use much at all.
As you can see from the images here, low-light performance is decent. I found images shot up to ISO 6400 held up nicely, while any higher the images began to show noticeable noise.

This is pretty consistent with other X-series cameras I've used (including my own X-T3). Of course, people's opinion of what is too much noise will often differ, so take this with a grain (pun intended) of salt.
Video
The X-E4's video features that will be familiar to users of the X-S10 and X-T30. This includes uncropped 4K shooting up to 30p using the entire width of the sensor, which is impressive, although I would love to see slightly longer recording times as it maxes out at 30 minutes.
The X-E4 also supports F-log, 10-bit external output, 1080p to 240p for slow motion recording and both USB-C and 3.5MM mic input. A couple of drawbacks are the lack of built-in stabilisation, which both the X-S10 and X-T4 have, and when shooting in full HD footage it is somewhat prone to moiré, although this is less noticeable when shooting 4K, so it's not a deal breaker by any means.
Overall
As with the rest of Fujifilm's recent models, the X-E4 is a lovely camera to use. It looks fantastic, is well-built and is nice to hold once you get used to the grip.
However, there are a few compromises – the decision to take away customisable buttons is a strange one, and performance when it comes to burst shooting won't set the world on fire.
Overall, the X-E4 is a very capable camera, but it may be a little too minimalist for some users, especially those who like to tweak settings as they shoot. For everyone else, they'll find a lot to like with the X-E4. ❂
Handling ★ ★
In a rare mis-step for a Fujifilm camera, the lack of grip makes the X-E4 a little awkward to hold.
Features ★ ★ ★ ★
Great. The X-E4 ticks just about all the boxes in terms of in-camera features, but the lack of weather sealing may disappoint some photographers, and the missing custom buttons are a real loss.
Autofocus ★ ★ ★ ★
It gets the job done, but it won't be winning any awards. If you are a wildlife photographer, you may find the X-T4's AF better suited for fast-moving subjects.
Image Quality ★ ★ ★ ★
Images look great, especially when paired with some of Fujifilm's prime lenses. It works well, but then again, we knew it would – the sensor is a proven performer.
Value For Money ★ ★ ★
It may be missing a few features we'd like to have, but the X-E4 is an attractively priced camera.
Final word
The X-E4 is a powerful yet compact device that is perfect as a travel or second camera. If you're a purist like me, you may prefer the X100V, but for an interchangeable lens system in a small package, it's a solid choice.