Tamron announces 70-180mm F/2.8 Di III VXD lens
Lens manufacturer Tamron has just announced the release of the 70-180mm F/2.8 Di III VXD (Model A056), a large aperture telephoto zoom lens for Sony E-mount full-frame mirrorless cameras.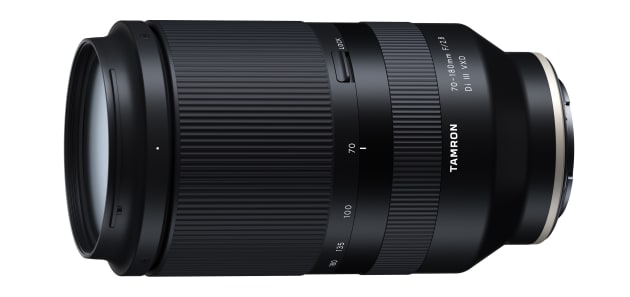 Due to be launched on 1 May, the 70-180mm F/2.8 has been designed to be compact and light-weight, with a 67mm filter diameter, the same as Tamron's 17-28mm F/2.8 (Model A046) and the 28-75mm F/2.8 (Model A036).
The addition of this new model brings Tamron's total of F/2.8 zoom lenses for full-frame mirrorless cameras to three, joining the existing 17-28mm F/2.8 Di III RXD (Model A046) lens and the 28-75mm F/2.8 Di III RXD (Model A036) lens.
In Sharp Focus
The optical construction of the new 70-180mm F/2.8 lens includes some special lens features that contribute to the lens' imaging performance. Its short MOD (Minimum Object Distance), measuring at 0.85m should make it versatile, with a magnification ratio of 1:4.6 at the 180mm telephoto end.
The new lens also makes use of Tamron's newly developed linear motor AF drive focus mechanism, VXD (Voice-coil eXtreme-torque Drive). The VXD promises quick and quiet performance.
Through the use of a floating system, the 70-180mm F/2.8 lens is designed to maintain peak optical performance at a range of shooting distances. Through the operation of two VXD units at the same time via electronic control, the lens enables photographers to keep objects in sharp focus, irrespective of whether they are near or far away. This is because the floating component is designed to control and suppress optical aberrations, while still maintaining high image quality. 
Additionally, the 70-180mm F/2.8 lens is fully compatible with various camera-specific features like Sony's Fast Hybrid AF, Eye AF, Direct Manual Focus (DMF), in-camera lens correction (shading, chromatic aberration, distortion) and camera-based lens unit firmware updates.
The new lens has a moisture-resistant construction for added weather protection, as well as a fluorine coating for improved ease of maintenance.
The new lens is available from local distributor Blonde Robot, and has an RRP of $2,399 AUD. You can find out more at www.tamron.com.au