Sydney's Explorer brand launches 12 new photography products
Australian photo gear company Explorer has launched 12 new products in its Explorer Photo & Video Tripod range.
The 12 new Explorer Photo & Video products include six new tripods, three new ball-heads, a monopod and two new Accessories.
Explorer Photo & Video is an Australian family-owned and operated brand based in Sydney. It's run under the umbrella of Pixel One, well known distributors of NiSi filters and Sirui, among other brands. 
Here's a brief overview of the new products: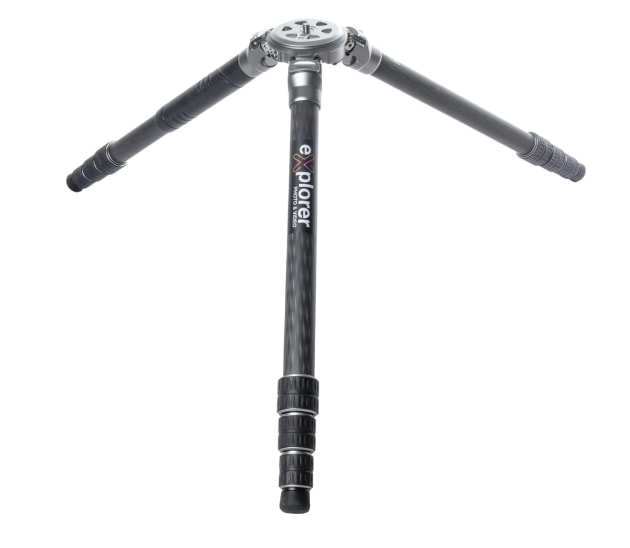 Explorer EX-ACPRO Ascent Professional 
The Explorer EX-ACPRO Ascent Professional Carbon Fibre Tripod is the company's largest tripod, and is described as most suitable for larger photography setups. The EX-ACPRO is available as tripod legs only, or as a kit combined with the EX-XL ball-head. It has a capacty up to a whopping 26kg, and a 10X layer carbon fibre provides rigidity but keeps the weight low at just 1.66kg.
Available separately is the Explorer EX-ACPROCC Centre Column which allows for greater elevation when a high shot is required.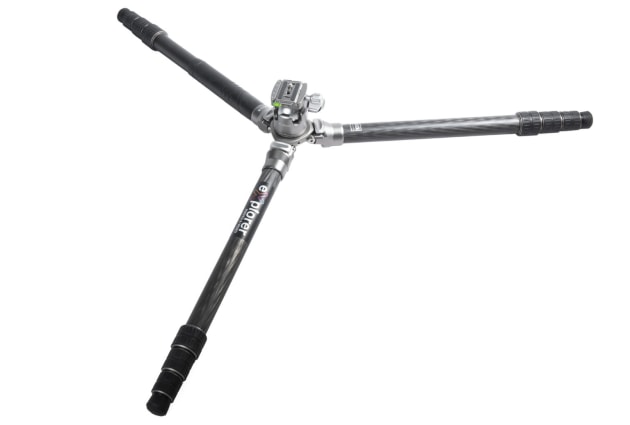 Explorer EX-EXP Expedition Carbon Fibre
Tripod
The Explorer EX-EXP has capacity up to 16kg for the EX-EXP and 20kg for the EX-EXPPRO, paired with a sleek design to ensure a small stowed profile. Both tripods include  a monopod, and 3/8″ and 1/4″ accessory ports are included on the centre junction to mount accessories such as the Explorer Sidekick magic arm.
The Explorer EX-EXP includes a BX-33 Ball Head with a load capacity of 16kg, and the EX-EXPPRO includes the BX-40 Ball Head supporting up to 20kg. The included clamp is Arca type compatible allowing the use of any Arca type plate or L-bracket.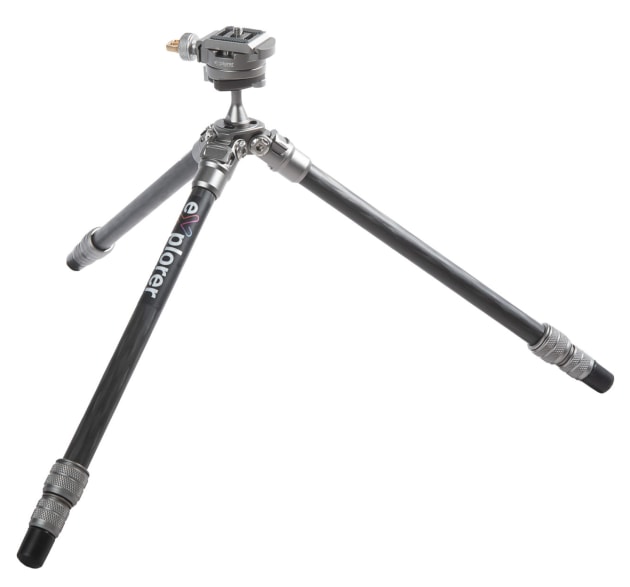 Explorer GX-PROK
Gravity Explorer PRO Table Top Tripod
The GX-PROK table-top tripod can stabilise DSLRs, mirrorless cameras, compact cameras, and other accessories up to 2.5kg. Made of 10x carbon fibre, it weighs 450g, with the supplied low-profile GX-02 Explorer Ball Head and QR plate.
Explorer TX-VK Voyager Carbon Travel Tripod
The Explorer TX-VK Voyager Carbon Travel Tripod, just 35cm when folded, and weighs 1.2kg. Made of 10x layer carbon sections, it has a high load capacity of 14kg with the included compact BX-25 ball-head.
The included clamp is Arca type compatible allowing the use of any Arca type plate or L-bracket. In addition, with the ball head's single-cut notch, the camera can be placed in a 90° angle for either landscape or portrait orientations.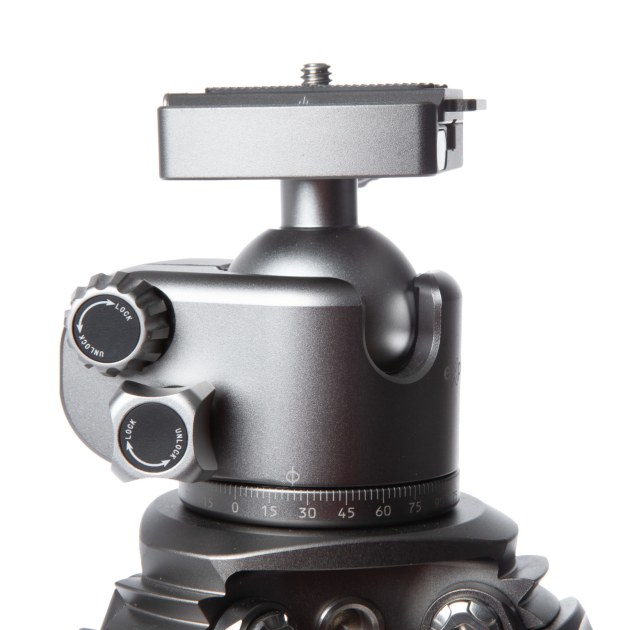 Epic Explorer Ball-Heads
The company's Epic Explorer Ball Heads - available in EX-M, EX-L and EX-XL models feature hollowed-out bodies and ball socket designs to minimise weight

The heads tilt 90°  via the built in notch, and a large main adjustment knobs feature a rubber grip with friction control and a separate 360° panning clamp.
An ARCA / RRS compatible quick release clamp is included, and a 3/8" thread socket and included 1/4"-3/8" brushing suits tripods from many manufacturers. 
Explorer EX-EXPMONO Expedition Carbon Fibre Monopod
The EX-EXPMONO supports loads up to 7kg, and is made of 10x layer carbon fibre tubing to keep the weight to just 400g. A reversible 1/4″-20 & 3/8″-16 screw-on mounting plate enables the attachment of virtually any camera, camcorder, or head.
Included is a metal spike and rubber foot, and the five-section leg can be extended to a maximum height 164cm. the rubber. The EX-EXPMONO comes with a storage pouch for protection while not in use.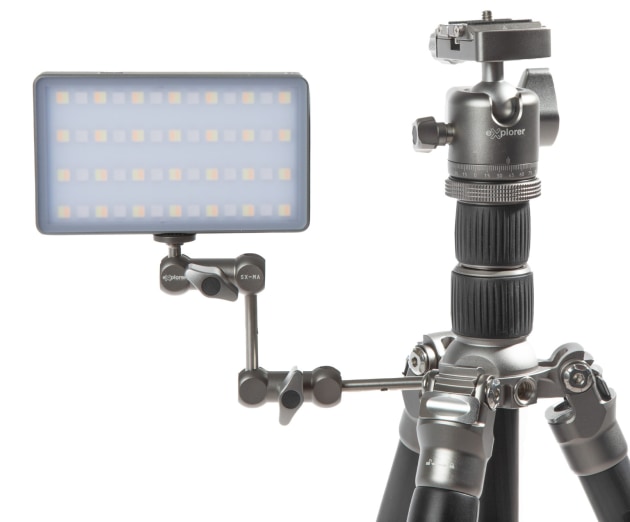 Explorer have launched two new accessories, the Explorer SX-MA Sidekick Magic Arm, described an an ultra-compact mounting solution for mounting accessories, monitors, lights and more. It weighs 85g, and has a maximum load of maximum load 1.8kg.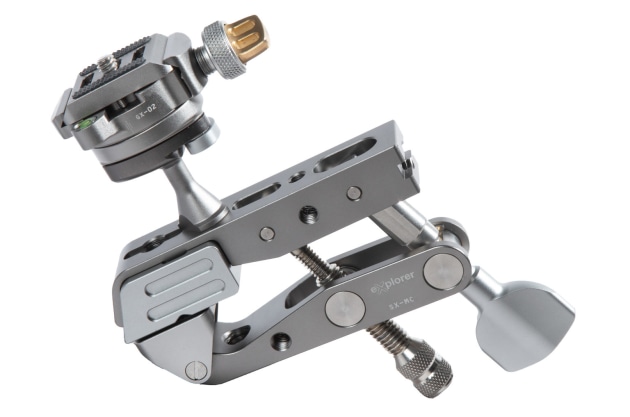 And finally, The Explorer SX-MC Sidekick Magic Clamp is descrbed as the 'ultimate rock solid clamp to mount a camera or photo accessories to almost any flat or round object'. It has a maximum load of 16kg.  
To learn more about the full range of Explorer Photo & Video tripods, ball-heads, LED lights and other camera accessories visit explorerphotovideo.com.au.