SanDisk launches modular PRO-BLADE storage ecosystem
SanDisk has unveiled a new modular storage 'Ecosystem', the PRO-BLADE Modular SSD.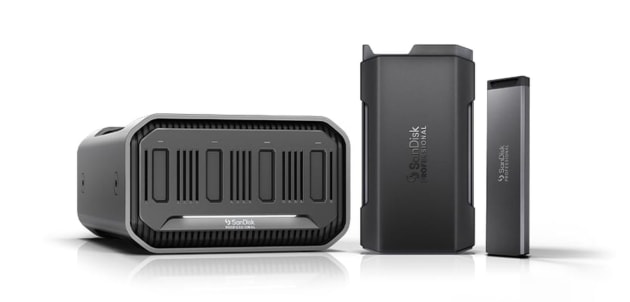 The ecosystem consists of three parts - the PRO-BLADE SSD mag, the PRO-BLADE Portable SSD enclosure, and the PRO-BLADE Desktop SSD enclosure.
The PRO-BLADE SSD mag is an NVMe SSD that comes in 1TB, 2TB, and 4TB sizes. It offers three meter drop protection and 4,000 lbs crush resistance.
The PRO-BLADE Transport Portable USB-C SSD enclosure holds one PRO-BLADE mag, and offers additional protection as well as read/write speeds of up to 2000MB/s over USB-C. According to SanDisk, the ecosystem was designed so that users can swap out PRO-BLADE SSD mags depending on how much storage they need, and the enclosure also features an aluminum heatsink to help keep the drive cool while sustaining its high read and write speeds.
Finally, for desktop workstations, there's the Thunderbolt 3 PRO-BLADE Station Desktop SSD enclosure, which is able to accommodate four PRO-BLADE SSD mags. It features a 40Gb/s Thunderbolt interface, and supports faster transfer speeds than the portable SSD enclosure. According to SanDisk, the PRO-BLADE Station and PRO-BLADE SSDs allow for real-time 4K/8K/12K editing.
No local pricing or availability has been announced as of yet, but in the US, the SSD enclosure is priced at $70 ($110 AUD), while bundles with a PRO-BLADE mag start at $240 ($345 AUD). 
You can watch a product overview courtesy of B&H here: