Ricoh releases Theta SC2: 14MP 360-degree action camera
Ricoh has announced the Theta SC2, the second generation of the company's 360-degree camera.
Physically, the SC2 looks similar to the SC, with the only external upgrade from its predecessor the addition of a small OLED display and a new self-timer button.
On the inside, there's a 14-megapixel 1/2.3-inch CMOS sensor capable of capturing 4K video (3840 x 1920 pixels) at 30fps, which should satisfy one of the criticisms of the original Theta, which offered 'just' 1080p video at 30fps.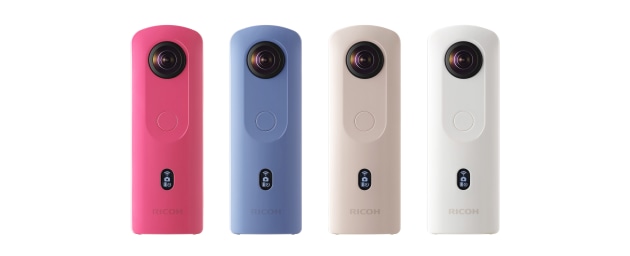 There's other new features too, including Bluetooth and Wifi, and three new shooting modes: a 'Face mode,' which recognises human faces and (somewhat creepily) automatically applies skin smoothing; a new 'Night View' mode that helps with shooting in surprise, surprise, low light; and a lens-by-lens exposure mode that controls the cameras independently for situations where one side of 360-degree exposure might be brighter than the other.
There's been no word on a local release for the Theta SC2, but it is expected to ship in the US in mid-December 2019 for $299.95USD ($438AUD).
You can find out more about the Theta SC2 at Ricoh.