Review: Think Tank Mindshift BackLight 45L backpack
If you're the type of photographer who reaches for a dedicated hiking pack to lug your camera gear, or find yourself frustrated by traditional camera backpacks that are hot and uncomfortable when out walking, then the new Think Tank Mindshift BackLight 45L may well be the perfect camera bag for you.

More than any other camera backpack I've used, it has the look, feel and features of a high-end hiking pack, yet retains the functionality of a well-designed camera bag.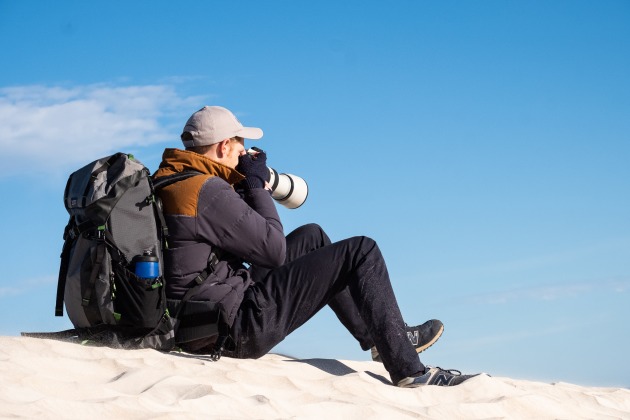 Features
In fact the BackLight 45L looks so much like a traditional hiking pack you may not realise it's a dedicated camera backpack at all. Externally there's all the usual hiking pack features you might expect: It's made from waterproof/tearproof sailcloth, with a waterproof heavy-duty tarpaulin base that will repel water when you place the bag down standing up.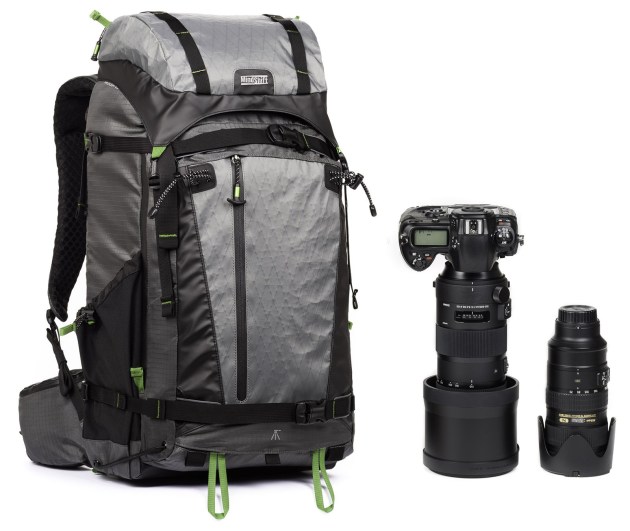 The backpack features weather-resistant YKK AquaGuard zippers with long pullcords to help with opening the bag with gloves on, and a pocket-sized rain cover is included. The outside of the backpack features a variety of attachment points for gear, including axes, skis or a snowboard, tripod, and ropes, although all of these can also be re-purposed to carry photography accessories like a tripod too.

There's also plenty of space for water, with room for a hydration bladder at the front of the bag, as well as two adjustable water bottle pockets on the sides. Next to these are two side straps with huge pockets that can be clipped at the waist.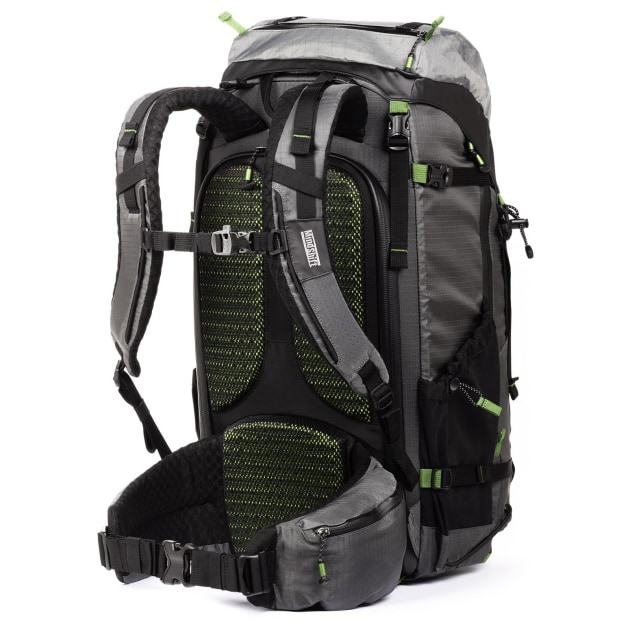 Where the hydration pack is stored are two front pockets that offer a total of 17 litres of space, designed to hold a laptop and tablet.
Finally there's also a detachable top pocket that clips off with four clips and can double as a small side bag - perfect if you just want to carry a small mirrorless camera and some batteries and memory cards rather than the big backpack.
Where it does become a bit more obvious that the BackLight is a dedicated camera backpack is when you turn it around to look at the rear side. It still retains that familiar rigid and square shape, albeit with some serious cutaways to help keep your back cool.
This does bring us to one of the negatives of this style of hybrid hiking-camera backpack, the lack of vertical adjustment for different sized users. Most dedicated hiking backpacks feature a height adjustment on the back panel to cater for both shorter and taller wearers.
Unfortunately the BackLight doesn't feature this, likely due to the design limitations of the interior storage. It's a one size fits-all design to the back section which may be an issue for users at the extreme ends of the height scale, although for me at 5'11, I had no issues. 
Speaking of interior storage, inside is a camera cube with a variety of different sized foam protectors that can be moved around to accomodate different loads.

The camera cube can even be used on its own, as it comes with a set of its own straps to allow you to turn it into a mini backpack. You might not win any fashion awards while wearing it, but it could well save you if you ever find yourself at the airport with an overweight bag and need to quickly take out some weight.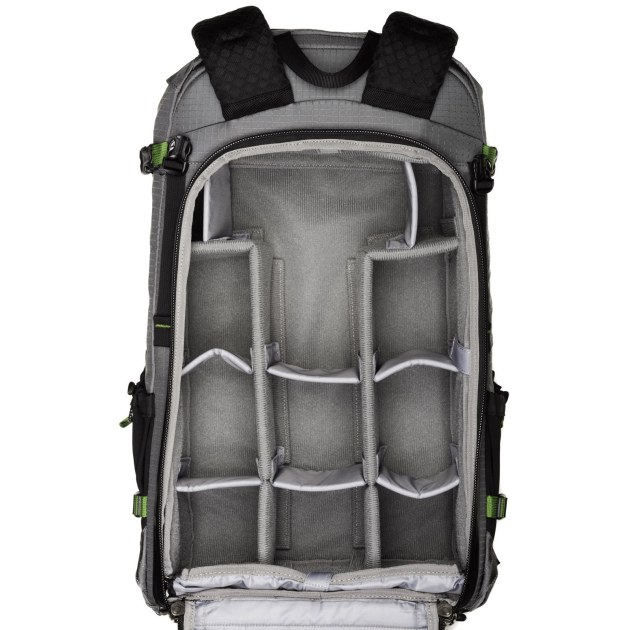 In regards to space, the BackLight can fit plenty. There's space for camera gear, a laptop and tablet, with Think Tank giving a couple of examples of what can be fit inside the main storage area:
Nikon D3S attached to 70–200mm f/2.8, SB-910 Speedlight, 105mm f/2.8 Macro, Sigma 35mm f/1.4 ART, 50 f/1.4, Filter Nest Mini, 24–70mm f/2.8, 14–24mm f/2.8
Canon 1DX attached to 70–200mm f/2.8, GoPro Hero 5, DJI Mavic Pro, Mavic Controller, 24–70mm f/2.8, 16–35mm f/2.8, 90mm f/2.8 TS-E.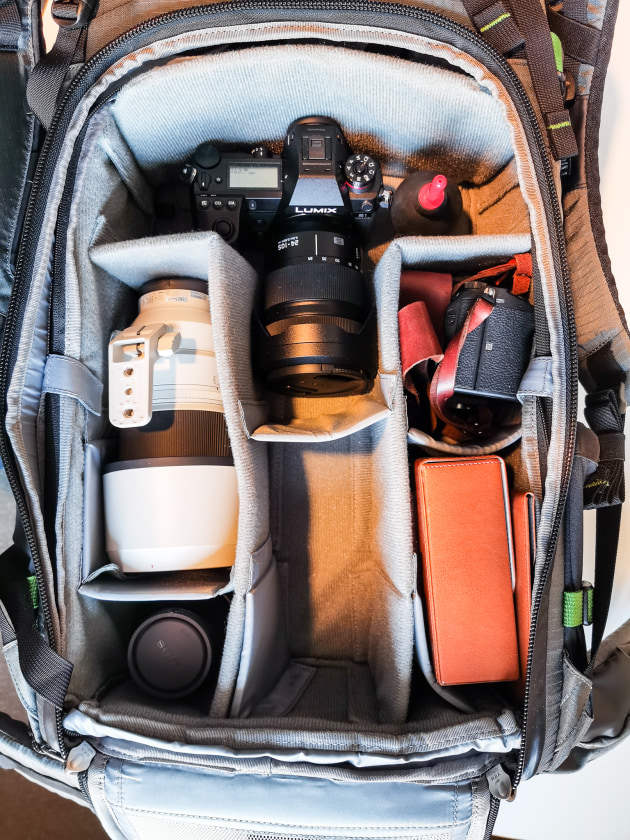 In the cube I was able to fit my Sony A7III, Sony 100-400mm lens, Zeiss Batis 40mm lens, a Panasonic S1 with 24-105mm lens attached, a set of NiSi filters, and a rocket blower with enough space free for another big lens like a 70-200mm or a foldable drone.
The front part of the pack had plenty of room for my 13' Macbook, and I was able to strap my big tripod to the side using one of the drink bottle holders. A heap of small cables, cards and a hard drive fit in the mesh section of the back panel, and finally it still allowed me to fit a week's worth of clothing and a heavy duty down jacket in the top section as well. 
Finally kudos to Think Tank for including one of the neatest methods for supporting a tripod we've seen on any camera bag, the tuck-away 'cup' used to support the base of a tripod or monopod strapped along the front of the backpack. 
The testing
I tested the BackLight 45L on a recent week-long photo workshop in Nambung National Park in WA, and although this hot, dusty and sandy location didn't give me any opportunities to test the bag in particularly cold conditions, I did do plenty of walking in deep sand that helped show the value of both the waist straps and the breathable back section. 
One useful feature is that the backpack remains rigid when being accessed from the back, which made delicate lens changes in a (very) sandy environment easy. I could move the straps to the side, unzip the rear section, lift the cube lid off, and then make a lens change with the camera never needing to be taken out of the bag.
I can also confirm the water resistant zips are also just as effective as keeping sand out of the bag as they are water, and are easy to grip and pull thanks to the long cords.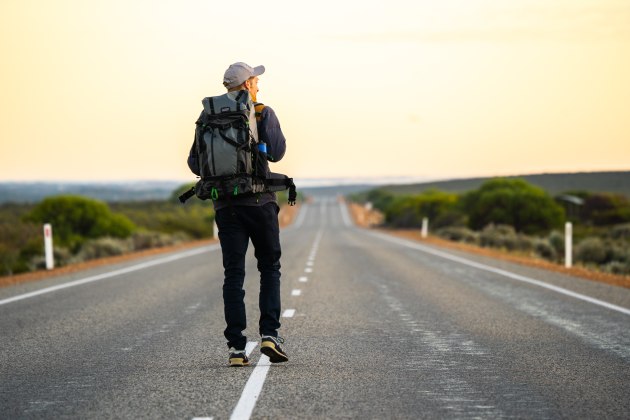 The importance of a solid backpack when photographing is not just about having something to carry all your gear. On the third day an echidna stumbled across us and I was able to lie the bag down on the ground and lean against it to shoot. It's something that would be even more useful if you were in the snow and wanted to try and keep your elbows dry.
We would probably need to do a more long-term review to get a real sense of the bag's durability, but after train rides, flights and a week being tossed in and out of a 4WD, there's not a single mark on the exterior. The new generation of hiking bag materials are incredibly durable, and I'd expect this bag to last.
Overall
Think Tank says that the BackLight 45L has been more than two years in development, and a week of use shows this time has not been wasted. It's particularly well thought out and well made.
For keen hikers, climbers, skiers and photographers, the value of a backpack like the BackLight 45L is in its versatility. You can take it hiking with all your camera gear protected, and when you arrive at your destination clip off the top section to make a functional mini bag to carry around a on a day walk, or carry all your camera gear at a pinch with the backpack straps on the cube.

With the BackLight you get the benefits of a bag designed to be in the outdoors, with the prerequisite rugged exterior and weather proofing required, in a package that is still light enough to be carried all day. The rigid frame means heavy loads are well balanced on your hips, and the smart camera-specific design features mean your gear will stay clean and dry even in challenging environments. 
The Think Tank Mindshift BackLight 45L has an RRP of $675 GST inc. and is currently available for pre-orders through local retailers Australia-wide, with stock arriving in June.