Review: Tamron 150-500mm F/5-6.7 Di III VC VXD lens
The Tamron 150-500mm F5-6.7 Di III VC VXD lens is a pretty compelling package - it offers a focal length ideal for sports and wildlife photography, a weather-proof build, great optics and a seriously competitive price tag ($1,899 AUD) to make it a solid option for more budget-minded photographers.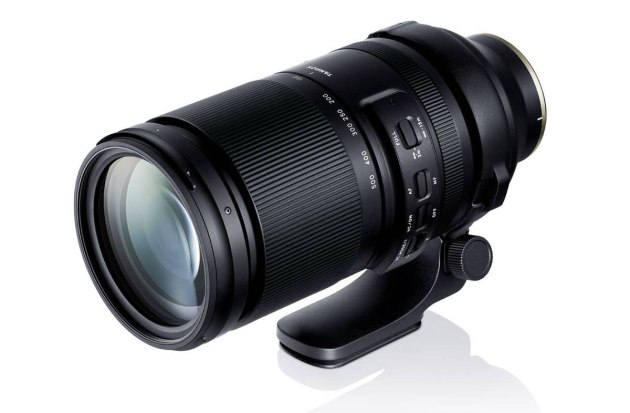 Sony's E mount is pretty well covered for longer telephoto lenses in 2021. Sigma offers its 150-600mm F5-6.3 DG OS HSM lens in E Mount ($1,979), and Sony sells two telephotos - the Sony FE 100-400mm f/4.5-5.6 GM OSS, ($3,369), and the FE 200-600mm f/5.6-6.3 G OSS ($2,899).
Unlike Sigma, Tamron makes its 150-500mm exclusively for the Sony mirrorless system, and, compared to the other lenses mentioned above, it's the most affordable super-telephoto option for E-mount - not that you'd know it to look at it, though.
Build
At 209.6mm long and 1,725g without the tripod mount, the 150-500mm is a hefty lens, although it's almost as compact as Sony's FE 100-400mm, but the Tamron offers 25% more reach. When compared to the Sony FE 200-600mm, the Tamron is noticeably smaller and lighter, although you give up 100mm reach at the long end. And, like both of Sony's lens (and many other telephotos) it also extends when zoomed in.
The barrel is made of a composite material and is fully weather-sealed, and the front element has a fluorine coating to repel fingerprints and water droplets.
The lens comes with a removable tripod-collar and Arca-Swiss style tripod foot, and a reversable lens hood. The lens takes 82mm filters. It would be useful if the barrel displayed 90-degree click stops for moving between portrait and landscape orientation—but the collar is adjustable if you want to set it at square angles.
Internally, the lens features 25 elements in 16 groups, including six special dispersion elements and two aspherical elements. It has a very useful minimum focus distance of 0.60m with a magnification of 1:3.1 and a working distance of 0.37m at 150mm. At 500mm, the minimum focus is about 1.5m.
On the exterior, there are four toggle switches to control (from top to bottom), focus zoom range, AF/MF, VC (Vibration control) On/Off, and a toggle to switch to move between the three stabilsation modes.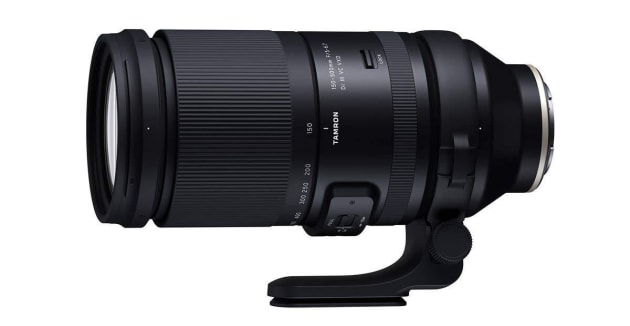 To avoid any of that dreaded lens creep (well some people dread it), Tamron includes a zoom lock switch, which keeps the barrel set at its shortest length for storage and transport. interestingly, there's also a locking zoom clutch.
This allows the zoom to be locked at any focal length—just push the zoom ring forward to set the lock, and pull it back to release and re-adjust zoom control. It's a nice feature and neatly integrated. 
Image quality
I used the 150-500mm with two Sony bodies, the flagship Sony A1 and my own Sony A7 III, and with both I found results excellent, especially so with the higher resolution body.
At f/5 at 150mm, there's very little barrel distortion, and by the time you get to f/8-to f/11, the sweet spot, images display excellent sharpness throughout the focal range. Having used the Sony 100-400mm f4/5-5.6 for the last three years (an excellent performer), I was very impressed with how close the Tamron was edge to edge.
If you're an APS-C shooter, you'll likely find the results even better, as bodies like the Sony A6000 series only use the middle area of the full-frame image circle.
Finally, this sharpness is helped by the in-built VC system on the Tamron 150-500mm. It offers three modes: Mode 1 is standard stabilisation, mode 2 is specifically for panning, and mode 3 maximises viewfinder stabilisation for easier framing.
As I was focussed mainly on moving objects for this review, I really didn't push my shutter speeds that low, but indications are you can expect about two to three stops of stabilisation and usable images at 1/15s depending on the light and subject.
The one downside of the Tamron 100-500mm is it's not compatible with teleconverters, which both the Sony 100-400mm and 200-600mm can work with to extend their versatility.
Autofocus
AF-operation and image stabilisation of the Tamron 150-500mm is all but inaudible, and I found the lens matched the autofocus performance of both Sony bodies well, focusing quickly and tracking action without fuss.
There is one caveat for Sony A1 users however that's worth a mention - the A1 supports the full 30fps continuous drive mode with many Sony FE lenses but is limited to 'just' 15fps with the Tamron 150-500mm.
Wrap-up
After more than two months and more than 1,000 frames with the Tamron 150-500mm F5-6.7 Di III lens, I've been greatly impressed by its overall performance, sharpness, and build. If you don't want to spring for the native (and fairly pricey) E-mount options of the Sony 100-400mm or 200-600mm, the Tamron offers great value for money and impressive imaging capabilities that will keep most photographers very happy. We recommend it highly.
More images