Review: Sony FE 12-24mm f/2.8 GM lens
Sony describes its new 12-24mm f/2.8 GM lens as the world's widest full-frame constant f/2.8 zoom lens, and they're not kidding- with a lens like this you can see beyond the scope of the human eye, and with a fast f/2.8 maximum aperture the lens is also a great candidate for night scenes, milky way shooting, and other low-light subjects where avoiding extremely slow shutter speeds are key.
The other main advantage of an ultra wide-angle lens (as opposed to a more 'traditional' wide-angle like a 16-35mm) is the creative possibilities it opens up. You can get incredibly close to your subject, transforming even tiny subjects into huge heroes in your frame. 
For this review, I took the 12-24mm f/2.8 GM lens waterfall chasing in the Blue Mountains, NSW, as well as tested its extreme wide-angle abilities indoors at Sydney's Charles Perkins Centre. All the images captured here were taken with my own A7III body, and the lens was loaned to us by Sony Australia for this review. 
Build quality
Weighing in at a hefty 847g, the 12-24mm is one solid piece of glass, and at nearly 200g heavier than Sony's 680g 16-35mm f/2.8 GM lens, it is also considerably heavier than its slower (and cheaper) brother, the 565g FE 12-24 G. 
However it balances Sony's A7 series bodies well, and at just 97.6 x 137mm, is relatively compact.
So why the extra weight? Well, you're gaining three XA Elements, including the largest ever made for any alpha lens, and two Super ED elements inside. It's also weather-sealed, and features a fluorine coating that repels water, oil, and other contaminants, while making it easier to wipe off any contaminants or fingerprints that do become attached to the lens surface. 
During waterfall testing I planted the 12-24mm on a tripod in the face of some pretty heavy water spray, and it performed admirably, with the fluorine coating making the bulbous front lens element a cinch to wipe clean.
If you have used any of Sony's GM lenses before, you'll find few surprises with the 12-24mm f/2.8. It has well-dampened rubberised focus and zoom rings, a dedicated AF/MF button, and a user-customisable focus hold button on the left side. The lens also stays the same size as the focal length is adjusted, with only the inner barrel moving. 
It's worth mentioning that if you're in the market for an ultra wide-angle lens like the 12-24mm and plan to use it with filters, you will need to use the larger 150mm style. This is because like with the 12-24mm f/4, the lens has a permanently affixed hood to protect the front element and there is no filter thread.
As a compromise, Sony have built in a rear filter holder that accepts sheet-type ND and other filters, along with a cutting template, however there are some situations where you simply won't want to remove the lens to change or adjust a filter, or you may find sheet filters too fiddly to work with. Haida and NiSi filters (among others) do currently make 12-24mm compatible filter kits, but changing to the bigger fomat may be an expense you need to factor in if you do plan to use the lens with filters and already own a 100mm kit.
Finally, to protect that front element Sony include a large lens cap. It's held in place by spring-loaded clips, and it needs to click into place to attach securely. I managed to drop the cap (sorry Sony!) when I thought it was attached, before realising it needs to 'click' into place first. Wait for it to click, and you'll be sweet. 
Image quality
It wasn't that long ago that almost all wide-angle lenses were plagued with soft corners, but lens design has come a long way since the 90s. Fitting its position as Sony's flagship ultra wide-angle lens, the 12-24mm f/2.8 is briliantly sharp throughout the frame, with very little corner softness and negligible vignetting (although this is an easy fix in post nowadays).
There is some softness at f/2.8 (which is to be expected), but by the time you move to the lens' sweet spot - basically anywhere from about f/5.6 to f/13 - images are pin point sharp. Chromatic aberation is very well controlled, and flaring is barely an issue, even with the front element wet from water spray.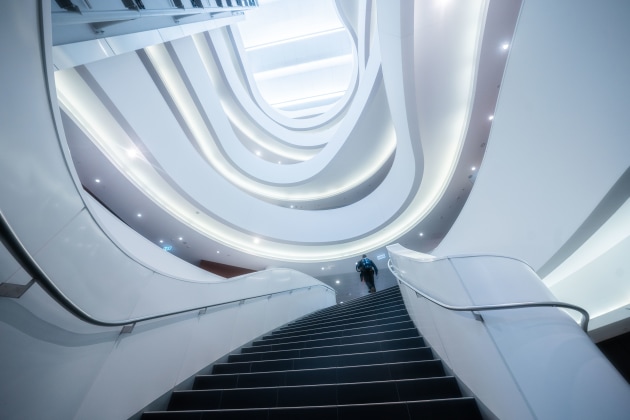 The minimum focussing distance of 28cm is accurate, and barrel distortion is as expected for such a wide field of view - check out the comparison of shots with no correction below.
Autofocus in combination with my A7III was excellent, but this isn't really a lens that lends itself to many genres of photography that demand speedy AF, and having a physical manual/autofocus button on the side of the lens is really useful. When used in manual focus in combination with focus peaking on the rear LCD, this is a powerful tool for landscape photography. 
Finally, the 9-bladed iris diaphragm produces a nice, clean 18-pointed sun-star - no complaints here. 
Final thoughts
Sony's 12-24mm f/2.8 GM lens is a stellar performer, displaying all the hallmarks of image sharpness and build quality inherent in Sony's premium GM line. But then again, with an RRP of $5,499, you would have to expect that. 
The lens' biggest competition comes from Sony's own 12-24mm f4 G zoom, and the Sigma 12-24mm f/4 HSM ART lens which both offer the same field of view but are both also considerably cheaper, with an RRP of $2,699, and $2,599, respectively. It means a huge premium for a brighter aperture, although there are some tangible improvements to build quality to make this an easier pill to swallow.
Whether your need to shoot at f/2.8 is worth the extra cash is a decision only you can make, and frankly speaking, the need for a fast, bright, ultra wide-angle lens is questionable for all but a small number of (very) specific genres of photography. However, if your pockets are deep enough and ultimate image quality is key to your workflow, you'll find the 12-24mm f/2.8 GM a fantastic lens that delivers hugely impressive results. 
More images