Review: Samsung Galaxy S10 Plus
Samsung's 2019 edition of the Galaxy smartphone features a triple-lens rear camera that can take ultra-wide photos, a huge screen with a massive 93.1% screen-to-body ratio, and a number of clever camera software features, which all help make the Galaxy S10+ one of the most compelling smartphone packages we've used this year.  
Design
The first thing you notice when you pick up the Samsung Galaxy S10+ is its size: this is a big smartphone. That huge and beautiful AMOLED screen, at 6.4-inch with a 3,040x1,440-pixel resolution, is bright and pin-sharp.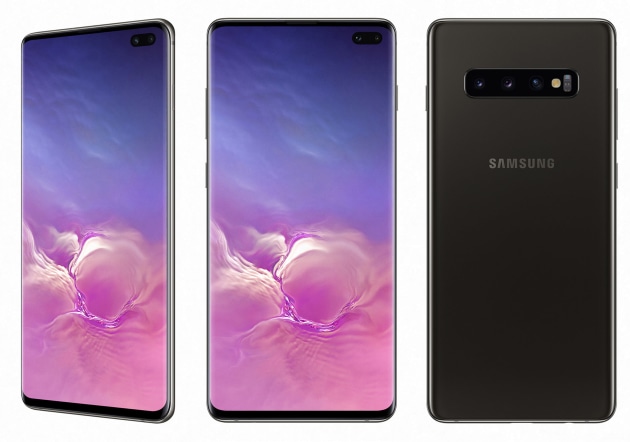 Like Huawei's P30 Pro which we reviewed earlier this year, the S10+ has an almost bezel-less display, with Samsung choosing a curved display that spills over the left and right edges to maximise screen real estate. Speaking of which, the front-facing cameras are neatly tucked into the top part of the screen in one of the better integrations of a smartphone's front-facing camera we've seen. 
On the back, the three rear-facing cameras are neatly encassed in a raised panel. The aluminum frame is thinner than that of the S9 Plus, and comes sandwiched between Gorilla Glass 6 on the front and back. Color choices are 'Prism' white, black or green. For the review, we were sent the 128gb S10 Plus in white. 
The only downside of all this screen (and glass) is the S10+ is a slippery smartphone, and one you'll want to put a case around to stop it sliding off a table, as I quickly discovered, with my review model now showing a few signs of use. 
Display
First up, the S10 Plus screen is not only big, it's bright too, and offers excellent outdoor readability. The default resolution is Full HD+, but you can change this to QHD+ (2960x1440 screen resolution) for ultimate image quality, although this comes at a slight cost to battery life. Regardless of whether you choose the default or QHD+, the screen displays vivid colours and detailed blacks with excellent contrast.
Samsung's implementation of an in-screen fingerprint sensor is also very slick. It's located about a third of the way up the phone screen, and works very quickly. However I did set up the facial recognition at the same time, and often this beat me to it before I could unlock the phone with the fingerprint scanner. I liked the choice of having both, with the slight time lag of the fingerprint sensor worth the trade off for slightly better security.
Camera
There's lots to like with the S10 Plus camera. Let's start at the back. Here there's three cameras, 12-megapixel, 12-megapixel telephoto and 16-megapixel ultrawide-angle, and you can choose between these with a quick flick between modes in the camera-module. In use, I found myself often 'framing-up' a scene, flicking between the three modes to see what gave the best results, before firing away.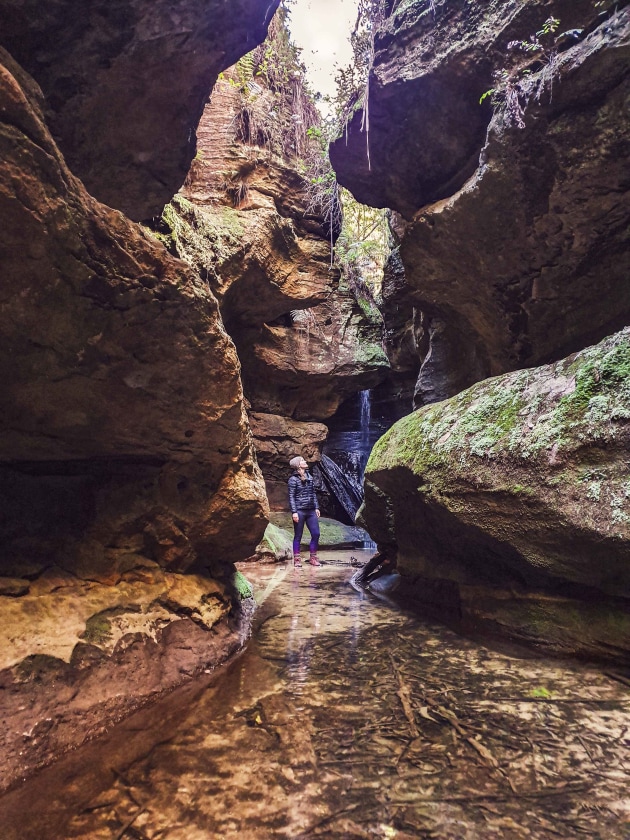 Colours are bright and punchy, and images, even JPEGs, hold up quite well to editing. 
There were plenty of times I really appreciated the 123 degree field of view from the ultrawide angle lens. Think epic vistas, or tight spaces where you just want to cram a litle more in. The wide angle has a variable aperture that can switch between f/1.5 and f/2.4, and also has Optical Image Stabilisation (OIS) to help control hand shake.
That said, the wide angle lens does have a significant fisheye effect, especially so on the edges, but there's remarkably little vignetting considering how wide the field of view is.  
That said there are some quirks. Low light performance isn't quite as good as other smartphones I've used, with shadow detail especially revealing some of the shortcomings of the software. That said, performance is generally good, although not quite at the 'seeing in the dark' level of the Huawei P30 Pro. 
However Samsung's Live Focus mode is excellent. There's the standard background blur effect, and three other options, including Spin and Zoom which offer some artistic effects, and finally Colour Point, which creates a selective colour effect on your image. All are controlled with a slider which increases or decreases the level of the effect.
Importantly, all the defocus modes handle the transition areas from sharp to blurred very well, and you can adjust the intensity of the effects before or after you take the shot, or even switch to a different effect.
The camera(s) handle macro abilities very well too, with fine details rendered with plenty of detail.
Performance
The Samsung Galaxy S10 Plus ships with Qualcomm's flagship Snapdragon 855 chip, and with 8GB of RAM has plenty of grunt. It runs Samsung's One UI mobile OS, based on Android 9.0 Pie. It's become a much more refined UI than previous versions, although the endless requests to use Bixby can get a little tiresome.
Battery life is also excellent, with the 4,1000mAh easily lasting a day of heavy use. That extra battery comes in handy if you fancy helping out a mate with the Wireless PowerShare that allows owners to top-up any device capable of wireless charging.
Pricing
Full retail for the Samsung S10 Plus with 128GB of storage and 8GB of RAM is $1,499, although you can find it for cheaper by shopping around. It's comparable to other smartphones - the Huawei P30 Pro was $1,599 at launch and the iPhone XS Max will set you back $2,049, albeit with 256gb of storage. 
Final thoughts
The Samsung S10 Plus has a beautiful bright screen, a great and very user-friendly camera and a clean UI that doesn't get in the way of your image making. That said, the Samsung Galaxy Note 10 is expected to launch in August 2019, and may offer even more features than the S10 Plus. But for now, the S10 Plus is a great flagship smartphone that can take some seriously good looking images.