Review: Nikon Z fc
Nikon's Z fc harkens back to classic Nikon film cameras of old while delivering a fully modern user experience. From a design perspective, it's clearly a home run and especially so if you grew up in an era of film winders and light meters.
But at the same time, plenty of cynics out there haven't been shy to declare it simply a reskinned Nikon Z 50 aimed at a retro-loving audience. What's the truth? Well, like many things, it's probably somewhere in the middle. Let's take a closer look.
Body
Let's get it out of the way – this is a gorgeous camera, and one that even my wife, long fatigued at seeing new cameras show up on our doorstep, immediately declared 'a lovely piece of gear'. Those beautiful old-school manual dials for adjusting ISO, shutter speed and exposure compensation on the top panel are well machined, and they have a reassuring weight and even more satisfying kerchunk when you twist them.
The ISO dial in particular is a lovely thing to use as an alternative to the more usual menu-based ISO adjustments we're used to on modern cameras – although it is a little strange that there's no Auto ISO setting built into it. Instead, you'll need to delve into the menu and add 'ISO Settings' to My Menu if you want to engage and disengage Auto ISO.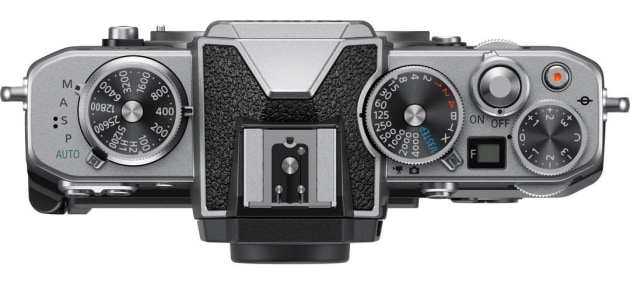 The shutter speed dial has whole-stop markings from 4 seconds to 1/4000sec, but there's also a 1/3-step setting, that switches to using a command dial to set the shutter speed in 1/3EV steps for finer adjustment.

Like the ISO dial, there's no Auto setting on the shutter speed dial either, so if you want to set the camera to say Aperture Priority, you'll need to do this via a dedicated switch under the ISO dial. It's a little unusual when compared to how Fujifilm integrate their automatic and semi-automatic settings on the X-series bodies, but it becomes intuitive quickly.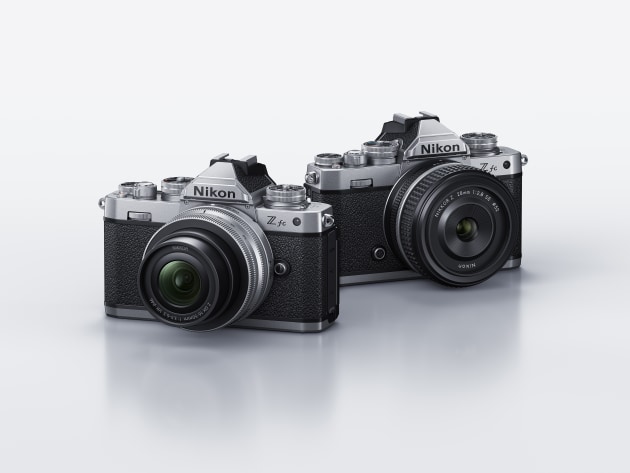 Built out of a magnesium alloy, the Z fc is surprisingly light, but it's a bit of a shame it's not weatherproofed, and the exterior is only a metal-look plastic rather than actual metal. Despite this, it's a solidly built camera that also won't weigh you down like a 40-year-old FM2 camera probably would.
Speaking of weight, it's a real shame that the matching DX 16-50mm f3.5-6.3 kit lens is so dinky. At 135 grams and with a plastic lens mount, it's so light as to feel unbalanced on the body. I'd love Nikon to have put as much care into the design of this as they clearly have with the Z fc body.
On the plus side, the rear flip out fully articulating LCD (the first on a Z-mount camera) is bright and clear, and folds away neatly to protect the LCD panel when not being used or can be rotated to face forwards for shooting selfies or vlogging. The LCD is responsive to touch, and you can also navigate the menu and make setting selections with a tap on the screen.
Finally, the Z fc's 2360k-dot EVF is nice and sharp, and the rubberised eyepiece is very comfortable.
Image quality
Nikon's familiar 20.9 Megapixel CMOS image sensor (the same as in the Z 50) is paired to an EXPEED 6 engine that allows up to 11 frames per second still burst shooting. Unfortunately, the downside of my relatively early access to the Z fc was the lack of any RAW file support in the usual Adobe programmes, so the images you see in this review are processed JPEGs.
That said, they held up nicely to a bit of pushing and pulling in post, up to about 3EV, and even the high ISO results above ISO 1600 were excellent with noise well controlled until around ISO 6400.
The out-of-camera colours from JPEGs are also nice and accurate, without looking over-saturated, and there's a variety of creative modes as well if you fancy tinkering with them. I liked that you can also see a preview of these in the Menu as well. 
Autofocus
A 200-point hybrid autofocus system recognises approximately 87 percent of the frame horizontally and 85 percent vertically, and the Z fc also features Eye-Detection AF and Animal-Detection AF in both stills and video modes.

This is a nice addition as these features were originally only introduced on the higher-end full frame Nikon Z 7II and Z 6II and put the Z fc ahead of the Z 50 in this regard. However, as both cameras share the same imaging engine, it's possible a firmware update could change this.
When shooting stills, the Z fc focus modes can now combine face and eye AF with a large focus zone, which makes finding a subject and sticking to it easier. I found the autofocus performance solid, although must admit my testing of it was limited to chasing my daughter around the house due to Sydney's current lockdown.
Video
Video maxes out at 4K UHD at 30p, which uses the full sensor width, although for slow mo there's also Full HD at up to 120fps.
The addition of the flip out LCD suggests Nikon see the z fc being used by vloggers, and there is a 3.5mm stereo mic input built in as well. However, a lack of a headphone socket for monitoring audio may put some people off.
But it's the absence of in-body stabilisation that's probably a bigger shame here, with Nikon instead relying on optically stabilised VR lenses to provide stabilisation on this and the Z 50. Unfortunately, there's just not many VR lenses on the market, something that is hard to see changing anytime soon. Still, the included kit lens is stabilised which is a plus.
Overall
I really enjoyed shooting with the Z fc, and even its quirks are quickly forgiven when you take it out onto the streets. It's beautifully made, well designed and the sensor and autofocus are very good. 

However, it's worth remembering that the sensor resolution, video, and ISO range are shared with the Z 50 and there is a bit of a jump in price between the two. Ultimately then, it's a question of style versus substance and how important this is to you. I think in my case however, style just pips it this time. ❂
Handling ★ ★ ★ ★
Great. The physical control dials are beautifully machined, but I'd love to see an auto mode for ISO on the dial however.
Features ★ ★ ★ ★
Built with the bones of the Z 50, The Z fc should keep most photographers happy.
Autofocus ★ ★ ★ ★
Solid. The improvements in video AF are welcome, and for subjects in good lighting you'll find most AF settings very reliable.
Image Quality ★ ★ ★ ★
Great. I really enjoyed the creative presets built into the Z fc, and images held up well in post.
Value For Money ★ ★ ★ ★
At $1,699, the Z fc is fairly priced, although if looks aren't important to you the Z 50 will give you a very similar experience for less.
Final word
From its achingly cool retro looks to its solid imaging features, there's a lot to like with the Nikon Z fc. If you're looking for a take anywhere camera or something to sit alongside a more serious image-making tool, this would be a great choice.
More images