Review: MSI Workstation WS66 laptop
Laptops are likes cars; there are hundreds to choose from and the more style and pace you want, the more it will cost you. These days you can pay as little as $400 for a new laptop (just don't expect to drive Photoshop) through to $10,000 or more for the high-end machines, but fortunately there are plenty of good laptops to choose from in the middle ground.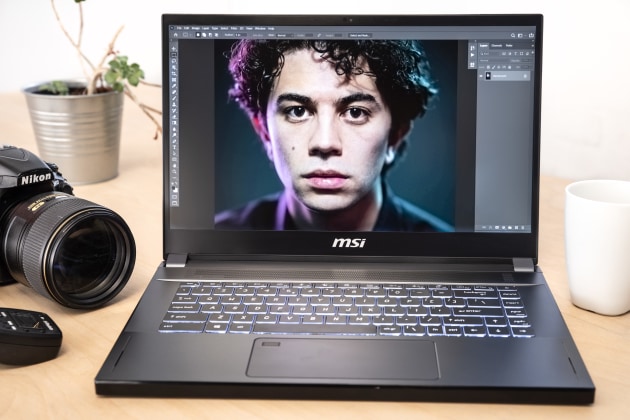 One example is the new Workstation WS66, a smart 15-inch machine made by Taiwanese computer manufacturer MSI; this company has a reputation for building high performance gaming computers and they are now sharing their performance knowhow with the creative market.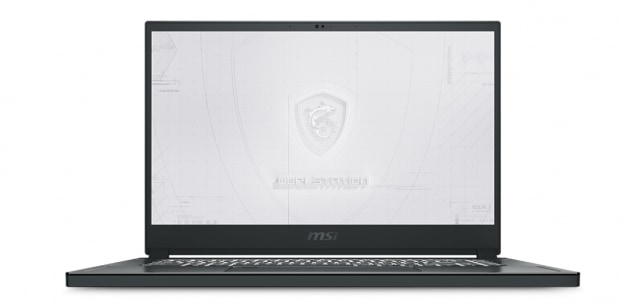 As is the case with most computers, the WS66 is available in a range of versions, but the model we have tested features a 10th generation Intel i7 2.66-Ghz processor, a NVADIA Quadro RTX 3000 GPU, 32-Gb of RAM, a 1-TB Solid State Drive, support for the new Wi-Fi 6 standard and a 1920 x 1080 Full HD display. The WS66 also has a 99.9 Watt-hour battery that MSI claims can keep the WS66 operating for up to 9 hours.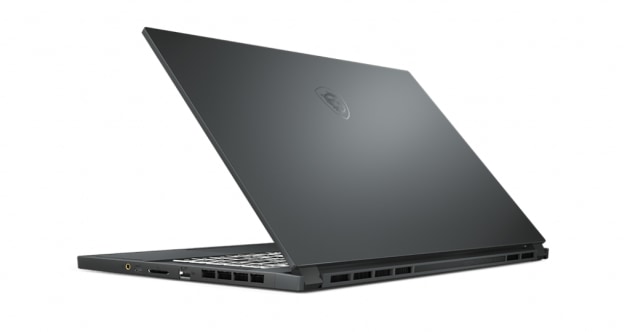 Unlike some glitzier laptops on the market, the MSI Workstation WS66 is a practical machine that is not too obtrusive. The dark grey aluminium body offers clean, simple lines and a slim profile of just 19.8mm that can easily slip into most suitable camera cases or satchels. With the laptop open, there is not a lot to distract you from your work.

The keyboard is clean and feels good for extended periods of typing and the keys are illuminated with a soft white light that you can reduce in brightness by four levels or turn off as required.

There is a small fingerprint lock on the touchpad that you can use to unlock the system, and if you look closely at the top of the display bezel you will just notice two small cameras; one is for your Zoom meetings but the other is an IR camera used the Windows "Hello" password-free security options.
The only other subtle design feature you'll notice are discreet perforations on the top and bottom of the laptop body, between the keyboard and screen; combined with three fans built into the body, these perforations do a good job of keeping the laptop cool, even when it is working hard. 
Connections along the left side of the laptop include DC-in, Thunderbolt 3, HDMI and one USB 3.2 Type A connection while on the right are a USB 3.2 Type C connection, SD slot, Ethernet port and a composite audio jack.

While there is only one of each port type, there are enough options to ensure you can connect into most external devices including data projectors, smart devices and cameras.

The most useful of the ports is the Thunderbolt 3 connection that can transfer up to 40 Gbs of data, drive large 4K monitors or deliver up to 100 watts of power to external devices. 
Powering up the laptop takes several seconds but once on, the laptop is rather responsive thanks in part to the SSD. MSI has used top tier componentry to ensure this computer can offer more speed and performance than other similarly specced machines.

Although we did not throw too many challenges at this laptop it was able to outpace our i7 equipped desktop computer at some of the more common tasks most photographers throw at their computers nowadays, including exporting RAW files while applying smart sharpening filters. 
The Full HD screen on our review laptop covers 96% of the sRGB colour gamut, which is good enough colour to do basic photo editing on location, but not for critical colour management work.

With this in mind you can use this laptop to drive a colour calibrated external monitor once you are back at your desk, or you could spend the extra money to buy a factory calibrated 4K (3840 x 2160) option that offers full Adobe RGB coverage.
Aside from being sleek, secure and rather efficient at its job, the MSI Workstation WS66 has also been built to pass MIL-STD-810 military grade specifications, meaning it survive extremes in temperature, pressure, vibration and shock based on these standards.

Given we had to return the product sample we were reluctant to test these extremes, but such ruggedness might be useful to those photographers who like to be rough on their gear.  
The verdict
The MSI Workstation WS66 is a tidy laptop that is more than capable of handling the workload most photographers can throw at it. I am not convinced the battery can deliver a full 9 hours of use, but otherwise the WS66 is good for machine for an PC users look for a practical everyday laptop that is tough enough to take wherever they are heading.

Just be careful though - if teenagers in your family know you have this laptop, it might start getting used for gaming!
Specs
Operating System - Windows 10 Home / Windows 10 Pro
Processor - Up to 10th Gen Intel Core i7
Graphics Card - NVIDIA RTX 3000
Display - Full HD / 1920x1080 / sRGB (also available in 4K, 3840 x 2160, Adobe RGB).
RAM - 32 GB
Battery - 99.9 Wh
Storage - 1TB Solid State Drive
Dimensions - 358 mm x 248 mm x 18.3-19.8 mm
Weight - 2.1 Kg
Price - $5,399
Where to buy: https://www.capitolcomputer.com.au/epages/shop.sf/en_AU/ObjectID=1018506&ViewAction=FacetedSearchProducts&SearchString=WS66