Review: Kolari Vision IR Chrome filter
Love or hate it, the false colour infrared look holds a particular allure. However, if you want to take that bold and colourful leap into capturing light at the extremes of the spectrum then it has traditionally come with a high cost of entry.
In the past, to access the false colour side of IR digital photography (and video) you'd need a dedicated camera conversion, and if you decided to go with a full spectrum conversion, which is typically recommended over a standard IR conversion, then you would also need to invest in quality filters at various IR ranges to achieve different looks.
In addition, there has always been a steep post-processing learning curve to get anything usable from the pink-red files that come out of your converted camera.
However, now there is another way.
The tech
USA-based Kolari Vision are amongst the global leaders for IR camera conversions, and they also produce what are arguably some of the best IR filters available.
In essence, the Kolari Vision IR Chrome filter (as tested $155 USD/$225 AUD), promises to give you the classic Kodak Aerochrome film red and blue false colour effect in-camera, and without any need for processing.
This filter is the result of a collaboration with French photographer Yann Philippe and is made by using a mysterious and secret (for obvious reasons) mix of fused, laminated, and coated glass.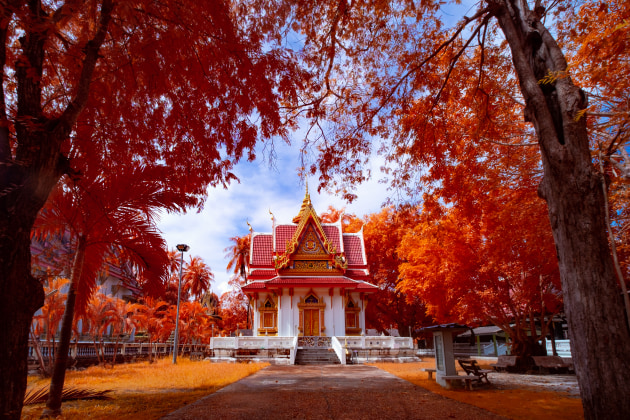 Build Quality
The Kolari Vision IR Chrome filter is a thick glass screw in filter that comes in various sizes, and you can use filter step rings with it too. I was supplied the 72mm version for this review.
The filter is blue tinted, but that switches between magenta and purple depending on which way you tilt it. There is a highly effective anti-reflective coating which all but kills off the dreaded flare and lens hotspots, which can be the bane of IR photography.
In practice this enabled me to use the Fujinon 10-24mm and 18-55mm lenses without issue – both are highly prone to hotspotting, which appear as bright spots in the frame.
Finally, the filter is also laminated to protect it against the elements and for durability. Despite being thick in design it does not noticeably slow down exposure times either. It's worth noting that unlike some other Kolari filters there in no knurled side grip to help hold the filter when unscrewing it.
In use
So how do you use it? Once the filter is in place you need to set a custom white balance, on something white – not grey. By using your EVF or rear screen you will then see an Aerochrome-like image, which is truly amazing to view in-camera.
The exact look can be tweaked further in-camera by shifting the hue or white balance slightly either side to achieve a warm or colder look – and that's it! The hard work is done. It also becomes especially creative when you use in-camera film simulations with the filter.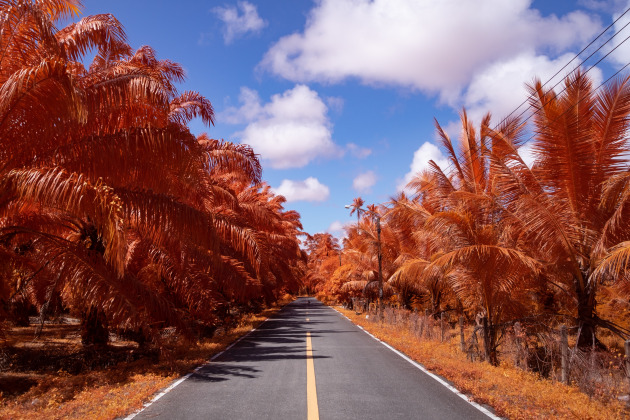 Image quality
Image quality is what sets this filter apart from apps and software simulations. I found it is as good as my camera and lens, with no noticeable fringing, chromatic abortion, noise, or image degradation. In case you can't guess, I was genuinely staggered by this.
Even better was I found the editing required for images back on the computer was minimal – a real win. That said, while the JPEG files are great in camera, I do recommend editing the RAW files as they can be manipulated a little more.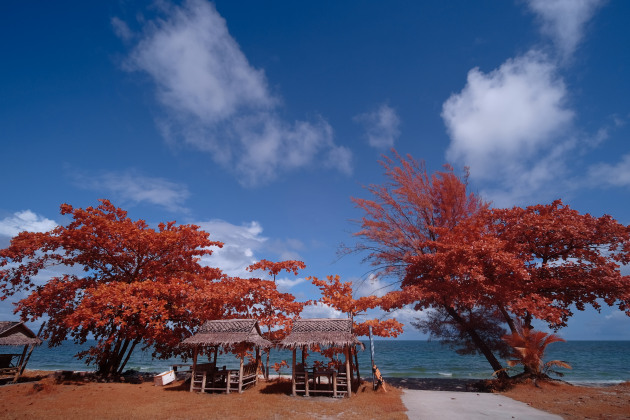 The results
Build quality & durability – 4.5/5
The overall build quality is excellent, although I would like to see a knurled grip, as with some other Kolari filters.
Features – 4/5
This is a one-look filter, and although you can tweak the images, your final look is somewhat set in stone. I suggest you spend some time studying the kind of image you can expect to ensure you like the result before buying.
Image quality – 5/5
Image quality is superb, and remarkably there is no obvious image degradation.
Value for money 4.5/5
It's hard to compare this to any other IR filters. It is one of a kind, and although it's not cheap, compared to a dedicated IR conversion it's worth the high price.
The wrap up
The Kolari Vision IR Chrome filter may only have one basic look, and it's not cheap either. But the benefits for photographers keen to dip their toe into IR are obvious – it's relatively cheap when compared to a full IR conversion and has little of the post-processing burden either.
Combine this with a premium build quality and unique 'look' and the result is a really interesting and creative filter for all kinds of photography.
More info: kolarivision.com.