Review: Fuji GFX100
With my Antarctic expedition counter now sitting just shy of 30, during the past seven years I've been no stranger to pushing the carry-on luggage limits of flights to South America, where most expeditions depart. But this time, one piece of equipment in my bag was an obvious liability to my successful passage through customs.
Weighing in at 1.4kg (with the viewfinder attached), the Fujifilm GFX 100 is a bonafide leviathan of a camera. In fact, not one aspect of this machine can be categorised as small or discreet. The top LCD is large and luminous, the battery grip is as hulking as the bow of the ship I'm to travel on and of course, the sensor is 43.8 x 32.9mm of sheer imaging splendour. 
As I sat in the Sydney airport international terminal, pondering whether our aircraft could actually muster enough acceleration to get the GFX off the ground, I questioned whether lugging this thing to the last continent was a good idea. Three weeks, 30 zodiac excursions, four leopard seals and (literally) a million penguins later, I can safely say that every gram of magnesium alloy was worth it.
Features
The Fujifilm GFX 100 is a mirrorless, interchangeable-lens, medium format camera with (as the name implies) a 100-megapixel CMOS sensor capable of producing files approximately 11,648 pixels wide and 8736 pixels high – dimensions that at least feel roughly the size of the Antarctic continent itself.
Up until very recently, access to these sorts of specifications would have come with a price tag well within the tens of thousands of dollars from a factory well within the borders of Germany or Sweden.
But in recent times, Fujifilm has gained a grip on the medium format camera market, making sensors of this size and resolutions of these proportions somewhat more accessible to the masses.

Sitting well below the opulence of comparative Phase One and Hasselblad models, the Fujifilm GFX 100 will set you back approximately $16,499 AUD – a figure that is at least within reach of prosumers and something that became very apparent when I spotted more than one other Fujifilm medium format camera clutched by the gloved hands of tourists on the deck of our vessel, the M/V Ocean Atlantic.
But astounding image resolution is not the only benefit the GFX affords in exchange for an iceberg-sized dent in your savings account. Building on previous medium format designs, the GFX 100 is the first mirrorless medium format body to incorporate sensor-shift image stabilisation.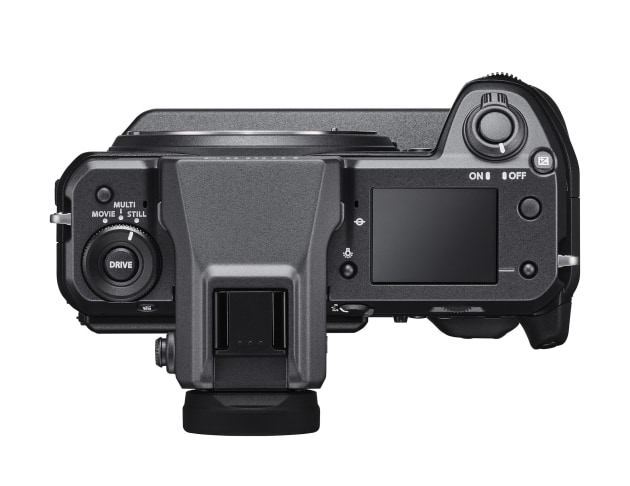 Utilising its X-Processor 4, the camera is capable of outputting 16-bit RAW files and has a native ISO of 12,800 – meaning its dynamic range can span the blackest of penguins sitting on the whitest of icebergs.
But the GFX is no stills-only camera. It's also capable of filming some pretty impressive video, and its features include subject tracking, F-log gamma settings and 4:2:2 10-bit over HDMI, all of which came in handy when tracking seabirds and filming from inflatable boats as we bumped our way through the brash ice to our first landing site at Mikkelsen Harbour.
Ergonomics
Anyone familiar with Fujifilm cameras will be able to pick up the GFX 100 and hit the ground running. Sharing much in common with the company's X series models and GFX predecessors, the GFX maintains Fujifilm's menu styling for the primary LCD but adds an almost retro-styled screen to the battery grip that displays core shooting settings.
In the cold Antarctic air – even when wearing gloves – the GFX did at times feel more like carrying around a block of lead rather than a camera. You can't escape the fact the body is bulky, and both the vertical and horizontal grips feel a little unwieldy. But it's blocky design and indiscreet presence are most likely symptomatic of who this camera is really targeted at. However, certainly the handiest and most appealing feature is the camera's large and beautiful top LCD. With the ability to cycle through various display modes and even convey a live histogram, this interface is nothing but a pleasure to interact with and is bright and clear even in the squintiest of glare.

The GFX 100 is certainly not made for street photography, nor is it made for happy snaps. This is a serious piece of imaging equipment most likely to be picked up and placed on a tripod by photographers who put a lot of thought into the frame they're composing. Think landscape photographers, studio and commercial photographers and those whose subjects remain relatively static.
On our expedition to the frozen continent, two lenses joined the GFX and I: the GF 63mm f/2.8 and the GF 100-200 f/5.6. For those new to the medium format world, the simple act of attaching a lens to the GFX for the first time is a stark reminder of the sheer scale of the sensor size. Rotating the 63mm onto the huge lens mount, the otherwise fairly good build quality was tarnished by the somewhat cheap-feeling plastic lens hood.
However, my uneasiness was quickly quelled when I opted for some wildlife shooting and mounted the 100-200mm f/5.6. While the plastic lens hood remained, interacting with the 100-200's aperture dial felt like unlocking a bank safe.

The silky-smooth zoom and focus gears were a joy to use and with no barrel extension, a solid metal tripod mount ring and all black exterior, each time I used this lens felt like calibrating a beautiful piece of hand-crafted navigational equipment. 
Autofocus
In line with many of its other features, the GFX 100's autofocus capabilities are what one expects from a camera with such a large sensor. This camera is not made for wildlife photography, nor is it aimed at sports shooters, and thus while the autofocus system is surprisingly robust and quick in lots of light, anyone coming from a Canon or Nikon DSLR to the GFX system will perhaps need to adjust their expectations for attaining focus.
But this shouldn't deter those who still might like to dabble in wildlife imaging, and indeed the GFX was perfectly capable of capturing albatross behind our vessel or the odd spy-hopping leopard seal.

With some big improvements to the AF system in this model from the 50R and 50S, the 100's 3.76m autofocus point system covers almost the entire sensor area, and face and eye-detection are available in both AF-C and video modes.

These latter features weren't all that useful on a continent where humans are fairly sparse, but those few million autofocus points came in handy when composing penguin portraits or hunting for sea birds in flight.
Worth the weight
On paper, the GFX 100 is one of the most formidable cameras money can buy. And on a set of scales, it's equally substantial. But like its weight, the autofocus in the GFX is kind of emblematic of the overall experience of this camera: this machine is not designed for those "spray and pray" types, it's certainly not an everyday camera and it's not for beginners.

The GFX 100 is a true leviathan and a precision tool made for serious photographers who have the time to think about their photographs carefully, and the experience to know exactly what to do with this amount of megapixels at their disposal.
Sitting here now in the lounge of our Antarctic expedition vessel, with a snow-dusted and vaguely-smelling-of-penguins GFX by my side, I'm convinced that every gram of this unit was worth lugging to the Antarctic. In a way, the large dimensions of this camera seem perfectly at home on an ancient, frozen continent. And after all my trips here, the GFX stands head and shoulders above the rest of the cameras I have taken.
The GFX is a camera that asks you to mount it on a tripod, look at your environment, think, consider, compose and execute. A seemingly essential procedure but something that often gets lost in the world of fast-paced modern digital photography.

With the sharpness and depth that only medium format imaging can achieve, the GFX 100 produces files that read like a volume from a sailor's survival story – drenched in detail and with poetic, subtle tones. If you can justify the five-figure price tag, the GFX 100 is surely a camera that will stick by your side to the ends of the Earth (literally) as a sturdy companion in the pursuit of incredible photographs. ❂
HANDLING ★ ★ ★ ★
This is a big camera, and you will notice its weight. But the familiar controls will mean just about any Fuji user can pick it up and be snapping away almost immediately.
FEATURES ★ ★ ★ ★
Fujifilm has packed an incredible amount of technology around that big sensor, the most significant of which is an impressive stabilisation system. Video features are also solid.
Autofocus ★ ★ ★
A sports camera this is not, but I was surprised by how capable the GFX 100's autofocus system was.
Image Quality ★ ★ ★ ★ ★
The real acid test of that 100 MP sensor is in the image quality. You'll be pleased to know images retain incredible detail and amazing dynamic range.
Value For Money ★ ★ ★ ★
A tricky one. Sure it costs more than a nice car, but compared to its competitors such as Phase One and Hasselblad, it is competitively priced.
FINAL WORD
The fact you can buy a camera today with 100 MP for less than $20,000 is pretty remarkable, and shows just how far imaging technology has come in the past decade. It's not overly practical, light or compact, but for sheer imaging splendour, the GFX 100 is a sensational camera.
Sample images