Review: Canon EOS R7
The Canon 7D Mark II (2014) is still widely regarded as one of the best crop sensor DSLRs ever created. It had serious semi-pro credentials for its day with a 20MP sensor, 10fps, Full HD video, dual card slots, weather resistance and pro-level dials.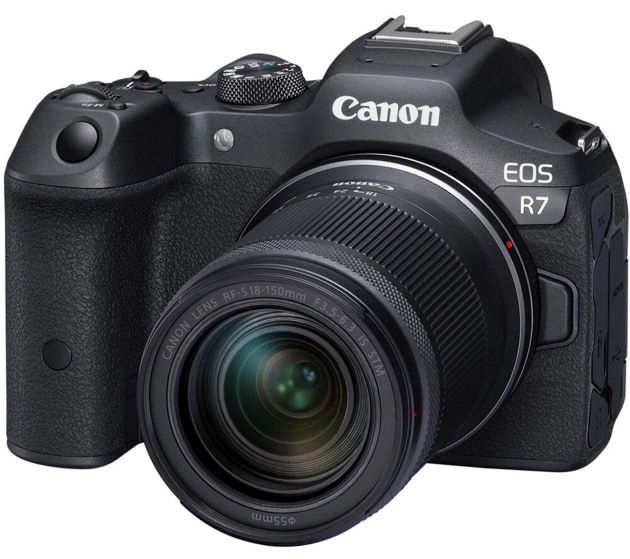 But the camera also had one special trick - that APS-C 1.6X magnification. This meant a 70-200mm lens became a 112mm- 320mm, and a 400mm became a 620mm. What was initially seen as a cost-saving measure from Canon became a boon for sports and nature photographers, who flocked to the camera in their droves.
Now in 2022, some eight years later, the mirrorless EOS R7 ($2,299, body only) continues the 7D's lineage while upping the game tremendously with massively improved autofocus, a bigger 32.5MP sensor, IBIS, a 30fps electronic shutter, a 300g lighter body and all at a similar price. So the camera has all the great specs – but is it the new golden child of cropped sensor cameras? Well, let's find out.
Body and handling
It's worth remembering that the Canon R7 is a midrange camera – and comparing it to Canon's R3, R5, or even R6 is not entirely fair. But it's also almost unavoidable, especially if you use an R5 as your day to day camera like I do.
That said, the magnesium alloy body of the R7 is solid feeling despite its small size, and is still easy to handle with tactile, easily accessed dials and buttons for the average-sized hand. As you'd expect for a camera with Canon's 7D lineage, it's also weather resistant.
I really like the way the R7 handles, especially when you use the lighter 'non L' lenses. For example I can shoot with an R7 (612g) and RF 35mm (305g) or RF 100-400 (730g) and the whole combo is very lightweight.
In terms of button layout, in place of the R5 and R6's rear control wheel, the R7 gains a D-pad with customisable buttons. This means that it is missing a third control wheel and the ISO, Aperture and Shutter Speed settings don't have their own separate dials. 
In my opinion, all cameras should have three separate dials for adjusting the exposure trinity - they are one of the most important distinctions between phone and camera photography. 
That said, you do have a control ring on every RF lens barrel that can in theory be customised to control ISO, but this becomes an issue on lenses where the control ring is located at the end of the lens and can't be accessed if your lens hood is on backwards.
I also need to bring up the elephant in the room - the joystick / control wheel (rotating dial) combo on the camera's rear. Many reviewers have expressed their dissatisfaction with it, but personally, I never had any issues with it. I guess if you are particularly ham-fisted you might find it difficult to use - but for everyone else I wouldn't worry. 
On the rear you'll also find a 3" 1.62 million dot rear articulated touch screen which is solidly made and feels very durable. And the OLED 2.36 million dot viewfinder, while not as bright as some competitors, is more than sufficient for day to day shooting.
When it come to power use, the long life LP-E6NH battery is the same form as the older 7D battery but has a higher capacity and wattage (13w vs 16w). This increase in power also allows you to utilise the new powered multi-function hot shoe, which can supply power via the camera to Canon's DM-E1D Directional Mic or ST-E10 Speedlight Transmitter.
Finally, you also get two UHS-II card slots (a nice bonus considering the price) and headphone and microphone inputs.
Image Quality
The Canon R7's 32.5MP sensor is, in my opinion at least, a bit of a sweet spot in terms of image size. It's easily large enough to make an A2 print @ 300dpi – or for wildlife photographers allow generous cropping.
That said, there are physical limitations that come with cramming 32MP into an ASP-C sensor, most obviously displayed in image noise. 
I found noise was well-managed up to about ISO 2000, and more than acceptable at 3200 and up to ISO 6400 at a 100% crop. At these higher ISO's you may notice a bit of 'speckling' in the darker tones which can be subdued in Lightroom with about 30% noise reduction.
I'll also add that high ISO JPEG's straight out of camera hold up very well – in fact slightly better than the RAWs, which goes to show how solid the image processor is in-camera. This leaves me hopeful that there may also be improvements in how RAW files from the R7 are processed in Lightroom and other image editors in the near future.
Autofocus
Canon says the R7 inherits similar autofocus abilities to the $7,500 R3, and although it can't compete with that camera's Backside-Illuminated, Stacked CMOS Sensor, and its lightning fast readouts and minimal rolling shutter, performance is still excellent with the R7. This is helped by Canon giving the R7 the same Digic X Processor from the R5 and R3 cameras, along with its reliable Dual Pixel CMOS AF II autofocus system.
As you'd expect from the latest generation of mirrorless technology, the tracking autofocus on the R7 is particularly solid. I reassigned the 'AF-On' button to instead activate eye focus and it worked a treat. There's something about watching a little blue box appear and track a moving subject with uncanny precision that's just beautiful to behold.
That said, I did find autofocus a tad bit slower than my own personal R5, especially when the light levels dropped. I'm not sure if this is a physical limitation from the chip or sensor, or a software limitation that can be fixed in a later firmware update.
To test this, I chose a very difficult subject and lighting situation – a running dog at dusk under full cloud. To make matters even tougher with a very shallow depth of field, I used the RF 70-200mm 2.8L. The R7 kept up with the dog, but missed perfect focus on the odd occasion. In normal daylight conditions there was a much higher keeper rate.
Shooting at 30fps with the electronic shutter is a nice option to have, although you'll want to go easy on the trigger finger to save post-production culling time. A better option for most situations is one of the lower burst rates - and even 15fps with the mechanical shutter is still very fast. 
If you do use the electronic shutter, you can expect moderate to high rolling shutter effects, and under artificial lighting banding and uneven exposures can be an issue.
Finally, the R7 includes a number of intelligent subject detection modes, including animals (dogs, cats and birds), vehicles and people. Just make sure that if you are shooting in Animal mode, that you switch back to People mode if your subject changes. On one shoot I was wondering why the camera was locking onto black buttons on people's jackets instead of their eyes… doh!
Stabilisation
The combination of IS lenses with IBIS is simply heaven-sent. The R7 gives up to eight stops of compensation with compatible lenses, which is solid. 
The old school general rule of needing your shutter speed to be double your focal length (e.g. a 200mm lens = 1/400s for sharp images) is now defunct. The 'new school' rule is if you have both body and lens IS - your shutter speed can be half, if not a quarter of your focal length. I was able to get pin sharp images from a 200mm lens (320mm equiv.) at 1/50th – which is pretty remarkable.
Video
While the Canon R5 has been rightly cristicised for overheating when shooting 8K / 4K fine / HD 120 video, I'm glad to report that the R7 is capable of record HQ 4K video for extended periods with no overheating issues. I left it recording for over 30 minutes, as well as 15 mins of 100fps @ 1080p with no signs of overheating. It's also nice to have 10-bit C-Log3 included to get the most out of the sensor.
The ratings
Build Quality ⭐️⭐️⭐️⭐️⭐️
The R7 is small, yet still retains good ergonomics and weather resistance.
Features ⭐️⭐️⭐️⭐️ 1/2
Everything that a state of the art camera should have and more. That said, it would have been nice to have a third control wheel for the exposure trinity (Aperture + Shutter speed + ISO).
Image Quality ⭐️⭐️⭐️⭐️
Excellent for this price range, although high ISO photography isn't as refined.
Auto Focus ⭐️⭐️⭐️⭐️ 1/2

What's not to love about tracking focus done well? The R7 has an excellent, full-feature AF system.
Value for Money ⭐️⭐️⭐️⭐️ 1/2
The R7 is well-priced considering its feature-set.
The wrap-up
I really enjoyed using the Canon R7. It offers fantastic image quality, a fast drive mode and a rugged build at an affordable price. I see its audience being most likely advanced amateurs or even pros in need of something different or a cheaper, smaller back-up body.
Although other reviews have mentioned it, I don't think that the lack of native APS-C (RF-S in Canon-language) lenses is a deal breaker as you can still use other RF lenses. In fact, this is a good way to help people progress to the full frame system, and there are already rumours of a bunch of new Canon RF-S lenses which include a lightweight 32mm f/1.4 STM.
In conclusion, in an era of full frame cameras, the smaller APS-C sensor is a reminder of how great this format is for telephoto shooting, and when paired with the $1,100 RF 100-400mm f/5.6-8 USM lens, which I can see many photographers doing, it means you have a crazily lightweight super zoom set up weighing under 1.3kg.
More images