Review: BenQ DesignVue PD2705U monitor
These days we're spoilt for choice when it comes to entry-level image-editing monitors, and although BenQ's newest monitor the PD2705U is the cheapest in the company's DesignVue series line-up at an RRP of $899, it packs a bunch of modern features, including 4K, a slick 'frameless' design, and an upgraded colour gamut, that make it an astute choice for photographers and creative professionals looking for a one-stop monitor solution.
Before we start, it's worth mentioning that BenQ sells a number of different monitors aimed at different audiences. Typically its PhotoVue series (which have an SW acronym) are aimed at photographers and offer BenQ's most advanced colour accuracy, while the DesignVue series (PD) are a broader category aimed at designers and 'creative professionals', which likely includes videographers and even gamers, although BenQ has a dedicated category for these users too.
The DesignVue series are well-rounded, multi-purpose displays suitable for general design tasks. BenQ's PD2705U fits in this category. 
The build and features
As you'd expect, the BenQ PD2705U comes beautifully packaged. BenQ are probably better than any at packaging their screens for transport, and the screen and accessories were delivered in a robust box that carefully layers the most delicate bit (the monitor) among layers of cardboard.
The packaging also includes one of BenQ's signatures - the monitor's own dedicated calibration report. 
Otherwise, the included accessories are particularly thorough - along with the monitor, stand and power cable, are a number of cables that should have you connecting the monitor to your device with a minimum of fuss, including a USB-C cable, HDMI cable, and USB cable. I had the monitor set-up within about 15 minutes via USB-C to my Macbook Pro.
In addition, BenQ also include it's Hotkey puck, a customisable dial that sits neatly on the included stand and allows for customisation of a number of commonly used features.
Most users will likely set the three hot keys to swap between colour profiles, but in theory you can customise it almost anyway you like and it also lets you adjust other settings as well. It's much easier than using a menu tied to controls on the side or front of a monitor and is a nice addition.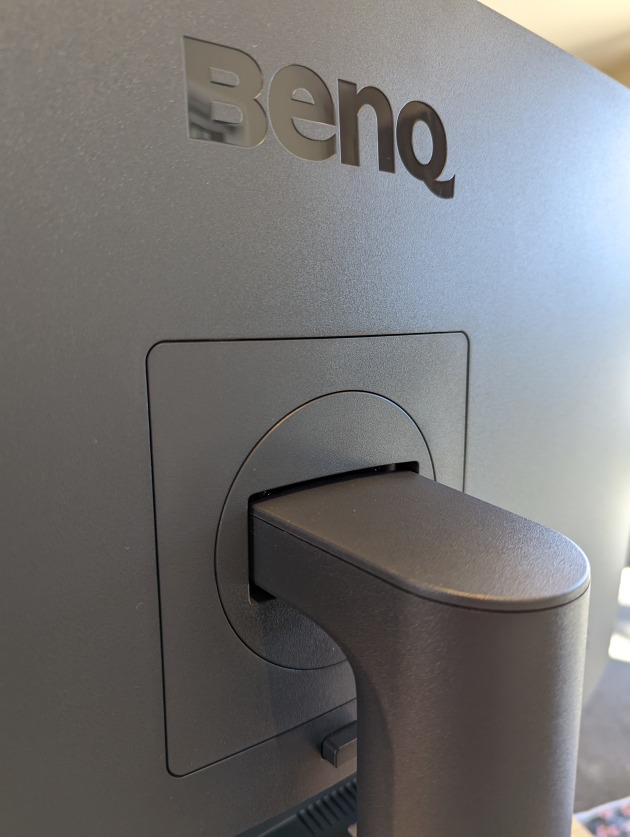 Also, Kudos to BenQ for designing a really user-friendly stand as well. Unlike Apple's controversial height-adjustable stand you'll need to pay extra for, the one on the BenQ is easy to adjust and will also flip to a vertical orientation if you so desire.  Visually, the screen is good looking too - it features a very thin bezel that maximises screen real estate and also has a neat cable holder on the back.
On the rear, you'll find a heap of ports too - there are two USB 3.1 ports, two USB-B, an HDMI 2.0, USB-C, DPI.4, and one port for the included hotkey puck. That's not all - on the side, there is a USB-C (downstream for charging), USB 3.1 and a headphone jack as well. 
Finally, the PD2705U includes KVM, an abbreviation of keyboard, video, and monitor/mouse. This is a tiny hardware module which allows users to view and control two or more PCs using one monitor, one keyboard, and a single mouse.
If you plan to use the monitor with multiple computers, say with an iPad and a Macbook, but want to just use the one keyboard and mouse with it, the addition of KVM can lead to a much better-arranged work space. It's a cool addition and is accessed via a number of ports on the rear. 
The screen
The PD2705U is 4K, and comes in at 3840x2160 UHD. Seeing really is believing, and it's fair to say it's beautifully sharp, with images displaying tons of contrast and blacks also showing lots of detail. With a pixel density of 163 PPI it's simply a stunning screen to look at images with, and a real step up from my Macbook Pro's Retina screen, which seems very flat by comparison. 
In terms of colour accuracy, you're well covered. The higher/wider the color gamut, the more colours the monitor can display, and the PD2705U covers 99% of the sRGB and Rec.709 colour spaces and has a 1000:1 contrast ratio. Colour consistency corner-to-corner is excellent, and like BenQ's PhotoVue series of monitors, the PD2705U is also Pantone certified, as far as we're aware the only monitor brand to offer this certification. 
BenQ monitors ship pre-calibrated, and colour accuracy straight out of the box is one of the brand's key selling points. 
Perhaps the only criticism of the monitor is its relatively slow refresh rate of 60Hz, which doesn't make it the complete allrounder some users will be looking for. But ultimately, the viewing experience won't leave you disappointed.
The wrap-up
I've been greatly impressed by the BenQ PD2705U monitor. It looks great, performs well and displays beautifully accurate and bright colours.
The only question for photographers is likely to be whether BenQ's PhotoVue series of image-editing monitors make more sense as they offer even more accurate colour, but the reality today is so many of us need our tools to be multipurpose, and for many users what this monitor brings to the desk will be good enough. And that's before you even take into account the price, which at $899 is very competitive for such a well-specced screen.
If you're a photographer who likes to dip your toe into design, video or even a bit of gaming, the PD2705U is a very safe bet indeed.