Review: ASUS PA32UCR Pro Art display
Sponsored 
Everybody loves a big screen, but recently as I was testing the new 4K 32-inch Asus PA32UCR Pro Art Display, I couldn't help wonder - just how big a screen do you need?
Without doubt, the Asus PA32UCR Pro Art Display is sexy. The screen has a subtle 1mm bezel with a clean, 15mm deep dark metallic strip along its bottom edge; when turned on, the active area of the display sits just 7mm from the edge of the screen. Compared to some screens, this monitor does give you plenty of work space with minimal distraction.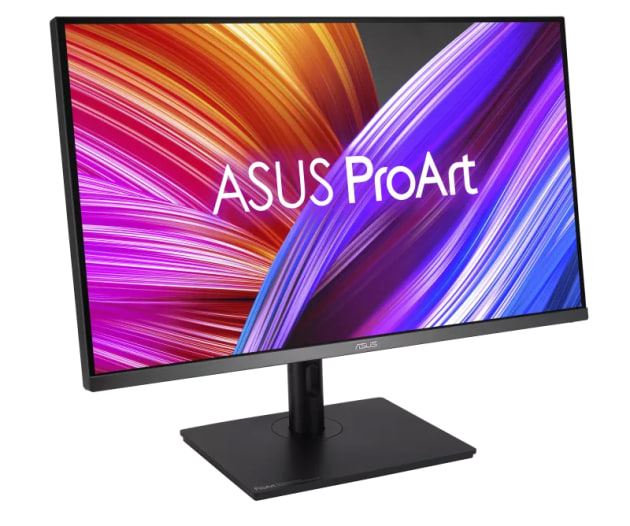 Behind the 32-inch 4K UHD (3840 x 2160) IPS display, mini-LED backlights provide up to 1000-nits of brightness over 576 dimming zones, enabling a contrast range of 1:1000 in normal mode and 100,000,000:1 in the High Dynamic Range (HDR) mode.
The use of quantum-dot technology helps provide a good colour gamuts of 100% of sRGB, 99.5% of Adobe RGB, 98% of DCI-P3 and 87% of Rec.2020. Along with ASUS ProArt Hardware Calibration and a Delta-E (∆E) of ur difference value, this display is ideal for editing photos and video.

Setup
Despite its size, setting up the monitor is easy; one single thumbscrew connects the supplied base onto the support column and with the screen lying facedown, you just click the stand into the back of the screen. The entire screen and base weighs a combined 12.3 kilograms and so it's relatively easy to lift the screen into a working position.
From its base, the screen has 130mm of height adjustment, 90º of Swivel, and -5 to 23º tilt adjustment. You can also rotate the screen into the vertical position.
Connections into the screen include three HDMI (v2.0) ports, one DisplayPort (1.2), a full function USB Type-C port (capable of delivering up to 80W of power), two USB-A ports and a 3.5mm audio jack.
The PA32UCR is also supplied with an X-Rite i1 Display Pro calibration device (worth $450) that lets you optimise the monitor for your ambient environment.
That being said, the colours straight out of box are great, and after choosing to work in Adobe RGB I matched the brightness of the ASUS to my usual monitor and began getting to work. 
In use
My first task with the ASUS was to rank images for a photo competition, so, to make this job easier I rotated the ASUS into the vertical position, changed my screen orientation to 90º (in Preferences) and opened the images in Adobe Bridge.
In this orientation I was able to place each folio of four images across the screen with eight rows visible downwards; I then dragged and dropped each folio upwards or downwards until I was happy I had the images in the appropriate order.
Regardless of whether you are working in the horizontal or vertical, being able to fit so many images onto a large 4K monitor does make judging a competition or editing a photoshoot a lot easier, and rather more enjoyable.
With the judging finished I then rotated the screen back to horizontal and began editing some work. Having noticeably improved detail in your images is one big advantage of a 4K monitor over a Full HD (1900X1280) monitor, but an even bigger advantage is simply having more work space for your apps.
Nowadays, programs such as Lightroom and Adobe Camera RAW pack so many panels and adjustments into your screen that if you are working on a Full HD monitor, you are forever scrolling down through the panels looking for the controls you want.
A 4K monitor definitely makes it easier to spread out your panels and navigate the adjustments.

Straight out of the box, most text and numbers on apps will appear a lot smaller on a 4K screen, but this is not too much of an issue with a 32-inch. Still, I did find myself downsizing the screen's resolution slightly to make the interfaces easier to see when working with this monitor. Overall the colours from the this monitor are very good.
It's worth mentioning too that reflections off the matte screen can be a little distracting, although this is improved if a hood is used with the display.
Finally, a power button, five control buttons and a five-way navigator button are located just behind the lower right edge of the display.
The wrap-up
Without doubt, the Asus PA32UCR Pro Art Display will appeal to some photographers, particularly those who enjoy sharing their screens with others, or watching an occasional movie at their desk. And this gets me back to my original point - do you need all that screen space? We know size costs, as does quality, which is why I believe if you really want the best monitor possible for editing you images. 32' is big, sure, but it does a wonderful job of displaying your work. 
Specs
Panel Size/Ratio: 32 inches / 16:9
Native Resolution: 3840 x 2160-pixels (144 ppi)
Panel Technology: LED illuminated IPS-type LCD.
Colour Gamut: 99.5% Adobe RGB, 100% sRGB
Bit Depth / Colour Support: 10-Bit (1.07 Billion Colors)
Maximum Brightness: 1000 nits(cd/m2) in Peak HDR Mode
Refresh Rate: 60Hz
Screen Finish: Anti-Glare / Matte
Viewing Angle: 178 x 178 degrees
Viewing Options: 130mm height adjustment, 90º Swivel, -5 to 23º Tilt
Connections: 240v, 1 x DisplayPort 1.2 Input, 3 x HDMI 2.0 Inputs, 1 x USB Type-C Input/Output
3 x USB Type-A (USB 3.1 / USB 3.2 Gen 1), 3.5mm stereo headphone jack.
Internal Speakers: Yes, 2 x 2-watt
Power: 100-240 volts, 46 Watts (Typical), 0.5 Watt (Standby)
Supplied in box: Monitor, Stand and Base, Power, HDMI, DisplayPort and USB-C cords.
Dimensions (HxWxD) w/o base: 747 x 448 x 78mm
Weight w/o stand and base: 7.7 kg
Weight with stand and base: 12.3 kg
Price: $2599

More information: asus.com