Review: ASUS PA148CTV image editing monitor
We've long been fans of ASUS' desktop image-editing monitors, and while using a colour calibrated monitor for image editing is great at home, there are times that they're just not practical to use – think travelling or if you have a temporary office arrangement like many of us probably do right now.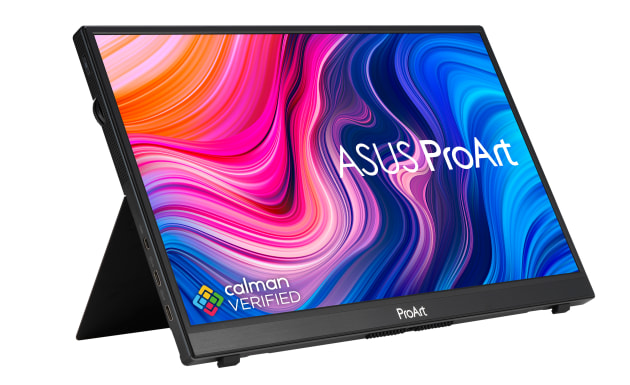 So, when I heard that the Taiwan-based company had a more portable offering, the compact, 14-inch PA148CTV, I was intrigued. Small enough to fit inside a backpack, and yet still packing 1920 x 1080 Full HD resolution, the mini touchscreen offers a Calman verified 100% of the sRGB and Rec. 709 spectrums and a range of connectivity options, with a handy built-in stand that means you can set it up just about anywhere.
Over the past month I've been using the PA14 as a second monitor matched to my work computer - a 13-inch MacBook Pro - and it's quickly become a very handy addition to my at-home work setup.
The build
Visually, the PA14 is a very svelte monitor. ASUS have chosen a very minimalist design, to the extent that the ASUS logo doesn't even appear on the front bezel. Instead, there's a bold ProArt logo; confirmation that, just like the company's bigger image-editing monitors, this is a professional tool. Speaking of the bezel, it's a nice matte black that remains relatively thin on three sides and leaves plenty of space for screen real-estate.
The rear of the monitor maintains the same minimalist look, with a small ASUS logo and an integrated kickstand about all there is to see. The kickstand is nothing spectacular from a design perspective, but it's perfectly functional and extends to 70 degrees.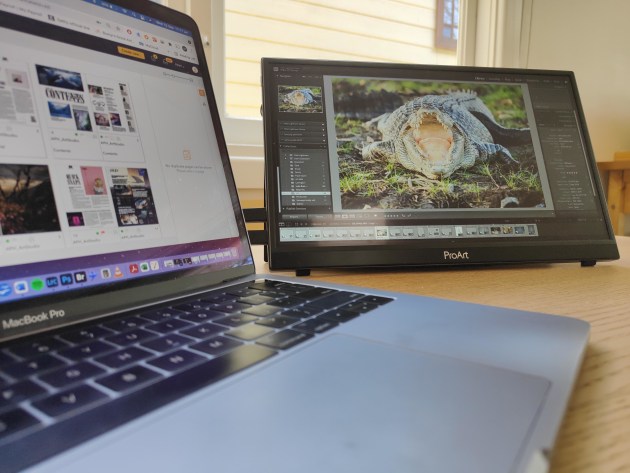 On the left-hand side are a selection of connection options including two USB-C ports for both display and power and a micro HDMI port, the ASUS dial (more on that later) and stereo speakers on the right-hand side.
Unfortunately, the PA14 is only able to be powered in the traditional socket-in-wall style, and although I can appreciate it would drastically change the form factor if it was able to be battery powered, it does limit its versatility a little.
Functions
The key features of the PA14 are its programmable hotkeys and Asus dial. The hotkeys support features and functions in a variety of the Adobe Creative Suite programmes including Adobe Photoshop and Lightroom Classic. The Dial, which is mounted on the back of the unit, is a black ring embedded in the rear of the display that edges out slightly from the bezel. Spinning the dial allows you to cycle through shortcuts that you can customise, and it also allows you to change through tools that you are using quickly in programmes like Photoshop.
But that brings us to one of the downsides of the PA14. The Hotkeys, ASUS dial and touchscreen functionality only work with Windows PCs. I asked ASUS about this, and they told us it's a result of Apple locking functionality to their own devices, so it's something to be aware of if you do plan to use the PA14 with a Mac.
The monitor
Like with ASUS' desktop offerings, there's an included calibration report to match the calibration already done (mine had a gamma result of 2.15 and a colour accuracy of 0.67), and although interpreting the report can be a little mindboggling, it confirmed that the colours were accurate from factory. That said, I'd still recommend calibrating the monitor yourself regularly, and I found calibration matched ASUS' results almost identically.
Visually, images look fantastic and display plenty of detail. It's worth noting that the monitor's good coverage of sRGB and Rec. 709 spectrums doesn't extend to AdobeRGB, with only about 71% of this colour space visible.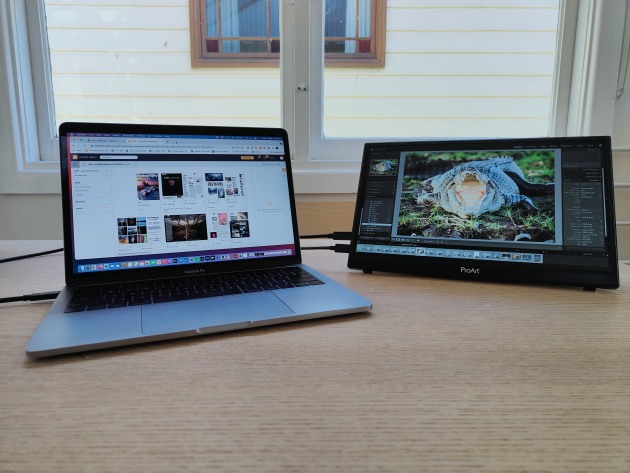 Via the menu, it's possible to access a selection of Presets – Standard, sRGB, Rec709, and others including a reading mode and darkroom mode with two user modes, but they do vary in brightness considerably. sRGB and Rec709 modes are quite dark, which means in brightly lit areas or outdoors you may need to consider a hood.
That said, the matte screen does reduce glare and reflections on the screen, and the IPS level LED display also means you don't have to be perfectly in front of the monitor to get a precise view of your images.
Wrap up
I really enjoyed using the ASUS PA148CTV, and found its compact size great to use for my small home office setup, and especially so when compared to the big hulking image-editing monitors we typically get in for review here at AP.
However, it's hard to pass the fact that it's somewhat hobbled if you don't use a PC, and you'll get better colour coverage with ASUS' desktop image-editing monitors. But for just $599, it's well worth considering, and especially so if you can't bear to be without your dedicated image-editing setup. ❂
Build Quality ★ ★ ★ ★
Excellent and up to the standards you'd expect of ASUS ProArt.
Features ★ ★ ★
The usual calibration settings and presets are all where you'd expect to find them, but although the integration with Adobe is a nice feature to have, it's a shame you can't use it with Apple Mac.
Image Quality ★ ★ ★ ★
Images look fantastic on the PA14, with wide dynamic range and good brightness even in bright light. Some users may be disappointed not to have greater coverage of AdobeRGB, but for a portable monitor its solid.
Value For Money ★ ★ ★ ★ ★
Nothing to fault here. $599 is a steal for this, especially if you have a small office setup or travel regularly, and ASUS even throw in a handy sleeve as well.
Final word
Small, compact, easy to travel with and a nice addition to any desktop, the PA14 is a great wee monitor, and especially so if you're a PC user.