Microsoft announces new creator-focused laptop - the Surface Studio
Microsoft has announced the Surface Studio laptop, its newest flagship that ditches the removable display as seen on the Surface Pro in favour of a new design that uses a hinge to transform it from a standard laptop into a semi-upright 'portable entertainment station' to stream movies and shows, and finally a 'creator's canvas', ideal for the use of a pen for drawing and photo editing.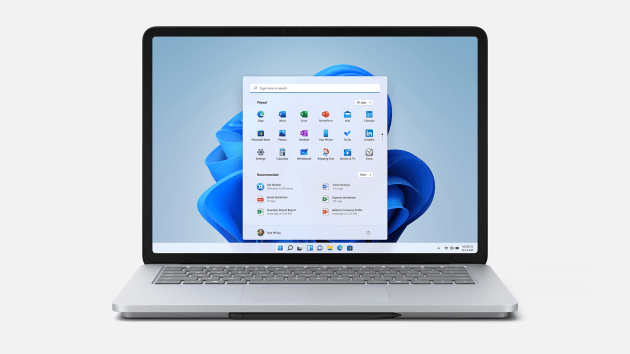 The announcement comes ahead of the imminent announcement of Windows 11, with Microsoft calling the release of the Surface Studio and other Surface products also announced the largest update to the Surface portfolio in its history.
Measuring 12.7 x 9.0 x 0.7 inches, the 14.4 inch Surface Studio is larger than the Surface Book 3's 13.5 inch models, and a tiny bit smaller than the 15-inch Surface Book 3. It weighs 1820.2 grams.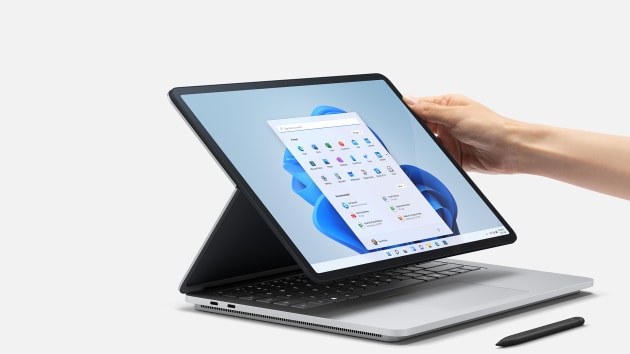 The laptop can be set up in three distinct modes, a standard Laptop Mode with a full keyboard and touchpad, Stage Mode that pulls forward the display and sets it back at an angle for presentations or gaming and streaming, And Studio mode, which Microsoft says optimises the canvas for uninterrupted writing, sketching and other creative pursuits.
To manage the moving screen, the Surface Laptop Studio features a new and 'ultra-durable' Dynamic Woven Hinge, and it can store the new Surface Slim Pen 2 underneath the keyboard with a magnetic attachment, although the pen itself is sold separately.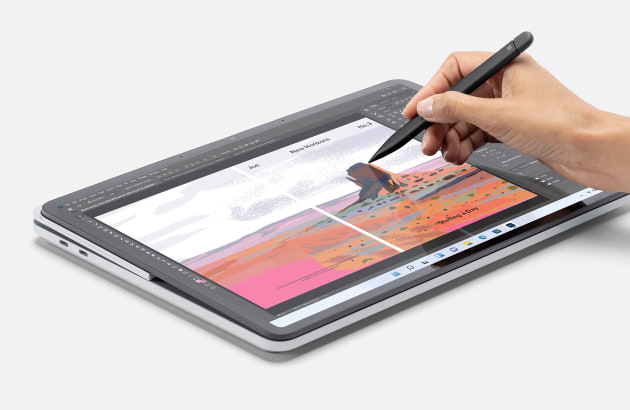 It'll be available in two configurations, a base model that features a Quad-core Intel 11th Gen Intel Core H35 i5-11300H processor, and a more powerful Core i7 model, that uses a similar 11th Gen Intel Core H35 i7-11370H chip. It also features a removable SSD that comes in 256GB, 512GB, 1TB, and 2TB capacity options.
The screen is a 14.4-inch 2400 x 1600 "PixelSense Flow" display. Microsoft says the 201 PPI 10-point multi-touch support screen will offer 'true-to-life color' and a refresh rate up to 120Hz. 

The Surface Studio Laptop also features 2 USB 4.0 ports with support for Thunderbolt 4 and a 3.5mm headphone jack, although there's no SD card slot. According to Microsoft, the new Surface Laptop Studio will offer 18 or 19 hours of battery life under typical device usage, depending on whether it's using the Core i5 or Core i7 hardware. 
No local pricing has been released yet, but in the US the Surface Studio will retail for $1,599 ($2,212 AUD). It will begin shipping to Australia in early-2022.
You can find out more about the Surface Studio at Microsoft.