Insta360 releases new ONE RS modular action camera
Insta360 has announced the Insta360 ONE RS interchangeable lens action camera, an update to the two-year-old Insta360 One R.
Like the Insta360 One R, the new ONE RS is modular in design, and comprises three main parts; a battery, processor and three lenses. It's a relatively minor upgrade over its predecessor, with the base  (or "core," as Insta360 calls it) and mounting system the main changes. Like the R, the camera can swap between a traditional action camera and a 360-degree camera, which makes it more versatile than rivals like GoPro. 
The standout feature is the addition of a new high-performance 4K 'Boost Lens' that features a 1/2"-type 48MP image sensor. The company says it has an upgraded 1/2-inch 48MP image sensor, but it's slightly faster too, with an f2.4 aperture (vs f2.8 on the R), and a higher maximum ISO, maxing out at 6400. The Boost Lens is also compatible with the previous ONE R, which is a nice touch. 
A series of improvements to the 'Core' also improve Insta's "FlowState" in-camera stabilisation, which works to keep the horizon level, no matter how the camera is rotated during recording. In addition, the mounting bracket used to attach the RS to other accessories has been redesigned — it now opens from the side, making it easier to use with the 1-inch Edition mod. I
t also includes a new plastic and foam piece that should help improve audio. There's also an "Instant Zoom" that lets users punch in up to 2.7 times while recording.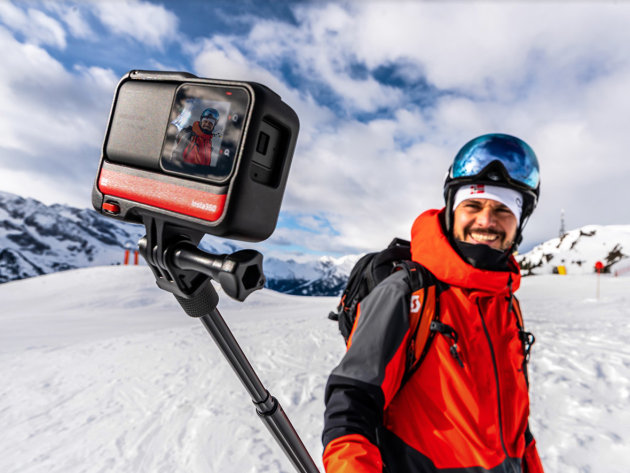 Regardless of the lens used, the action camera is tough. The Insta360 ONE RS is waterproof to five metres when assembled (all components are locked together and secured in the Mounting Bracket), but can also be used with a separate Dive Case to protect the camera in deep or rough water conditions (e.g. surfing), and to enable 360-degree image stitching.
The Insta360 One RS is available direct from Insta360 online, starting at $919.95 for the Leica 1-inch edition, which includes a Wide Angle Lens, the ONE RS Core, the ONE RS Battery Base and a ONE RS Mounting Bracket. The price increases up to $1,398.99 for the 'Trip' edition, which includes the 4K Boost Lens, a 360 degree Lens, a 1-Inch Wide Angle Lens, the ONE RS Core, ONE RS Battery Base, Lens Cap, ONE RS Mounting Bracket and a 64GB MicroSD card.