Fujifilm announce the XF10 - a small wide-angle compact
Fujifilm has announced the XF10, an APS-C sensor compact camera descended from the X70. Featuring a fast prime lens, the camera keeps the same 28mm equivalent F2.8 lens as the X70 but uses a 24MP Bayer color filter (rather than X-Trans.)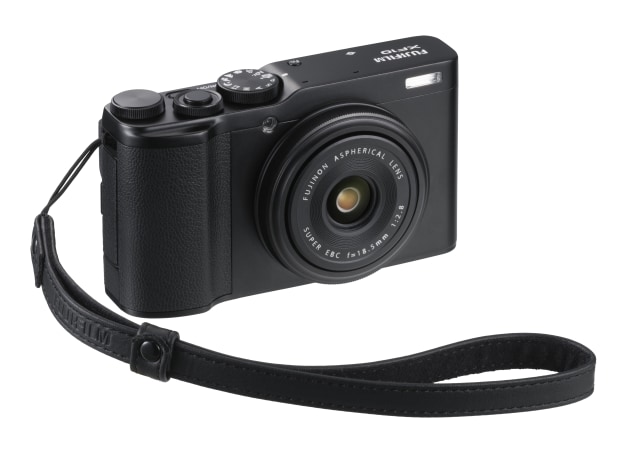 Unlike the X70, the XF10 loses the flip out screen, but does weigh considerably less, coming in at a relatively light 280g. the XF10 has an AF joystick on the back. To scroll through menus users swipe on the rear screen, and the XF10 comes with a "SQUARE MODE" which allows users to quickly and easily switch to a 1:1 format.
The XF10 offers 11 Film Simulation modes unique to FUJIFILM, as well as 19 advanced filters. The XF10 includes two new advanced filters: "Rich & Fine" and "Monochrome [NIR]", which simulates a monochrome effect like that of near-infrared cameras.
Despite offering 4K video, this is only at 15fps, however Full HD video can be shot at 50p/24P and 23.98P.
In another nod to smartphone users, the XF10 has enhanced its Bluetooth connectivity letting users automatically transfer images directly to a smartphone.
Pricing & Availability

The XF10 will be available in Australia in August 2018, for $799 (RRP). You can find out more at Fujifilm. 
Model Name

FUJIFILM XF10

Number of effective pixels

24.2 million pixels

Image sensor

23.5mm×15.7mm(APS-C) CMOS with  primary color filter

Storage media

SD Card (-2GB) / SDHC Card (-32GB) / SDXC Card (-256GB) UHS-I*1

Lens

FUJINON single focal length lens

f=18.5mm(35mm format equivalent : 28mm)

F2.8

5 groups 7 lenses (2 aspherical glass molded lens included)

Aperture

F2.8 - F16 1/3EV step (controlled with 9-blade aperture diaphragm)

Focus distance

Approx. 10cm - Infinity / 3.9in. - Infinity

Sensitivity 

Standard Output Sensitivity : AUTO1 / AUTO2 / AUTO3(up to ISO6400) / ISO200 to 12800(1/3 step)
Extended output sensitivity : ISO100 / 25600 / 51200

Continuous shooting

Approx. 6.0 fps (JPEG : max. approx. 13 frames)
Approx. 3.0 fps (JPEG : max. approx. 13 frames)
* Use a card with UHS Speed Class 1.
* Speed of continuous shooting depends on shooting environment and shooting frames.

Movie recording

4K 3840 x 2160 15P, Continuous recording : up to approx. 30 min.
Full HD 1920 x 1080 59.94p / 50p / 24p / 23.98p, Continuous recording : up to approx. 30 min.
HD 1280 x 720 59.94p / 50p / 24p / 23.98p, Continuous recording : up to approx. 30 min.
High Speed Movie 1280x720 1.6x / 2x / 3.3x / 4x, Continuous recording : up to approx. 7 min.
*For 4K movie recording, use a card with UHS Speed Class 3 or higher
* Although movie recording will continue without interruption when the file size reaches 4 GB, subsequent footage will be recorded to a separate file which must be viewed separately.

Digital Tele-Converter

28mm*(Nomal),35mm*,50mm* *35mm fomat equivalent

Power supply

NP-95 Li-ion battery (included)

Dimensions

112.5 (W) mm x 64.4 (H) mm x 41.0 (D) mm / 4.4 in.(W) x 2.5 in. (H) x 1.6  in. (D)
(Minimum depth: 25.9 mm/ 1.0 in.)

Weight

Approx. 278.9g / 9.8 oz. (including battery and memory card)

Approx. 241.2g / 8.5 oz. (excluding accessories, battery and memory card)

Battery life  for still images*4

NP-95 Li-ion battery (included)
Battery life for still images*4
Approx. 330frams

Accessories included

NP-95 Li-ion battery
AC power adapter
Plug Adapter
USB cable
Hand strap
Lens cap
Owner's manual