Five of the Best Mirrorless Cameras for Novice Photographers
Photography these days is as simple as point and click with a smartphone. Plenty of gorgeous shots that grab eyeballs on social media are courtesy of the latest smartphone camera technology. Regardless of this, there are features a smartphone does not have that will limit what you can do as a budding photographer. 
Some may argue that a smartphone makes up for the lack of features with its compact size. Don't you love how you can just slip it in your pockets and whip it out to capture something on-the-fly? Sure, but let's face the truth: Whether you wish to photograph wildlife from a distance, capture the star-studded night sky or shoot dreamy long exposure landscapes, using a dedicated digital camera lets you flex your photography muscles in ways that you can't imagine doing with a smartphone.
So, how do you get the best of both the worlds? That's where mirrorless cameras come in. These digital cameras pack impressive features—such as large image sensors and interchangeable lenses—into their small form factor, offering some of the best image and video quality available today while being lighter and sleeker than a DSLR.
These are some reasons why today mirrorless is the way to go, especially if you're a beginner. But which one should you buy? With the world of mirrorless cameras expanding in leaps and bounds, it's a tough choice. Take a look at these five of the best entry-level mirrorless cameras we've picked for you to get started.
1. Sony Alpha a6500
Sony mirrorless cameras are a market leader and their Alpha range has grown something of a cult following among both newbies and pros since 2014 when the brand debuted this line-up with the highly acclaimed A6000.
Sony Alpha A6500 is the latest model in this range and is expectedly blessed with some amazing specs such as built-in HDR mode, sensor shift stabilization, ability to capture superior images in poor lighting conditions, and slo-mo and 4K video recording feature, to name a few. With a 24.2 megapixel APS-C sensor, its image quality beats any entry-level DSLR on the market by a long shot. But A6500 is slightly on the expensive side so if you're ready to splurge a bit, then there isn't a better mirrorless camera out there!  
But if you want to save some bucks yet wish to enjoy some much raved-about features of this range, A6000 is still a solid camera to buy despite being over five years old — and can be a great choice if budget is a concern.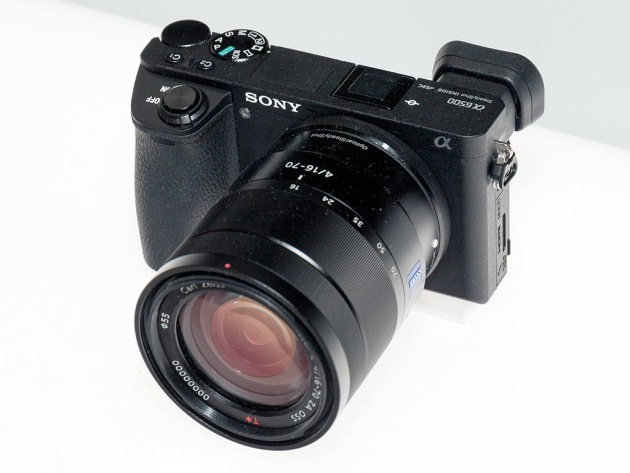 2. Canon EOS M50
The Canon EOS M50 is an all-rounder among canon mirrorless cameras. It's a lightweight, beginner-friendly camera that's also the brand's first affordable camera with 4K.
This camera comes with large APS-C sensor, remarkable autofocus, and integrated viewfinder, which comes in handy when shooting in bright light. Plus, shooting through a viewfinder feels like a more 'authentic' upgrade over a smartphone. Its 3 inch vari-angle touchscreen LCD works great for both horizontally- and vertically-oriented photos, as well as for taking shots from odd angles.
EOS M50 boasts of an easy-to-use interface and seamless Bluetooth and Wi-Fi connectivity, which enables fast and easy social sharing.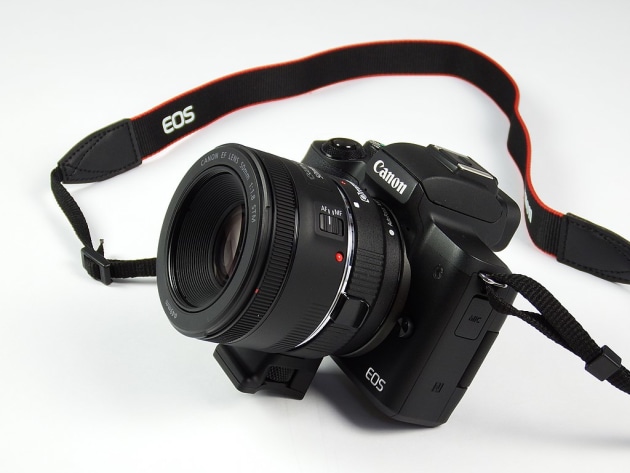 3. Olympus OM-D E-M10 Mark III
The OM-D E-M10 Mark III is big wonder in a tiny body. But don't get fooled by its looks. With a 16.1 megapixel Micro Four Thirds sensor, it promises a powerful performance, while the small sensors make it an ultra-lightweight camera that you can carry around all day.
5-axis in-body image stabilisation allows for excellent low light shots as well as result in crisp photographs even with slower shutter speeds or shaky hand movements. Enjoy the benefits of superior focus tracking with 121 autofocus points. Full 4k video recording and 3-inch touchscreen tilts are a big plus for a camera at this price point.
All in all, a fantastic camera for beginners but one that will see them through their progress well into the semi-pro stage!
4. Panasonic Lumix DMC-G80
Despite having enthusiast-level qualities, this nifty but feature-rich camera is something that shouldn't be a daunting experience for beginners. Though there is room for improvement in the interface department and some complicated controls might baffle you at first, shooting with this Lumix doesn't involve a particularly steep learning curve. 
It comes with a micro four-thirds sensor—which is pretty smaller than a full-frame sensor—yet doesn't take away from its ability to capture stunning shots in great details. 5 axis in-body stabilisation does a good job at ironing out micro-jitters while capturing handheld footage.
Its high-speed, high-contrast AF system allows you to change the focal point after you have taken a shot as a post-focus feature. Thanks to this unique feature that's missing from many autofocus systems, you can stop fretting about missing the focus while shooting. 4K video recording with live cropping, higher magnification EVF, fully articulating touchscreen, and dual top-plate control dials nicely round off its other desirable features.
If you're looking for a long-lasting, durable camera that doesn't skimp on performance, Lumix DMC-G80 is for you. Its weather-proof body with a magnesium alloy front plate is resistant to splash and dust, so you'll find it's convenient and rugged enough to be carried around in even the most demanding conditions. 
5. Fujifilm X-T200
One of the less pricey options on this list, Fujifilm X-T200 replaces the X-T100 falls in the range above Fuji X-A7 and below the Fuji X-T30 amongst the brand's APS-C range of mirrorless cameras.
With the significant advantages of being more responsive and full-featured over its not-so-impressive predecessor, this camera is easy on the pocket while offering the winning combo of compact size and above-average performance. 
24MP APS-C sensor with Bayer pattern colour filter, 3.5-inch vari-angle touch screen, 2.36M-dot OLED viewfinder with 0.62x magnification, 4K video and 8 fps burst shooting are some of its standout features, while its external microphone 3.5mm jack is a feature that will delight videographers and vloggers.
Extra points for its smartphone-style icon-based touch screen, which brings a certain level of familiarity for users in a way that beats even some of its pricier competitors. Overall, it's a fun, creative, and user-friendly camera that won't dent your wallet.
Those were our top picks for best mirrorless cameras well-suited to novice photographers. Which one of these would you choose as your first mirrorless camera? Let us know in the comments below.