DJI launches $2,099 FPV drone
DJI has launched the FPV, a new hybrid drone that combines the ease of use and camera features from its consumer drones with the FPV (First Person View), speed and agility of racing drones.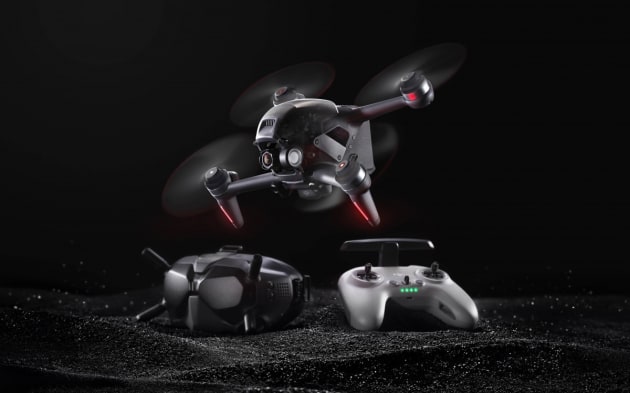 Let's start with the camera. The FPV features a 12MP, 1/2.3" sensor which is mounted on a 1-axis gimbal. It loses some of the image stabilisation features of drones like the Mavic, but is still capable of capturing stills and video up to either 4K/60p, or 1080p/120p for 4X slow motion @ 120 Mbps, and videos can be saved in H.264 or HEVC.
Aiming to ease users into getting comfortable with some of the technical flying that the drone is capable of, the FPV features three flight modes; Normal mode, which is designed for beginners and allows the drone to hover in place with full obstacle detection, Manual mode which allows full control over flight, with all sensors and hovering disabled, and lastly, Sports mode which is a hybrid mode that keeps some of the safety features of Normal mode along with manual controls.
You'll likely want to put in a bit of practice too, with The FPV capable of going from a standstill to 100kph in just 2 seconds, and reaching a max speed of 140kph. 
That said, and regardless of the mode you are in, the FPV features an Emergency Brake and Hover feature, which can be engaged at any time with the press of a button, and like on DJI's consumer drones, a Return to Home feature also allows the drone to fly back to its home point either manually or if it loses connection.  
The DJI FPV also uses the latest version of the DJI Fly app, which now includes detailed tutorials on how to operate the drone. The newly developed DJI Virtual Flight App is a free simulator appthat familiarises new pilots with drone flying movements, and allows pilots to fly the DJI FPV drone in various settings using the dedicated controller.
Along with the controller, included are a set of goggles, the DJI FPV Goggles V2. The drone is capable of sending footage up to 10km, with up to eight goggles sharing the drone's perspective.
DJI FPV is available for purchase now from store.dji.com and from authorised retail partners.

The standard DJI FPV Combo includes the FPV drone, remote controller 2, FPV Goggles V2, all required cables and one battery for the retail price of AUD $2,099. The DJI FPV Fly More Kit is also available, which includes two additional Intelligent Flight Batteries and the dedicated charging hub for the retail price of AUD $429.

The optional Motion Controller is sold separately and can be purchased for the price of AUD $229.