Canon Australia launches Huntsman telescope using ten 400mm f/2.8 L lenses
Canon has partnered with Macquarie University to launch a unique telescope made up of ten 'off-the-shelf' Canon EF 400mm f/2.8 L IS II super-telephoto lenses more commonly used by sports or wildlife photographers.
The newly launched Huntsman Telescope is inspired by the Dragonfly Telephoto Array in the US, and is designed to 'hunt' and study ultra-faint galaxies and astronomical objects in the Southern Sky.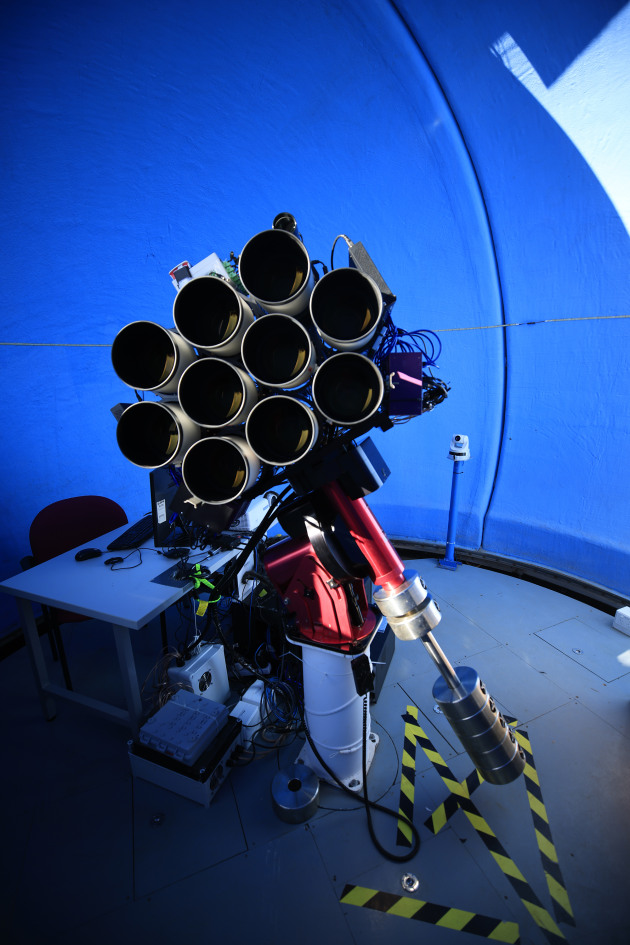 Located at the Siding Spring Observatory near Coonabarabran, NSW, the Huntsman will perform deep southern sky surveys to provide researchers with understanding about galaxy formation and evolution; how galaxies form, how they grow, how they engage with structures that surround them, and what happens when galaxies collide.
Canon says the second-generation Canon EF 400mm f/2.8 L lens was chosen for the task as it has 'superb' anti-reflection properties, owing to one of the first applications of Canon's nano-fabricated coatings. Each lens is connected to a red-coloured camera which is then individually connected to one of 10 mini computers.
The coated lens array chosen for the Huntsman contrasts to a conventional mirror telescope, whose imperfectly polished surface can introduce subtle errors that ruin faint, extended structures surrounding galaxies.
In addition, each lens in the array is equipped with a single monolithic wide-field detector covering six square degrees. With multiple redundant lines of sight, the Huntsman is able to achieve extremely accurate modelling of the night sky emission and produce ultra-clear renderings of our universe.  
Sarah Caddy, PhD Candidate from the School of Mathematical and Physical Sciences at Macquarie University, says combining individual EF 400mm f/2.8 L lenses enables the Huntsman telescope to scale with the needs of scientists in the future. 
"The Huntsman's suite of powerful computers enable each lens or 'eye' to operate independently of each other. This will allow the telescope to autonomously detect ultra-fast transient events like stellar flares from distant stars, or even more exotic phenomenon like aiding the search for origin of fast radio bursts that continue to elude astronomers," she says.
According to Principal Investigator of the Huntsman Telescope, Dr Lee Spitler, from Macquarie University's School of Mathematical & Physical Sciences and Australian Astronomical Optics- Macquarie, the telescope's work will be crucial to understanding what might happen should our Milky Way Galaxy have a head-on collision with its neighbour, the Andromeda Galaxy – an event theorised to occur in 4.5 billion years.
"The Huntsman Telescope is pioneering the way in which we view our Southern skies by capturing images of the faintest galaxy structures that conventional telescopes simply couldn't," says Dr Spitler. 
"The ability to observe the remnants of galaxies colliding with each other and searching for the faintest and smallest galaxies in the universe, will help us understand the potential fate of the Milky Way in the far distant future."
The Huntsman Telescope is not open to the public, but Australian Photography were given a sneak peak at the telescope recently - more on this soon.