Canon Australia extends warranty policy to five years
With an eye clearly on the Christmas buying period, Canon Australia has extended its warranty on all newly sold Mirrorless, DSLR, Digital Video Camera and Lenses from two to five years from today.
Canon says the shift is in response to research that almost nine in ten (87%) of Australian respondents feel that a longer manufacturer warranty means a higher product quality.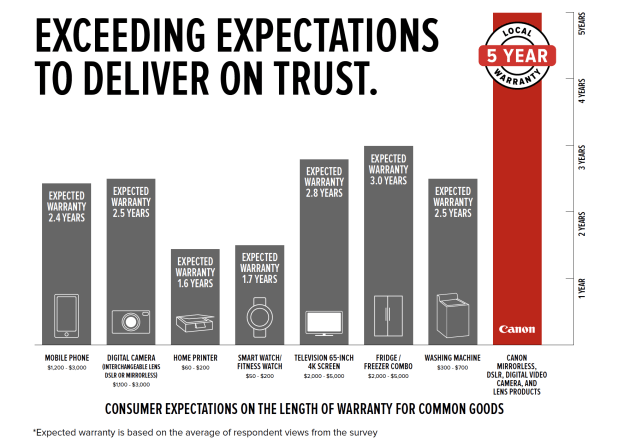 Canon commisioned an independent study, the Consumer Warranty Expectations Survey 2019, which found Australian adult consumers link the length of a manufacturer warranty to brand trust, good value, and product quality. According to the results, eighty-seven per cent also agree that a longer manufacturer warranty gives them certainty that what they buy is good value.
Jason McLean, Director – Consumer Imaging, Canon Australia, says consumer expectations have evolved due to the rise of a new 'transient goods' mindset along with consumer electronic brands setting low expectations for the quality of their products by offering short warranties.
"It is time for brands in the industry to modernise their manufacturer warranties to reflect consumer expectations of quality, trust and good value," says McLean.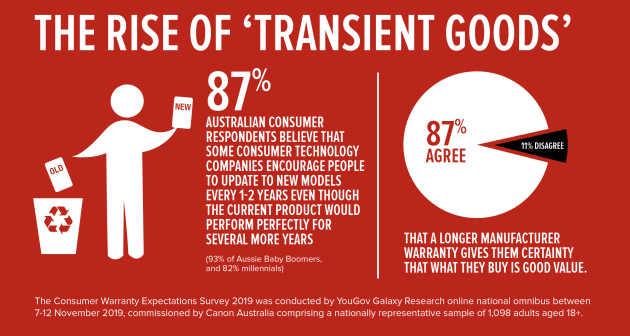 Canon says the rise of transient goods is part of the issue. Transient goods refers to a consumer electronics industry-created perception that consumers have been conditioned into believing that technology is outdating so fast, hardware only needs to last one or two years until the next model is available.

The survey backs this finding, with most (87%) Australian consumer respondents believing that some consumer technology companies encourage people to update to new models every 1-2 years even though the current product would perform perfectly for several more years. This same opinion is held by 93 per cent of Aussie Baby Boomer respondents, and over four in five millennials (82%).
The Consumer Warranty Expectations Survey 2019 was conducted by YouGov Galaxy Research online national omnibus between 7-12 November 2019, commissioned by Canon Australia, and comprised a national sample of 1,098 adults aged 18+. 
The new warranty policy only applies to new products sold from today (25 November 2019).
You can find out more about Canon's warranty policy here.